Students Receive Scholarships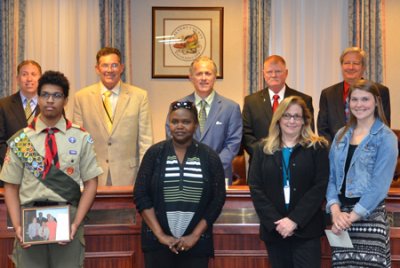 Two Calvert County students earned scholarships from Calvert County's Employee Recognition Committee (ERC) for maintaining impressive high school careers.
Pictured with the county commissioners from left are: Patuxent High School graduate Kyle Gronda, son of Calvert County Solid Waste Weigh Clerk Tu Tu Gronda, who was awarded $1,000. Calvert County Computer Services Supervisor Kathy Bauer poses with her daughter, Huntingtown High School graduate Kiley Bauer, who was awarded $500.
County Seeks Public Comment on St. Leonard Second Access Road
The Calvert County Department of Public Works, along with the engineering firm of Wallace Montgomery, held the second open house meeting regarding the Concept Planning Study for the St. Leonard Second Access Road June 9. The record for public input remains open until June 30.
From the many suggestions presented at the first open house meeting held Dec. 10, 2014, Wallace Montgomery narrowed the field to 14 concepts, and then refined those down to 9. They then looked at each concept, taking into consideration length of roadway, number of structures, natural environmental resources impacted, socio-economical resources, cultural resources and costs, and made determinations as to which concepts to drop from consideration and which to keep. The firm explained the pros and cons for their decisions on the draft concepts during the June 9 meeting.
Comments were received from those in attendance on June 9. The Department of Public Works and Wallace Montgomery want to hear comments and concerns from members of the public who were not able to attend the meeting. Although concepts were dropped from consideration for the June 9 meeting, if you feel that an option should still be considered or if you feel that another location should be looked into, we want to hear your input. Please note that as of this date, all concepts are in draft form.
We welcome your comments and will continue to receive comments until June 30, 2015. You may fill out the comment card and return it to:
Department of Public Works
Attn: John Knopp
175 Main St.
Prince Frederick, Md. 20678
Or you may email you comments directly to John Knopp at knoppjf[at]co.cal.md.us. The department will forward all correspondence and comments to Wallace Montgomery as soon as they are received. Please find the PDFs of the
Open House board displays
, a PDF of the
Open House PowerPoint presentation
, and a PDF of the
comment card
for your review/use if you were unable to attend the June 9th meeting.
Sharkfest Returns Bigger and Better than Ever
Rocknoceros will perform original rock music for children at CMM on July 11.
SHARKFEST! returns to the Calvert Marine Museum, bigger and better than ever, Saturday, July 11. Join us from 10:00 a.m. – 5:00 p.m. for one of the museum's most popular events. Regular museum admission applies; CMM members are free.
Sharks are one of the world's most fascinating creatures and SHARKFEST is a chance to learn more about them. Live sharks will be featured in the Corbin Pavilion, along with sturgeon from NRG Energy – The Chalk Point Generating Station. The museum will be full of hands-on opportunities to explore the diversity of sharks and their remarkable history on planet Earth. Learn fascinating 'sharktoids', examine evidence of prehistoric sharks, paint a shark mural, make a shark craft, get your face painted ($5 fee), play the Shark Game Show, and take your picture in the life-size jaws of a Megalodon shark.
Celebrating their 10th year of entertaining tens of thousands of fans throughout the country, Rocknoceros will perform original rock music for children. Enjoy performances at 11:00 a.m. and 2:00 p.m., sponsored by the PNC Foundation.
The award winning Museum Store will be stocked full with new "shark" items arriving daily. Enter your name in a drawing to win baseball tickets to the Southern Maryland Blue Crabs vs. Camden Riversharks on Friday, July 17. Boomerangs Original Ribs and Maggie Moo's will be on site, along with the CMM Volunteer Council selling snacks. Complimentary museum passes will not be honored and strollers are not allowed in the museum for SHARKFEST. F or more information, visit
www.calvertmarinemuseum.com
.
Crime Solvers Case of the Week
Calvert County Crime Solvers and the Calvert County Sheriff's Office are seeking the public's assistance in identifying the person(s) responsible for a significant destruction of property. Sometime between 5:00 p.m. on Saturday, June 6th and 5:00 p.m. on Sunday, June 7th, an unknown suspect(s) caused significant damage to construction equipment parked at the end of Huntsman Drive off of Wilson Road in Huntingtown. The suspect(s) drove two excavators belonging to Thomas L. Hance. One excavator was used to damage culvert pipes and another excavator was driven into an 80,000 pound horizontal grinder belonging to A.H. Hatcher, Inc. The total damage is estimated at $60,000.
Citizens with information on this crime or any criminal activity in Calvert County can report it anonymously using the Calvert County Crime Solvers link at
www.CalvertCountySheriff.us
or by calling 410-535-2880. You can also contact the Sheriff's Office at 410-535-2800 to leave information.
If the information leads to an arrest and conviction, the caller will be eligible for a cash reward up to $1,000. Thomas L. Hance, Inc. is also offering a $1,000 reward for information in this case.