Southern Maryland Rapid Transit Study Meetings Scheduled
LEONARDTOWN—The Maryland Transit Administration (MTA), in collaboration with Charles County and Prince George's County, is hosting a series of Southern Maryland Rapid Transit (SMRT) study meetings regarding its ongoing efforts to improve transit options in Southern Maryland. The SMRT study is a proposed 18.7 mile transit alignment along the MD 5/US 301 corridor between the Waldorf and White Plains area in Charles County, and Branch Avenue Metrorail Station in Prince George's County.
Scheduled meeting dates:
-- Thursday, June 11: Waldorf Jaycees Community Center (3090 Crain Highway, Waldorf, Md. 20601)
-- Tuesday, June 16: Crossland High School (6901 Temple Hill Road, Temple Hills, Md. 20748)
-- Thursday, June 18: Surrattsville High School (6101 Garden Drive, Clinton, Md. 20735)
The public is invited to come to meetings at any time between 5:30 p.m. and 8 p.m. There will be brief presentations at 6 p.m. and 7 p.m. with staff available to answer questions. MTA will present proposed alignments, station locations, options for crossing the Capital Beltway, and the characteristics of bus rapid transit and light rail transit.
The Maryland State Highway Administration will only be available at the June 11 meeting to answer questions about the US 301/MD 5 Mattawoman-Beantown Planning Study and the US 301/MD 228/ MD 5 Business Planning Studies.
The public is invited to submit written comments on the project at the meetings, by email at smrt[at]mta.maryland.gov, or through the SMRT website at
www.mta.maryland.gov/smrt
. Mailed comments are also accepted at: Southern Maryland Rapid Transit Study; Maryland Transit Administration; SMRT Project Manager, Project Development; 6 Saint Paul Street, 9th floor; Baltimore, MD 21202. Comments must be submitted before Friday, July 17.
For more information on the study or meetings, visit
www.mta.maryland.gov/smrt
.
Charles Co. Commissioners Welcome Secretary Mike Gill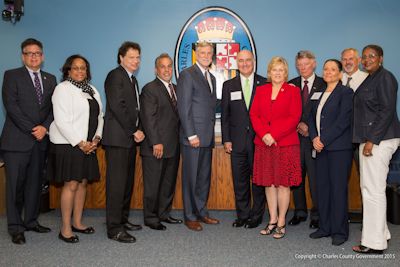 The Charles County Commissioners, joined Maryland Department of Business and Economic Development. (l. to r.): Michael Mallinoff, Charles County Government; Rhonda Ray, DBED; Commissioner Vice President Ken Robinson (District 1); Commissioner Bobby Rucci (District 4); Commissioner President Peter F. Murphy ; Secretary Mike Gill, DBED; Del. Sally Jameson, House of Delegates; Mayor Roy Hale, Town of La Plata; Marcia Keeth, Charles County Government; Steve Wall, DBED; Commissioner Debra M. Davis, Esq. (District 2).
LA PLATA—On Wednesday, June 3, the Charles County Board of Commissioners and the Department of Economic Development welcomed Secretary Mike Gill of the Maryland Department of Business and Economic Development (DBED). As part of his "Listening Tour", Secretary Gill met with County officials to learn more about Charles County's assets for attracting and retaining businesses and to discuss ways the State can support the County's economic development strategy.
2015 "So. Maryland, So Good" Guide to Farmers' Markets Available Now
HUGHESVILLE—Looking for a farmers' market near you? The 2015 "So. Maryland So Good" Farmers' Market Guide is a great resource to help you find the region's finest and freshest locally grown farm products.
Printed annually by the Southern Maryland Agricultural Commission, the guide lists 31 producer-only markets around Southern Maryland in addition to 12 markets in the Metro DC area that feature a bountiful harvest of genuine Southern Maryland farm-grown produce, meats and seafood, pickles and jams, dairy products, baked goods and even wine.
The free, full color guide lists market days and hours of operation, plus a handy regional market locater map and harvesting chart unique to Southern Maryland's growing seasons. Also listed are the market websites and Facebook pages; a great way to find out more about what's at market and discover more about the farmers each market hosts. And look out for special market events such as customer appreciation days, holiday market celebrations and chef demonstrations.
The Farmer's Market Guide is one of many resources created by the Southern Maryland Agricultural Development Commission in support of regional agriculture. A related effort is the upcoming state-wide Buy Local Challenge Week (July 18 - 26). Marylanders are asked to pledge to eat (and drink!) local farm products for one week. Visit the Buy Local Challenge website at
www.buylocalchallenge.com
for details.
The 2015 Farmers' Market Guide is now available, while stocks last, at participating Southern Maryland farmers' markets, regional public libraries and welcome centers. View or download the guide on the 'Get the Guides' page at
www.smadc.com
.
Calvert County Honors Dr. Ralph Eshelman with Historic Preservation Service and Education Award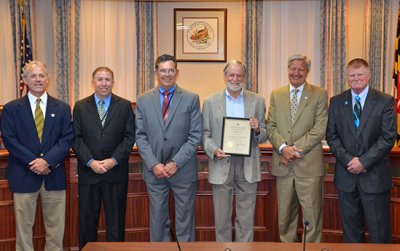 PRINCE FREDERICK—Historian and Lusby resident Dr. Ralph Eshelman was recognized by the Calvert County Board of County Commissioners June 2 with an Historic Preservation Service and Education Award. These annual awards are given for outstanding achievement and excellence in protecting and preserving the county's cultural heritage. It was the first time one recipient was honored with a combined award for service and education.
Eshelman came to Calvert County as the director of the Calvert Marine Museum, a position he held from 1974 to 1990. He is now widely known as the leading authority on the history and paleontology of the Patuxent River. For more than 35 years, he has studied, written and lectured about the history of the region, including the War of 1812. His books include "The War of 1812 in the Chesapeake: A Reference Guide to Historic Sites in Maryland, Virginia and the District of Columbia," "Chesapeake Legends and Lore from the War of 1812" and "In Full Glory Reflected: Discovering the War of 1812 in the Chesapeake." Most recently, Eshelman was interviewed for a new virtual heritage tour of Calvert County that highlights the War of 1812 and its impact on the town of Lower Marlboro.
The Historic Preservation Awards are sponsored by the Calvert County Historic District Commission. For more information about the awards, contact Calvert County Historic Preservation Planner Kirsti Uunila at 410-535-1600, ext. 2504, or by email at uunilak[at]co.cal.md.us.