15 Years; 362 students; $400,000 in scholarships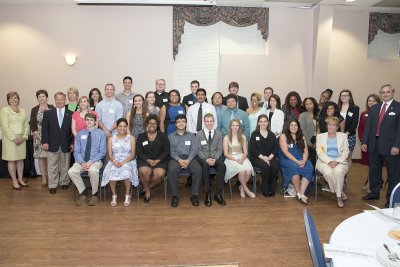 Representatives from the Greater Waldorf Jaycees Foundation and the College of Southern Maryland Foundation joined CSM students who were awarded scholarships for the 2015-16 academic year at the May 6 scholarship reception in Waldorf. [Click on image for larger rendition]
LA PLATA, Md.—Celebrating 15 years of partnership, the College of Southern Maryland Foundation and the Greater Waldorf Jaycees Foundation awarded 41 students with $80,500 in scholarships for the 2015-16 academic year at the annual scholarship reception May 6.
"This is my favorite time of year. It's a time of completion, seeing our students realize their dreams, and a time for new beginnings," said CSM President Dr. Brad Gottfried. "At our Spring Commencement we award certificates and degrees to students and each has a personal story that led them to CSM—tonight I am honored to meet with you as you work toward realizing your dreams, too."
Over the past 15 years, the Jaycees have awarded 362 Charles County students with nearly $400,000 in scholarships.
"Providing scholarships is not just about paying for courses, it is about investing today in order to have a profound impact on someone's tomorrow and our community's future," CSM Foundation Chair Christine Rush said during the reception.
Jaycee scholarship recipients who continue to do well academically are awarded a renewal scholarship for their second year at CSM. Among this year's 21 renewed scholarship recipients is CSM education major Maria Estevez, of White Plains, who spoke to guests attending the reception about how she has benefited from Jaycees scholarship.
"I graduated from high school with almost straight As and the ability, based on academics, to get into many colleges. I chose to start at a community college because CSM is a good spot between high school and a large university. The financial support through scholarships that I have received from the Jaycees and the CSM Foundation have allowed me to concentrate on my studies and to take full advantage of all of the opportunities available to college students rather than having to rush between classes and a job," said Estevez who in addition to completing 13 courses and starting two clubs, worked as a student assistant at CSM.
Estevez plans to transfer to Towson University through the 2+2 Program to pursue her bachelor's degree in education.
Echoing Estevez's sentiments to thank the Greater Waldorf Jaycees Foundation and CSM Foundation for their support was renewal scholarship recipient Tabish Nawaz of Waldorf.
"When I applied for the Jaycees Scholarship I said that awarding this scholarship would be like an investment. I promised that if I received the scholarship, I would not waste the opportunity," said Nawaz. "I spend at least 12 hours every day on campus. The majority of those hours are spent in classes and at the library or in the computer labs. I also meet with faculty mentors who have helped me keep my thoughts in the right direction. I am involved in the STEM Scholars Program, the Math Team and peer tutoring in math subjects up to Calculus. I was awarded the Jaycees renewal scholarship and next spring I will graduate with an associate degree in biological sciences. My goal is to become a cardiac surgeon-so I will have many years of college ahead of me."
"When I wrote to the Jaycees scholarship committee, I said that after I become successful I will make sure I give this money back to a similar cause. I stand by that statement still--and I promise the committee to make CSM, Jaycees and the Charles County Community proud of me and I promise to help the community after I begin my career."
The renewal recipient with the highest GPA as well as the departing student with the highest GPA are also awarded an additional $1,000. This year there were two renewal recipients with the highest GPA: Nawaz and Daniel Dewaters of Waldorf. The departing student with the highest GPA was Sarah Adeyaniu of Waldorf.
Recipients of the 2015-16 Greater Waldorf Jaycees Foundation-CSM Foundation Scholarships are: Trevor Abell, Elizabeth Allen, Christopher Barnwell, Kassidy Bowie, Haley Carr, Katelyn Gilroy, Jessi Langley, Luke Mahaney, Kayla Mendoza, Kathryn Newsome, Foram Patel, Khusbuben Patel, James Payne, Breonna Posey, Brittany Puffenbarger, Klarenz Sarabia, Sarah Weathersby, Brandon Will and Jaia Young.
Recipients of the 2015-16 Greater Waldorf Jaycees Foundation-CSM Foundation Renewed Scholarships are: Alexander Albrittain, Cristine Arter, Rebekah Carson, Aryanna Crockett, Imani Dennis, Sambhav Devkota, Daniel Dewaters, Emily Ditoto, Cheyenne Eller, Maria Estevez, Alyssa Gentilcore, Kehle Hatch, Michael King, Sarah Latimer, Morgan Mabry, Shelby McKeown, Tabish Nawaz, Bushra Nawaz, Evelyn Pike, Patrik Sarabia and Robyn Welborne.
To view photos from the scholarship reception, visit
csmphoto.zenfolio.com/15jcscholar
. For information on the CSM Foundation and how to create or apply for a scholarship, visit
www.csmd.edu/Foundation/
.