Local teachers honored for excellence in teaching
WASHINGTON—Ten teachers from Catholic schools in the Archdiocese of Washington are being honored for their excellence in teaching and commitment to Catholic education. Five of the ten are from the southern Maryland region.
The five 2014-2015 Golden Apple Award winners from the tri-county area are:
-- Jennifer Collier, St. John's Catholic School, Hollywood, pre-kindergarten teacher;
-- Leanne Emmerich, Little Flower School, Great Mills, fourth and fifth grade teacher;
-- Jane M. Johnson, St. Mary School, Bryantown, resource teacher;
-- Jennifer Rison, Archbishop Neale School, La Plata, second grade teacher; and
-- Elizabeth Wathen, St. Michael School, Ridge, fifth grade teacher.
They were recognized by Cardinal Donald Wuerl, archbishop of Washington, on May 6 at the seventh annual Golden Apple Awards dinner at the Renaissance Hotel in Northwest Washington.
The teachers were nominated by their colleagues, students and school parents for exemplifying the best in instructional strategies, Catholic identity and knowledge of curriculum. The award recipients receive a $5,000 prize along with a golden apple and certificate.
The awards were announced by surprising the teachers at their respective schools in April. Students, fellow teachers, administrators, parents and family members were on hand as representatives from the Catholic Schools Office of the Archdiocese of Washington came to the schools to personally inform them of their selection.
The Golden Apple Award was created by the Pittsburgh-based Donahue Family Foundation whose founders, Jack and Rhodora Donahue, sent their 13 children to Catholic schools. Eager to express their deep appreciation to Catholic school teachers, the award was created to honor teachers for providing a quality academic and faith-filled education.
More information about the 2015 winners may be found at:
www.adw.org/golden-apple
.
La Plata resident named recipient of Barry University St. Catherine's Medal
MIAMI, Fla.—Cheryl Frazier, a resident of La Plata, and a 2011 graduate of La Plata High School, was recently named the recipient of the Barry University 2015 St. Catherine's Medal on Friday, May 8 at Barry's Honor's Convocation Award Ceremony.
The St. Catherine Medal is Barry's most distinguished award and is granted each year to a Barry student who has displayed high ideals and leadership, and philanthropic service at the university or in the greater community.
Fraizer is a Stamps Leadership Scholar and was actively involved in numerous university sponsored clubs and organizations during her tenure at Barry. She was a member of the Honors Program Student Advisory Board for four years and president of the Philosophy Club for three years. In addition, Frazier has been a member of Barry's Psychology Club, The Ethics Bowl and Bioethics Bowl, and Alternative Spring Break.
Frazier has an outstanding academic record at Barry, earning memberships in seven academic honor societies: Sigma Alpha Pi, Sigma Tau Delta, Phi Sigma Tau, Delta Epsilon Sigma, Kappa Gamma Pi, Alpha Chi, Delta Epsilon Iota.
Frazier earned her B.S in Philosophy from Barry on Saturday, May 9. She will continue her studies at the University of Oklahoma in the fall where she earned a Patwardhan Fellowship and will pursue a PhD in Philosophy.
Dameron student recognized for academic excellence by Johns Hopkins University Center for Talented Youth
BALTIMORE—David Cannavo, a high-achieving student from Dameron, was honored as one of the brightest young students in the world at a regional awards ceremony for academically advanced children sponsored by the Johns Hopkins University Center for Talented Youth (CTY).
David, a participant in the CTY Talent Search, was recognized for his exceptional performance on a rigorous, above-grade-level math test given to academically talented second-through-eighth-grade students. This is David's second award from Johns Hopkins for exceptional abilities in mathematics since entering the CTY program.
As part of the CTY Talent Search, advanced young learners take above-grade level tests that identify academic talent and reveal gaps between a child's academic program and his actual capacity for learning. Seventh and eighth graders take the SAT or ACT-the same tests used for college admissions. David, who tested in 8th grade, scored an impressive 640 on the Math SAT.
Now a student at Great Mills High School, David was one of more than 33,000 students from 60-plus countries who participated in the CTY Talent Search in 2014. Because of the difficulty of the tests, only about 30 percent of students who participated earned an invitation to a CTY Awards Ceremony where they are individually honored for their academic performance and potential.
"Congratulations to all of the outstanding young people recognized as part of the CTY Awards Ceremonies for their willingness to challenge themselves by taking a test originally designed for significantly older students," said Elaine Tuttle Hansen, executive director of CTY. "This is an opportunity to recognize these students' achievements but to also honor the parents and educators who have nurtured and supported their intellectual growth and development."
This spring, more than 8,470 CTY Talent Search honorees were invited to participate in 41 CTY Award Ceremonies across the U.S. and in China and Hong Kong.
Local Knights of Columbus support Catholic education through sponsorship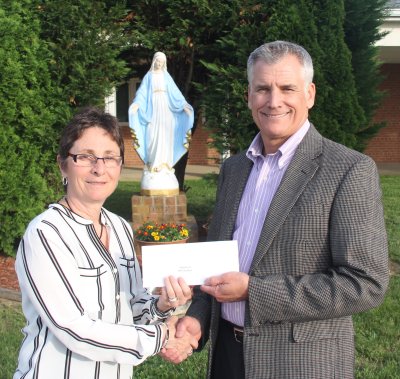 John Slaughter, president of St. Mary's Council #1470 Knights of Columbus Charities, Inc., presents a check to Linda Miedzinski, principal of Mother Catherine Academy, at the school's Mechanicsville campus. The independent Catholic school will open in July.
LEONARDTOWN—The St. Mary's Council #1470 of the Knights of Columbus illustrated their support for Catholic education through their sponsor agreement with Mother Catherine Academy, the independent Catholic school that will open in Mechanicsville in July.
"The Knights' sponsorship is critical to our mission. It allows the many individuals and companies who support Mother Catherine Academy to make a donation to this effort that is tax deductible to the extent permitted by law," said interim MCA treasurer James Horstkamp.
MCA has formed a not-for-profit corporation to legally establish the new school and is in the process of applying for its tax-exempt status. That application may take more than six months, said Tom Cavanaugh, president of the MCA board of trustees. The Knights of Columbus' intervention provides a critical mechanism by which the school can start receiving financial support now.
"One of the most important things we do as Knights of Columbus is to support Catholic education," said John Slaughter, president of St. Mary's Council #1470 Knights of Columbus Charities, Inc. "We are honored to have the opportunity to contribute to the efforts of the Board and families who are making such sacrifices to enable the success of MCA, and to allow the continued availability of such an education in their area of St. Mary's County."
Donations will go to the school through the Knights of Columbus, who have set up an account within their 501(c)(3) tax exempt corporation for the benefit of Catholic education at MCA. The entire amount of the donation will go to the school, which will use the money in areas such as general operating expenses, technology-in-the-classroom initiatives, and tuition assistance for families that require it, Cavanaugh said.
In a similar spirit of community mindedness, MCA has reached out to the community in new ways to ensure the new school's services are available to all who are interested. These initiatives include a multi-child tuition rate that makes Catholic education accessible to all families regardless of size, and an investigation into what services the school could offer families who home-school their children.
Individuals or corporations interested in donating to MCA can write a check payable to KoC #1470 Charities-MCA and mail it or drop it off at the school at 38833 Chaptico Road in Mechanicsville, 20659. Be sure to include your name, mailing address and phone number on the donation so that the Knights of Columbus can send a receipt.