Class of 2015 offered more than $7 million in scholarships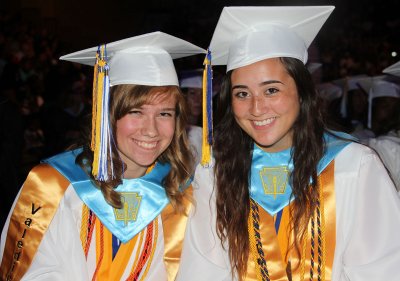 Henry E. Lackey High School valedictorian Melissa Nelson, left, and salutatorian Jessica Nichols, right, prepare to give their farewell speeches to their classmates during the Lackey graduation ceremony held May 30 in the Convocation Center at North Point High School. Lackey seniors received more than $7 million in scholarship offers.
WALDORF, Md. (May 30, 2015)—Charger pride was rampant in the Convocation Center at North Point High School tonight as the Class of 2015 from Henry E. Lackey High School graduated. A total of 292 graduates were honored during the ceremony. The graduating class from Lackey is the smallest this year among Charles County's six public high schools with seniors. Although Lackey's Class of 2015 is smaller in numbers, seniors were offered more than $7.1 million in scholarships.
Raven Edge is Lackey's senior class president and gave greetings during the ceremony on behalf of her peers. During the ceremony, she addressed her fellow graduates and said the Class of 2015 won't forget their time at Lackey. "There is no obstacle a Charger cannot overcome. Here at Lackey, you will always find your champion to help walk you and talk you through it," she said.
Lackey Principal James Short congratulated his seniors and said he wanted his graduates to never lose the idea of belief. "When you are given the opportunity to do something good, do something great. It is with a great sense of Charger pride that I can see you have grown and matured and are ready to meet the challenges that await you. Never give up on your dreams," Short said. The graduating class also honored newly elected Mayor of Indian Head Brandon Paulin, who graduated from Lackey last year.
During her valedictory address, Melissa Nelson urged her fellow graduates to hold on to memories from high school and use them as inspiration. "As we move on in life, we will always carry memories of these four years with us. May these memories inspire you to go out and find success in wherever your future may lead you. Congratulations graduating Class of 2015," she said.
In her speech to the Class of 2015, Lackey salutatorian Jessica Nichols reminded her classmates that they are now the example to follow. "Before we separate, we should reflect on our achievements and let them be a reminder of what we can accomplish in the future. We should take pride in the leadership that we displayed in the classroom, on the field, and on the state as they set an example for the underclassmen," she said.
Lackey's graduation was the last high school ceremony planned for May 29-30 at the Convocation Center at North Point High School. Lackey's Class of 2015 earned $7,128,250 million in scholarship offers, and additional totals are being reported as offers are received.
Lackey's graduation ceremony can be viewed online at
livestream.com/ccpstv/15helhsgrad
.