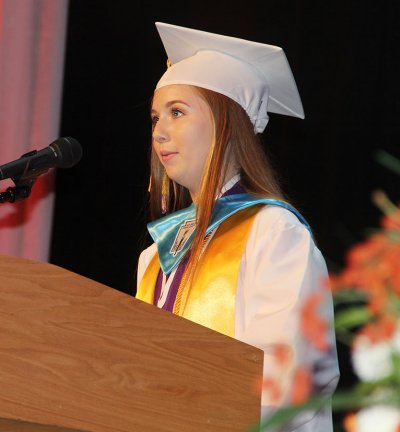 Maurice J. McDonough High School valedictorian Shannon Haley addresses her peers as part of McDonough's graduation ceremony held May 30 in the Convocation Center at North Point High School. McDonough graduates earned more than $8.8 million in scholarship offers.
WALDORF, Md. (May 30, 2015)—Maurice J. McDonough High School staff, along with school system officials and county dignitaries, conferred diplomas to 335 seniors in a graduation ceremony this afternoon. Senior class president Alexandria Jones provided greetings on behalf of the McDonough Class of 2015 to guests in attendance. Jones told the audience to be confident in the future of the graduating class and called out career choices selected by her peers, in which graduates stood as their field was mentioned until all graduates were standing.
Tatianna Griffin, the Class of 2015 salutatorian, quoted playwright George Bernard Shaw in her speech and reminded her classmates that the world is theirs to make. "As you walk out of these doors today, look out into the limitless sky and understand that the moves you make starting today will shape your world. Take all that has been given to you, and run with it. In the book of your life, write something that is worth reading," Griffin said.
McDonough valedictorian Shannon Haley represents the top academic achieving student in the Class of 2015 and is also the president of the National Honor Society. In her speech to her classmates, Haley told her peers to always remember those who contributed to your success. "To the Class of 2015, I implore you to consider those who have supported you, and then thank them for their dedication to your success. Know that what defines you is not what you are, but who you are," Haley said.
McDonough's graduation was the fifth of six high school ceremonies planned for May 29-30 at the Convocation Center at North Point High School. The McDonough Class of 2015 earned more than $8.8 million in scholarship offers, and additional totals are being reported as offers are received.
The graduation ceremony can be viewed online at
livestream.com/ccpstv/15mmhsgrad
.