Seniors earn more than $18 million in scholarships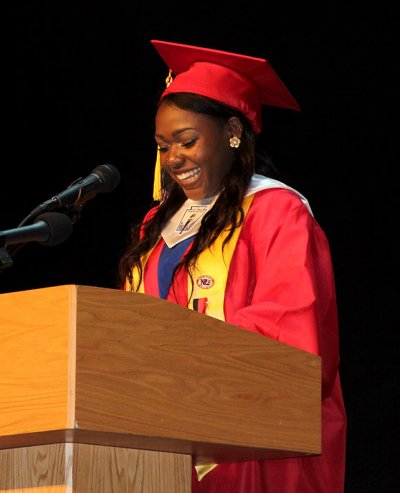 North Point High School class president Nakira Christmas addresses her peers as part of North Point's graduation ceremony held May 30 at the school. North Point's Class of 2015 earned more than $18 million in scholarships, the highest total for a graduating class from the school since it opened in 2005.
WALDORF, Md. (May 30, 2015)—A total of 503 North Point High School graduates showed off their Eagle pride this morning as Charles County Public Schools kicked off its second full day of 2015 high school graduations with the Class of 2015 from North Point. Surrounded by the school colors of red, black and yellow, North Point's Class of 2015 demonstrated enthusiasm and joy throughout their graduation ceremony, and heard words of encouragement from their peers and special guests.
In her speech to her classmates, North Point valedictorian Salma Ansari urged her peers to remember that happiness is a part of success. "No matter what your future endeavors may be, let the ensuing success make you truly happy, and never settle for what you are not passionate about. It is these experiences that will mark the truly memorable years of your life," she said. Ansari also shared the Class of 2015 scholarship totals, which reached a total of more than $18 million this year - the highest total of offers received for North Point graduates since the school opened 10 years ago.
A common motto among students at North Point is the phrase, "We are North Point." Salutatorian Laila Abujuma used this motto to end her speech to her classmates and reminded them to never forget the knowledge they learned as high school students. "Be changed by it, and let it change the way you look at the world. Let it inspire you to change the world. It is with that that I end this speech. Class of 2015, we are North Point and we are done!" Abujuma said.
North Point Vice Principal Marlon Walker hosted today's ceremony, which also included a memorable performance by the senior choir of their class song "We are the Champions," by Freddie Mercury. Graduates Julian Castrence and Caleb Cotner also shared a special message with their peers. "The environment is embraced by all students. North Point is a reflection of the world around us. This diversified body of students has always remained under the cloak of ambition. We are what make this school so special," Cotner said.
North Point's graduation was the fourth of six high school graduations planned for Charles County Public Schools seniors on May 29-30. As of earlier this week, North Point's Class of 2015 earned $18,010,927 in scholarship offers, and additional totals are being reported as offers are received.
North Point's graduation ceremony can be viewed online at
livestream.com/ccpstv/15nphsgrad
.