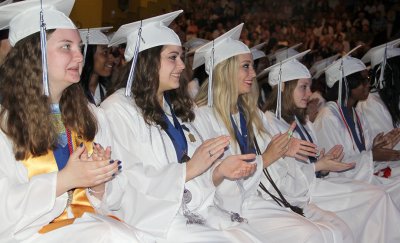 Members of La Plata High School's Class of 2015 give applause for their valedictorian, Ciara Albrittain, after her speech during their graduation ceremony held May 29 in the Convocation Center at North Point High School. La Plata's graduation was the first of six high school ceremonies planned for May 29-30.
LA PLATA, Md. (May 29, 2015)—Charles County Public Schools kicked off its 2015 high school graduation ceremonies by saying farewell to 383 La Plata High School seniors this morning. La Plata's 8:30 a.m. ceremony started with performances from the school's symphonic band and a welcome of guests from senior class president Ryan Burton. In his opening comments, Burton called his classmates "resilient" and said he and his peers were all destined for greatness.
In her speech to her fellow graduates, La Plata salutatorian Gabrielle Scanlin reminded her classmates to remember where they came from and how they helped make La Plata High School special. "I am honored to be a part of this class. We are all special in our own way, and we are what make La Plata High School special. We will always be Warriors at heart," she said.
La Plata's valedictorian Ciara Albrittain said while she and her classmates may wake up tomorrow and not feel any different as new high school graduates, they will all soon realize students in the Class of 2015 are going separate ways. "Today we have endless possibilities and opportunities. This is the beginning of our independence. Good luck to you all. Take the world by storm. Never forget where we started, because the Class of 2015 is unforgettable," she said.
La Plata's Class of 2015 earned more than $12.6 million in scholarship offers, and additional totals are being reported as offers are received. La Plata's graduation ceremony can be viewed at
livestream.com/ccpstv/15lhsgrad
.