2015 Commencement at St. Mary's College of Maryland Celebrated in 175th Year of Institution's Founding
St. Mary's College of Maryland, the state's public honors college, graduated 430 students with the degree of Bachelor of Arts on Saturday, May 16. The 2015 Commencement was a milestone event as St. Mary's College celebrates the 175th year of its founding.
During the Commencement ceremony, Rep. Steny Hoyer, who serves on the college's Board of Trustees, presented to St. Mary's College President Tuajuanda C. Jordan a plaque with Congressional Record noting the institution's dodransbicentennial. Hoyer, reading from the plaque's text, said that St. Mary's College has been a "center of learning and educational empowerment since its founding in 1840. Today it continues to graduate some of Maryland's best and brightest students" who are making a "difference wherever they live and work throughout Maryland, across our country and, indeed, across the globe."
The Commencement address was delivered by Rashad Robinson, executive director of ColorOfChange, the nation's largest online civil rights organization. Robinson told the Class of 2015, "Don't just be present, be powerful" and to "understand the connection between thought and action. Use your voice to change the world …. " Robinson was also conferred an honorary doctoral degree during the ceremony.
The valedictorian of the graduating class was Mary Margaret Addison, of Owings, Md. In her remarks, Addison told her fellow graduates, "Never forget your time at this incredible place, but don't be afraid to forge new paths, to seek new adventures, and to chase new dreams. … Realize that these incredible four years are not all that life has in store for you." Addison majored in biology with a minor in religious studies.
St. Mary's College graduating seniors choose a "quintessential student" to represent the class and speak at graduation. This year's selection was Taylor Schafer, of Baltimore, Md., who majored in history with minors in museum studies and educational studies. During her senior year, Schafer served as the student member of the college's board.
President Jordan charged the anniversary Class of 2015 to "utilize the solid liberal arts framework you have been provided to create a more just and humane society for all." By moving their tassels to the left, President Jordan told the graduates that they were symbolizing "the milestone culminating in today's ceremony."
The ceremony program concluded with the school song, "St. Mary's College of Maryland," composed by Professor of Music David Froom with lyrics written by Professor of English Jennifer Cognard-Black.
Recent Grads Pedal for a Purpose from D.C. to Seattle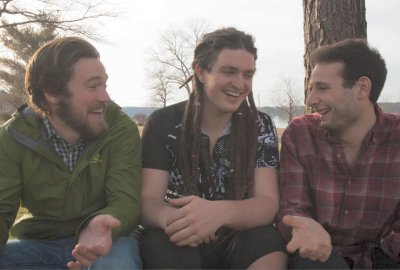 Having just graduated from St. Mary's College of Maryland on May 16, Cyrus Chimento, Graham Martin-Poteet and Keene Kelderman embark on May 20 for a cross-country cycling trip. They leave from Washington, D.C. with a goal to reach Seattle, Washington by July 15.
They are dedicating their ride, branded "Gear Up for a Greener Earth," to promoting environmental protection and the sustainable development of social, economic and legal systems. Their trek is a fundraiser for Conservation International, a charity organization concerned with global environmental protection. The trio will travel some 3,360 miles, with 283 hours in the saddle. They will ascend and descend more than 53,000 feet during the 63-day journey.
Chimento and Martin-Poteet are residents of Maryland. Kelderman is a resident of Connecticut.
Follow their trip:
Website:
https://gearupgreenearth.wordpress.com/
Facebook:
https://www.facebook.com/gearupgreenearth?ref=aymt_homepage_panel
Twitter:
https://twitter.com/GearUpGreen