Carey Crane Joins Exhibits Staff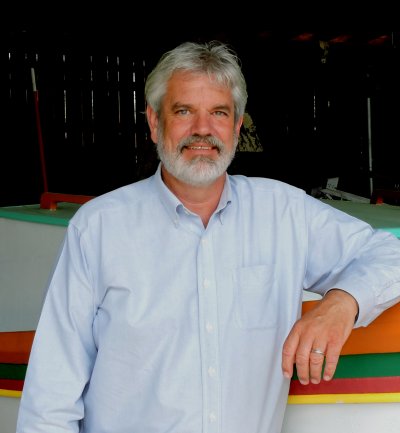 Carey Crane.
The Calvert Marine Museum announced the appointment of Carey Crane as Curator of Exhibits. Relocating from Las Cruces, New Mexico, Crane brings over 30 years of exhibit experience in Zoos, Natural History, and Health and Science museums.
Crane grew up close to Tampa Bay in St. Petersburg, Florida and graduated from the University of Florida in the early 1980's with a Bachelor of Fine Arts degree. After graduation, Crane learned the fundamentals/basics of exhibit fabrication at the Florida Museum of Natural History and a locally based exhibits company. Relocating to North Carolina, Crane established his own company and designed, fabricated and installed exhibit components in North Carolina, South Carolina and Virginia, including the Eastern Shore. His public service career in exhibits later took him to the North Carolina Museum of History, the North Carolina Zoological Park, and as Exhibits Curator for the National Museum of Health and Medicine in Washington D.C.
The past 11 years have been spent in New Mexico, with seven of those at the City of Las Cruces Museum System. As Director and Senior Curator, Crane led staff in the interpretation, design, production, and installation of exhibits for four city museums: the Las Cruces Museum of Art; Branigan Cultural Center, Museum of Nature & Science, and the Railroad Museum. Prior to that time he was as at the New Mexico Museum of Space History.
"Crane's artistic experience and knowledge make him a perfect addition to the Calvert Marine Museum staff," said Doug Alves, Museum Director. Crane is happy to be back on the East Coast and on the water again and being at the Calvert Marine Museum is an "opportunity beyond expectations."
Sunset Supper History Cruises on the Patuxent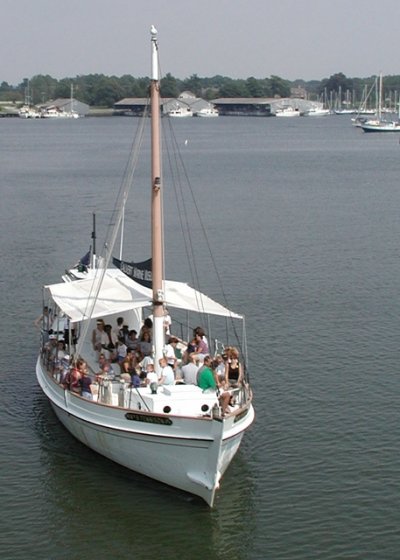 The Wm. B. Tennison.
Climb aboard the historic Wm. B. Tennison for a leisurely cruise through history with celebrated local historian and author, Dr. Ralph Eshelman. Only two of these special history cruises are scheduled: Saturdays, June 6 and September 12 from 6:00 p.m. – 8:00 p.m. The boat leaves from the museum dock. Tickets are $60 per person in advance and can be purchased by emailing mccormmj[at]co.cal.md.us or by calling 410-326-2042, ext. 41. Space is limited, so don't delay in securing your passage for this unique experience.
Learn fascinating facts about Solomons, the WWII Amphibious Training Base, and Solomons' rich tradition of boat building. See old steamboat wharfs and hear about the important role they played in town life. View historic homes, landmarks, and other points of interest. Discover where heroic battles were fought, submarines sunk, lighthouses lit, and Ghost Fleets docked. Watch the sunset over the horizon and enjoy a tasty supper provided by Lotus Kitchen. Guests are welcome to bring a libation of choice.
Road Scholar Program Offered at the Calvert Marine Museum
Did you know that the Calvert Marine Museum participates in the Road Scholar educational adventures? Road Scholar offers educational tours in all 50 states and 150 countries. The museum has been part of the program for over a decade and is proud to offer the "Keepers of the Light" program. This Road Scholar adventure takes you by land and sea for a first-hand look at 12 of the Chesapeake's historic lighthouses. The week includes accommodations, meals, expert-led lectures, field trips, entertainment by maritime musicians, hands-on experiences, and special behind-the-scenes explorations of local museums. This program is also open to commuters who live locally at a reduced price. The available dates are June 1, June 22, August 17 and September 7. Visit
www.roadscholar.org
to learn more and to register.
The "Keepers of the Light" Road Scholar program includes five nights of accommodations, 13 meals, an expert-led lecture, 10 field trips, 2 hands-on experiences, plus two full days on the Chesapeake Bay learning about lighthouse styles and taking pictures. Visit and tour two Southern Maryland land based lighthouses: Piney Point and Point Lookout Lighthouse. The program is led by expert instructors and leaders. Customary gratuities are included as well as state-of-the-art QUIETVOX listening devices.
Registration is handled by the Road Scholar program, visit
www.roadscholar.org
and click on Keepers of the Light: Great Lighthouses of the Chesapeake Bay.
Led by one or more of our world-class instructors, typically in a classroom setting, lectures come in the form of presentations, discussions or workshops and offer expert insight into your area of study.