School system offers summer physicals for students
Charles County Public Schools is offering sports physicals this summer to student athletes. Physicals will be limited to the first 100 students and are done on a first come, first served basis. The fee is $30 and cash is the only accepted form of payment.
Physicals will be hosted at Westlake High School on Saturday, June 27 from 8 to 11 a.m., and on Saturday, July 11, from 8 to 11 a.m. at St. Charles High School.
The registration form
is located on the Charles County Public Schools website under the athletics section. Forms can also be obtained at each high school. The parent section of the form must be completed and signed by the parent/guardian.
Students will not be seen without the required forms. Practice for fall sports begins on Wednesday, Aug. 12. Call your child's school for more information.
Business education students to compete in national conference
Two North Point High School students will compete in events at the National Leadership Conference in Chicago this summer after earning first- and second-place awards at the Maryland Future Business Leaders of America (FBLA) Leadership Conference held April 23-25 in Hunt Valley. North Point junior Aisha Barnes earned a first-place award in the Job Interview category, and Joel Magee, also a junior at North Point, earned a second-place award in the Networking Concepts category. Students who earn a first- or second-place award at the state level advance to the national conference, scheduled for June 24-27.
FBLA conferences include more than 60 competitive events for students to take part in ranging from accounting, client service and health care administration to sales presentation, marketing, public speaking and website design. The state conference provides FBLA members from Maryland with opportunities to network, compete in events, share successes and ideas with other members and participate in workshops to learn how to shape future career goals.
An additional five North Point students placed at the state event in their respective competition categories. They are
-- Denaye Taylor and Jimmy Mulvey, sixth place, juniors, Entrepreneurship;
-- Paul Morrissey, seventh place, junior, Sales Presentation;
-- Kai Jones, eighth place, senior, Accounting I; and
-- Manuel Ardita, ninth place, junior, Computer Problem Solving.
The North Point FBLA chapter includes more than 30 student members. Charles County Public Schools hosts a regional conference for all FBLA students annually. Competition winners at the regional conference advance to the state level. FBLA gives students opportunities to learn about the business community. Projects include professional, civic, service, financial and social awareness activities. FBLA sponsors an annual national leadership conference each year, which begins with competition at the local, regional and state levels.
The Maryland FBLA chapter is managed by the MDFBLA Board of Directors and the current State Officer Team. Students from high schools in Maryland are eligible to apply for a state officer position. For more information on FBLA, visit
www.mdfbla.org
.
Teams from Craik, Matula earn first place Math Challenge honors
Teams from Dr. James Craik and Mary H. Matula elementary schools earned the top spots in the Elementary Math Challenge, held Saturday, April 25 at Theodore G. Davis Middle School. The event is for fourth- and fifth-grade students and is a two-part mathematics challenge that includes both team and individual competitions. Teams from all Charles County public elementary schools competed. The team challenge requires each team to solve four reasoning and problem solving questions within a 30-minute period.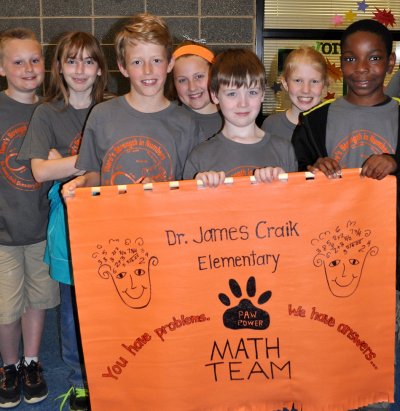 Pictured is the fourth-grade math team from Dr. James Craik Elementary School that won first-place among competing fourth-grade teams at the Elementary Math Challenge held April 25. Pictured from left are students Mason Hebner, Jordan Surfield, Wyatt Newcomb, Alayna Steinmetz, Jimmy Olmsted, Mackenzie Fox and Gabriel Dinnea.
Craik's fourth-grade team earned first place with a score of 146 out of 21 competing teams. Team members are Gabriel Dinnea, Mackenzie Fox, Mason Hebner, Wyatt Newcomb, Jimmy Olmsted, Alayna Steinmetz and Jordan Surfield. The team coach is Craik fourth-grade teacher Michelle Daggett. Gale-Bailey Elementary School's fourth-grade team won second place, followed by a team from Mary B. Neal Elementary School in third place.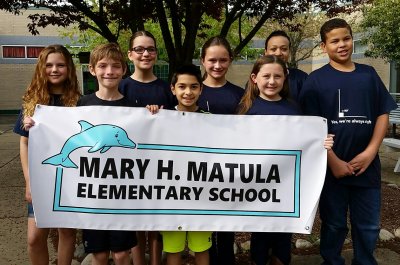 Pictured is the fifth-grade math team from Mary H. Matula Elementary School that won first-place among competing fifth-grade teams at the Elementary Math Challenge held April 25. Pictured from left are students Aubrey Alexander, Dylan Tompkins, Emily Winkler, Arya Forohar, Emma Vanden Berg, Taylor Peterson, coach Erica Hughes and student Joshua MacDonald.
Matula's fifth-grade team earned first place with a score of 188 out of 21 competing teams. Team members are Aubrey Alexander, Arya Forohar, Reagan Johnson, Joshua MacDonald, Taylor Peterson, Dylan Tompkins, Emma Vanden Berg and Emily Winkler. The team coach is Matula fifth-grade teacher Erica Hughes. T.C. Martin Elementary School's fifth-grade team won second place, followed by a team from Gale-Bailey in third place.
In the individual portion of the competition, each team member takes an online test of 30 math problems and has 30 minutes to complete them. The top five individual scores are added to the team score to compute a team's overall score. Kaelan Parkin from William B. Wade Elementary School was named the first-place individual winner with a score of 24 points at the fourth-grade level, followed by Craik student Jimmy Olmsted in second place with a score of 22 points.
At the fifth-grade level, Gale-Bailey student Grace Landgraf was the first place winner with a score of 26 points. There was a five-way tie for second place in the fifth-grade individual challenge. Craik students Hannah Krauel and Param Jhala tied for second place with a score of 25 points along with Kendra DeFilippo and Zachary Dryden from Malcolm Elementary School, and Blake Baker from C. Paul Barnhart Elementary School.
The top five teams, as well as the top three individuals, at each grade level received a plaque and the top scoring student on each team received a medal. All competing students received a participant ribbon. The annual event is sponsored by the Southern Maryland Electric Cooperative (SMECO). Visit SMECO's website at
www.smeco.com/news.aspx
for more information.
Students in the Adult Independence Program graduate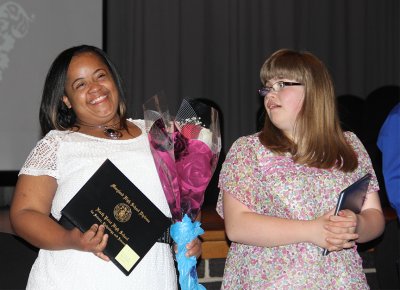 Adult Independence Program (AIP) graduates Khrystan Green, left, and Candice Wedding, right, walked off the North Point High School auditorium stage with diplomas in hand at a graduation ceremony held May 15.
Friends and family members filled the North Point High School auditorium on May 15 to see 12 students graduate from the Adult Independence Program (AIP) that provided them with learning and life experiences.
This year's graduates are Sara Akers, Shawn Duker, Joshua Gauvin, Khrystan Green, Marvin Johnson Jr., James Kilinski, Alonte McElhaney, Luther Palmer V, Marlon Tiller, Candice Wedding, Tyler Windsor and Devante Yates.
Graduation was an exciting day for the AIP graduates. Some graduates cried; other graduates laughed. Another graduate stopped in the center of the stage and posed for his family to take his picture as he ended his experience with the AIP.
The ceremony began when the lights in the auditorium dimmed as a video played, showing all in attendance examples of experiences the graduates had while enrolled in the AIP. AIP graduate Marlon Tiller offered welcoming remarks and the graduates walked in one-by-one taking their seats on the auditorium stage. The keynote speaker for the event was Erin Conner, Charles County Health Department Division of Disability Services Service Coordinator. She gave an inspirational speech to the graduates, telling them that it is better to create your own path in life and leave a trail, than follow the path of others. After Conner's speech, the students got ready to accept their diploma. Christina Sprague presented, a special education instructional specialist for Charles County Public Schools, presented each graduate with a certificate.
Students in the program are trained to search for employment and to complete job applications, as well as how to access the public transportation system. There were 23 participating employers in the 2014-15 program.
The Adult Independence Program provides students with community-based learning experiences that give each individual the experiences of an independent adult. Throughout the duration of the program, which is designed for student's ages 18 to 21, students acquire adult skills and apply them to community environments.
County students, teacher earn state History Day awards
Three Charles County Public Schools students received special awards, and a Piccowaxen Middle School teacher was named the Charles County History Day Teacher of the Year, at the Maryland History Day competition held May 2 at the University of Maryland Baltimore County.
Two students received the Senator Thomas V. Mike Miller, Jr. Award for Excellence in Government History. Piccowaxen seventh graders Jake Burgess and Conor Vienneau received the award for their documentary project titled, "To the Brink: JFK and the Cuban Missile Crisis."
Benjamin Stoddert Middle School eighth grader Nakhyla Ligonde received the Labor History Award for her historical paper project titled, "A Woman's Work: The Lilly Ledbetter Fair Pay Act – Leadership and Legacy and the Fight for Equal Pay."
Additionally, Daniel Hoefert, a social studies teacher at Piccowaxen, was chosen to represent Charles County at the state level as the 2015 Charles County History Day Teacher of the Year. More than 30 other CCPS students competed in the state event after receiving a first- or second-place award at the county level. For more information on History Day activities, visit
www.nhd.org.