LA PLATA, Md. (May 26, 2015)—Charles County Sheriff Troy D. Berry announced today that detectives have charged Richard Travess Conway, 26, of Waldorf in connection with the domestic-related shooting that left a man dead and a woman wounded in the parking lot of McDonalds in the 11000 block of Mall Circle on May 20. Conway's mother, Caroline Conway, was quickly linked to the case and was arrested and charged within hours after the murder.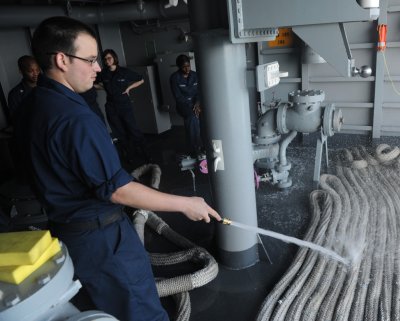 Then U.S. Navy Boatswain's Mate Seaman Robert Mange conducts periodic maintenance on mooring lines aboard the aircraft carrier USS George H.W. Bush (CVN 77) in the Atlantic Ocean on May 16, 2013. Mange was active duty from 2010 through Sept. 2014. He was in the Reserves at the time of his death. (U.S. Navy photo by Mass Communication Specialist Seaman Joshua Card/Released)
On the night of the shooting, Caroline Conway approached Robert Michael Mange, 25, of Norfolk, Va., and his wife as they sat in their car in the parking lot waiting to pick up two children with whom they had visitation rights. Ms. Conway, the grandmother of one of the children, suddenly opened the car door and got in the back seat where she pulled a handgun and shot and killed Mr. Mange and then shot and wounded Mr. Mange's wife before fleeing. Investigators believe the shooting stemmed from an ongoing child custody dispute between Mrs. Mange and Richard Conway, who had a prior relationship. The children were not with Ms. Conway at the time of the shooting.
After Ms. Conway's arrest, investigators learned Richard Conway was a police officer with the Prince George's County Police Department. They immediately contacted members of the PGPD and both agencies began a joint investigation. St. Mary's County Sheriff's officers also assisted with technical support. Detectives worked methodically through evidence and witness accounts and subsequently developed information linking Richard Conway to the case. After conferring with Charles County State's Attorney, Tony Covington, an arrest warrant was obtained. On May 25 Conway was arrested at his home he shared with his mother.
Mr. Conway was off duty when the crime occurred and detectives are looking into the possibility his service firearm --which has not been located—was used in the commission of the crime. Anyone who may have seen Caroline Conway or Richard Conway on the night of the shooting or shortly thereafter is asked to call Det. J. Elliott at (301) 609-6515. Tipsters wishing to remain anonymous may contact Charles County Crime Solvers by calling 1-866-411-TIPS.
Conway and his mother are being held in the Charles County Detention Center with no bond. The investigation is continuing.