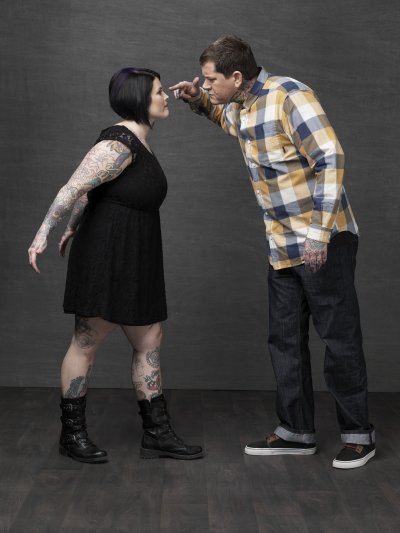 Duffy Fortner and her personal tattoo rival, and former mentor, Dave Kruseman, Owner of Oldeline Tattoo in Hagerstown. (Photo courtesy of Spike TV)
Spike TV's hit original series "
Ink Master
" returns for a sixth season starting Tuesday, June 23 at 10 pm ET/PT, and this time one of the contestants is a local Calvert County woman. Duffy Fortner is an artist at Red Octopus Tattoos in Prince Frederick.
Duffy dubs herself a tattoo brat since the age of six. Coming from a whole family of tattoo artists, she claims that the art of tattooing is in her blood. With a 10-month old at home, she asserts that is her passion and knowledge of this industry that drives her in this competition. She wants nothing more than for her child to look up to her success. Duffy is challenged this season by Kruseman, the Hagerstown, Maryland tattoo shop owner and a former mentor of hers. She is determined to outperform him this season and claim the title as the first female Ink Master.
Tattoo artists from around the country battle it out in permanent ink in Spike TV's hit reality/competition series for a $100,000 grand prize, an editorial feature in Inked and, of course, the bragging rights title of 'Ink Master.' Each week "Ink Master" puts artist through a series of tattoo challenges that are not only designed to test the artists' technical skills, but also their on-the-spot creativity, where they must create and execute an original tattoo by command on a 'Human Canvas.' Each episode focuses on a different and distinct style of tattooing including American traditional, Japanese, trash polka, anatomical and Victorian, among others. The masterpieces these artists create will last a lifetime, but so will their mistakes.
After every challenge, the contestants face a tough panel made up of series host Dave Navarro (Jane's Addiction) and world renowned tattoo artists Chris Nunez ("Miami Ink") and Oliver Peck (Elm Street Tattoo) who are joined by a roster of guest stars including Avan Jogia ("Tut"), Khaseem Greene (Chicago Bears), Tony Jefferson (Arizona Cardinals), Keith Pough (Cleveland Browns), Allen Robinson (Jacksonville Jaguars), Darius Slay (Detroit Lions) and Kamerion Wimbley (Tennessee Titans). This season it's not just about the rivalries the artists create during the competition, each contestant comes with their own personal tattoo rival - their master or apprentice.
This year, "Ink Master" will culminate with a LIVE finale. New episodes premiere weekly on Tuesday's at 10PM, ET/PT.
Find out more about Duffy on
her website
or follow her on
Twitter
.