Lunch on Us this summer at several Charles County locations
Charles County Public Schools (CCPS) invites children to "Lunch on Us" again this summer from June 29 through Aug. 14. Lunch on Us is Charles County's free summer meal program for children, which is part of the state and federal summer food service programs that provide children the nutrition they need to learn, play and grow during the summer months. Lunch is free to all Charles County children ages 18 and younger, and must be consumed at the site. There are no other restrictions, income guidelines or application forms.
Lunches are prepared by the Charles County Public Schools Food Services Department and meet federal nutrition guidelines. A typical lunch may consist of a sandwich, fruit, vegetable and milk and varies daily. The lunch program is available Monday through Friday from June 29 through Aug. 14. All lunch sites will be closed on July 3.
Hot lunches will be served at the following locations:
-- Westlake High School, 11 a.m. to 12 p.m.
-- Henry E. Lackey High School, 11:30 a.m. to 12:30 p.m.
-- Mt. Hope/Nanjemoy Elementary School, 12 to 1 p.m.
Cold, bagged lunches will be served at the following mobile sites:
-- Eva Turner Elementary School, 11-11:20 a.m.
-- Children's Aid Society, 3000 Huntington Circle, Waldorf, 11:30-11:50 a.m.
-- Milton M. Somers Middle School, 11:30-11:50 a.m.
-- Tri-County Youth Services Bureau, 75 Industrial Park Drive, Waldorf, 12-12:20 p.m.
-- Phoenix Run, 651 Piscataway Run, La Plata, 12-12:30 p.m.
-- Charles Landing Apartments, Jameson Court, Indian Head, playground area, 12-12:30 p.m.
-- Ell Lane Apartments, 12151 Ell Lane, Waldorf, management office, 12:30-12:50 p.m.
-- Woodland Village Park, Thompson Lane, Indian Head, 12:45 to 1:15 p.m.
-- Idlewood Trailer Park, Waldorf, 1-1:20 p.m.
-- Holly Tree Apartments, 2482 Lake Drive, Waldorf, 1-1:20 p.m.
-- Elite Gymnastics, 2745 Old Washington Road, Waldorf, 1:30-1:50 p.m.
Lunch on Us meals are funded by the Federal Summer Food Service Program. Site supervision and delivery of meals is funded by The Charles County Advocacy Council for Children, Youth and Families and the Governor's Office for Children through a grant to Charles County Public Schools. For more information about the program, contact Jennifer Conte, student intervention coordinator for CCPS, at 301-934-7326 or jconte[at]ccboe.com, or visit the school system website at
www.ccboe.com/community/parents/lunchonus/
.
Smallwood named top state MESA middle school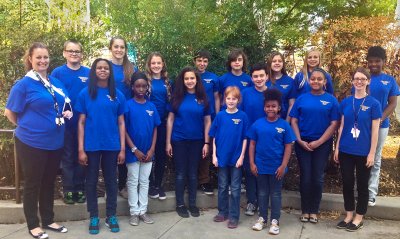 The General Smallwood Middle School Mathematics, Engineering and Science Achievement (MESA) team was named the overall top middle school at the state MESA event held May 7. This is the second time in the past three school years that the Smallwood MESA team has earned the overall state title among participating middle schools at the state level.
General Smallwood Middle School was named the state overall winner at the middle-school level at the statewide Mathematics, Engineering and Science Achievement (MESA) competition held May 7 at Johns Hopkins Applied Physics Laboratory. Teams from Dr. James Craik Elementary School, Milton M. Somers Middle School and Westlake High School also placed at the state event.
Awards are given for first-, second-, and third-place teams and one overall state elementary, middle and high school winner is chosen. The school that earns the most points throughout the competition is chosen as the overall winner. Smallwood placed in three competition events: first place in the Hovercraft challenge, first place in the Basswood Bridge challenge and third place in the ALICE Interactive Game Design challenge.
Smallwood competed at the state level after earning the overall middle school award at the county competition. This is the second time in the past three school years that Smallwood earned the overall middle school award at the state MESA event.
Smallwood students on the Basswood Bridge team include Captain Veronica LeBeau, eighth grade; Brynna Bode, sixth grade; Thomas Buckley, seventh grade; Kori Sheckells, sixth grade; and Jaxon Vayro, seventh grade. Students on Smallwood's Hovercraft team include Captain Garrett Batchelor, eighth grade; Shareese Adams, seventh grade; Angela Davidson, seventh grade; Jake Dodohara, eighth grade; and Madison Furman, seventh grade. The ALICE team includes Smallwood students Jake Dodohara, eighth grade; Bolu Laseinde, seventh grade; and Jemila Macauley, seventh grade. Team sponsors are Corrin Stilwell, science teacher at Smallwood, and Lisa Mentzer, literacy instructional assistant at Smallwood.
The Craik team earned a first-place award in the Storybook Theme Park Ride challenge, a second-place award in the Balsawood Bridge challenge and third place in the Effective Communication challenge. Craik competed at the state event as the overall elementary school winner at the county competition.
The team from Somers earned a third-place award in the Prosthetic Arm challenge among competing middle schools, and Westlake's team earned third place in the Prosthetic Arm challenge among competing high schools. First-place winners at the local level in the Prosthetic Arm challenge automatically advance to the state competition.
Maryland MESA is designed to prepare students for academic and professional careers in mathematics, engineering, science and technology. The program's goals are to increase the number of engineers, scientists, mathematicians, and related professionals at technical and management levels; and to serve as a driving force in encouraging and assisting minorities and females in achieving success in these fields.
For more information on Maryland MESA, visit
www.jhuapl.edu/mesa/home/
.
Davis' Sarah Desrosiers named Teacher of the Year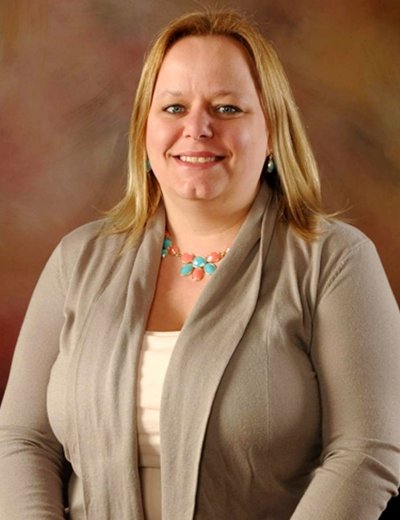 Sarah Desrosiers.
In the Life Skills classroom at Theodore G. Davis Middle School, sunlight streams through a large glass window naturally brightening the learning environment. The light illuminates the descriptive words on cabinets, bookshelves full of materials and personalized bins for each student that include learning resources specialized just for them. The brightest light in the classroom is the Life Skills teacher, Sarah Desrosiers, who provides a spectrum of possibilities for her students.
Her gentle demeanor with children, mixed with her passion to provide instruction to all levels of learners, is evident in her interactions with students. From high fives and curtsies to doing the Hot Dog Dance from Mickey Mouse, Desrosiers connects with her students in exciting ways so they not only understand her expectations, but they know she truly cares for their well-being. To recognize her roles as teacher, advocate and cheerleader for children with special needs, Desrosiers was chosen by Charles County Public Schools as the 2015 Teacher of the Year.
Desrosiers learned of her selection as Teacher of the Year with a special visit from some of her former students and Superintendent of Schools Kimberly Hill. "Nothing is more humbling after receiving this news as when the visitors file out of the room and you are faced with your amazing special needs students and one looks at you and says, 'Ms. D. You won! When is lunch?' My students don't truly understand what this means for me or really for them," she said.
Desrosiers said she knew from a young age that she wanted to work in an environment where she could be the difference in someone's life. Her parents both worked in education – her father was a teacher and school principal, and her mother taught kindergarten. As a young girl, she would visit her mother at her school where she encountered students with special needs. She volunteered to spend time with these students and said she had no idea then how those experiences would later impact her life. Desrosiers has been working with special education students for the past 12 years, and believes that creativity, risk and compassion yield student success.
"I know they can learn. They know that I know they can learn. From this collective knowledge my compassion and creativity are the keys to determining how they will become better learners. Creativity involves risk, and those risks are tempered by compassion in my classroom. The totality of three – creativity, risk and compassion – yields student success. The success of my students is my reward," Desrosiers said.
Desrosiers began her career with Charles County Public Schools in 2007 at Davis when the school opened. Upon interviewing for a teaching position with CCPS, Desrosiers considered a variety of special education positions, but it was her experiences with special needs students at a young age that led her to take the Life Skills position at Davis. The Life Skills program features curriculum designed for students to not only learn about reading, mathematics, science and social studies, but also to learn essential skills in the areas of personal responsibility, community access and the world of work.
Desrosiers strives to meet the needs of each student in her class from developing different ways to explain daily lessons and content to securing essential technology tools, such as iPads and iPods, to enhance learning. She models lessons using descriptive methods such as using the five basic senses to conduct scientific experiments, cutting shapes from paper to teach calculations and using sight words and short stories to learn language skills. Her students readily volunteer to solve problems at the Smart board, as they are eager to have fun while learning and cheer on their classmates.
Some of the additional learning opportunities Desrosiers coordinates for her students include helping with the eighth-grade promotion ceremony, delivering newspapers to classrooms in the building, cooking in the Life Skills classroom, organizing school bulletin boards and serving as cashiers when the students sponsor the Davis Drive Thru to raise money. Desrosiers and her students are well known among the school community for their Davis spirit and eagerness to learn, and her coworkers find her to be "inspiring." Trisha Volland is a world language teacher at Davis and has worked with Desrosiers for the past seven years. She said Desrosiers instills in her students a strong desire to learn.
"She challenges them in ways that make them think, plan ahead and really consider what is going on before they begin a task. She teaches students valuable social skills, gently reminds them when needed, and thanks them when they engage in conversations. It is inspiring to watch her interact with her students," Volland wrote in a letter of support for Desrosiers.
Kim Coates, the parent of a former Davis student, attests to the care and compassion Desrosiers demonstrates in her classroom. Coates wrote a letter of support for Desrosiers award nomination and said her child learned to better develop his potential and reading and writing skills as a result of the exceptional care he was shown by Desrosiers. "I am forever grateful for her kindness and hard work. She not only taught Jalen to reach his potential but she also taught me that he is capable of so much more than I ever dreamed for him. She is a wonderful teacher who has gone above and beyond her duties," Coates wrote in her letter.
Davis Principal Stephanie Wesolowski is in her first year as the lead administrator at the school and said Desrosiers' classroom is a live resource for other teachers interested in learning more about differentiated instruction. "She clearly recognizes that no single teaching style, lesson plan, learning expectation, assignment or project based learning task can be appropriate for all students. She is an integral part of the success of the Life Skills program at Davis. She is by every measure an educational leader and exemplary teacher," Wesolowski wrote in an award nomination letter.
In addition to working with special needs students in the classroom, Desrosiers implemented and sponsors the Best Buddies program at Davis in which students with and without disabilities are paired together to mentor one another. She launched the Unified Sports program among middle school students to ensure that students of all abilities have the opportunity to participate in athletics. She also works with staff at The Goddard School in Waldorf to assist teachers with lesson plan writing, behavior modification and Smart board use.
Desrosiers credits her students and peers for her passion in education. "Looking at the road that has taken me here, it has been paved with amazing students and their families, administration, and irreplaceable instructional assistants. It is because of them that I can say that this has never been a job, but instead a passion," she said.
As Charles County's Teacher of the Year, Desrosiers is eligible for the Maryland Teacher of the Year award. The state winner is announced by the Maryland State Department of Education (MSDE) in the fall at a special ceremony held to honor all local recipients. The state winner is also considered for the National Teacher of the Year honor. The Board of Education will recognize Desrosiers at the June 9 meeting.
Prior to joining CCPS, Desrosiers was a special education teacher with Plainfield Public Schools in Connecticut and taught science to special needs students at Stonington Institute North, also in Connecticut.
She has a bachelor's degree in American studies with a concentration in American history and elementary education from Franklin Pierce College, and a master's degree in education from Southern Connecticut State University. For more information on the Teacher of the Year awards program, visit the MSDE website at
http://www.msde.maryland.gov/MSDE/programs/recognition-partnerships/toy_1/
.
Barnhart Elementary PTO President named PIMA semifinalist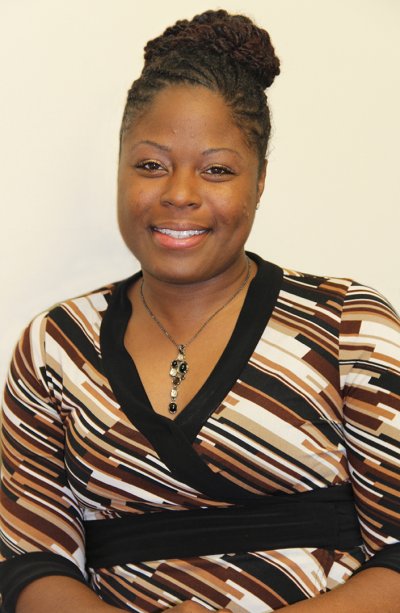 Yolanda Judge.
Yolanda Judge, president of the Parent-Teacher Organization (PTO) at C. Paul Barnhart Elementary School, was selected as Charles County's 2015 semifinalist in the Maryland Parent Involvement Matters Award program. As the county winner, she is now eligible to be chosen as a finalist for the state award.
The Maryland State Department of Education (MSDE) created the awards program to recognize Maryland parents who have made contributions to public education and to highlight the positive impact parents have on public schools. The award recognizes parents from school systems in Maryland, and features five levels of criteria: communication, volunteering, learning, decision making and community collaboration.
Judge was chosen to lead the Barnhart PTO as its president earlier this school year and has served as the school's representative on the Charles County Public Schools Parent Advisory Committee (PAC) for the past two years. Barnhart Principal Troy Barnes nominated Judge for the award and said that without her dedication to the school community, the PTO would not exist at his school. "Ms. Judge is the reason behind the success of our PTO and a vital member of our school community. Our success is directly related to her commitment, time and effort. She is an advocate for children, a dedicated member of our school community and the sole reason why we still have a PTO," Barnes wrote in a nomination letter.
At the end of last school year, leadership roles on the Barnhart PTO became available, but no one immediately volunteered to oversee the group as its president. Barnes said he was concerned that the PTO at his school would be disbanded from lack of interest. Judge volunteered to run as president and was unanimously selected to lead the group. Barnes said Judge immediately began working to increase parental involvement.
At the start of the school year, there were 28 families that participated with Barnhart's PTO. With Judge's leadership and enthusiasm for community and parental involvement, the Barnhart PTO participation grew to include more than 78 families. Judge also helped to establish several PTO committees to organize activities to benefit the entire school community and increase parental involvement. She created a Box Top for Education committee to recognize students who participate in the program, and established an event-planning committee to coordinate school-related activities and events. Judge also worked with the PTO to launch a volunteer committee, which includes more than 80 parent volunteers, to support in any areas of need or with activities at the school.
Some of the activities Judge has helped to plan this school year include a Fall Festival, Breakfast with Santa, spirit nights at local businesses and PTO luncheons for staff. More than 400 parents, students and staff attended the Fall Festival, and another 300 attended the Breakfast with Santa. Barnhart Vice Principal Krista Sevajian said Judge has been instrumental in increasing parental and community involvement.
"During open house, book fair nights and casual walks in the Lancaster neighborhood, Ms. Judge will show up with flyers and a gigantic smile welcoming parents to come out for PTO events and meetings. Ms. Judge is relatable and friendly, therefore parents are even more receptive than ever before to volunteer and participate in schoolwide events and PTO initiatives," Sevajian wrote in her award nomination letter.
Judge has served the Barnhart community for the past four school years and has a son that attends the school. She said she is humbled by her selection for the award and excited to represent the Barnhart community and Charles County Public Schools in the PIMA program.
Judge will be recognized at a special ceremony on June 5, where the five finalists and the state award winner will be announced. The statewide winner and finalists are eligible for a cash prize to further their efforts to improve the public schools they represent. The PIMA program is supported by several organizations including the Maryland Parent-Teacher Association. For more information about the awards program, visit the MSDE website at
http://marylandpublicschools.org/pima/.