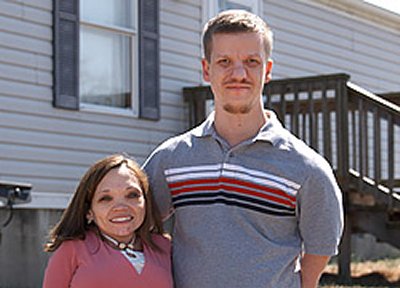 Josh and Susan Scott of Mechanicsville. (Photo courtesy of Sony)
CBS' new show, The Briefcase follows the lives of two ordinary American families that are struggling to get by and just can't catch a break, until they are given a briefcase with $100,000. One of the very deserving families featured in the series lives in Mechanicsville, in St. Mary's County.
Joshua and Susan Scott are little people who face the challenges of living in an "averaged-sized world." Josh is a telecommunications installer and Susan is a clerk at the Sheriff's Office. They dream of having children, however, Susan's form of dwarfism leaves adoption as their only option. With their large amount of debt, the burden of living paycheck to paycheck, and the hefty price of adoption, they fear that it may never become reality.
The Scott's are offered $100,000 and a decision: keep it all, share some, or keep none and whatever they don't keep will go to another family that is in as much need or more. They are given 72 hours to make their choice while learning more and more about this other family's needs and struggle. This social experiment is meant to explore what happens when they are given an opportunity to improve their own lives or help those around them who may be in as much if not more dire circumstances. It follows their emotional journey toward their final decision, as well as delving into topics such as faith, generosity, and hope.
"'The Briefcase' is an eye-opening look into what matters most in people's lives, taking the audience on an emotional roller coaster ride with a shocking ending each week," said THE BRIEFCASE Creator and Executive Producer Dave Broome. "I've been incredibly impressed by just how generous Americans are, even with shrinking paychecks and rising debt, when there's little left to give."
THE BRIEFCASE is produced by 25/7 Productions and distributed by Sony Pictures Television. Dave Broome (Creator and Executive Producer, THE BIGGEST LOSER) and Faye Stapleton are executive producers.
The series premieres Wednesday, May 27 (8:00-9:00 PM, ET/PT) on the CBS Television Network.