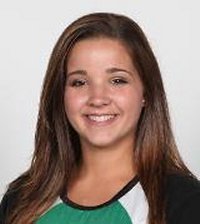 Jessica "Jessi" Pogue.
BUSHWOOD, Md. (April 30, 2015)—Former Chopticon Graduate Jessica "Jessi" Pogue has been nominated and invited to play lacrosse for Team USA Athletes International in the 2015 "Down Under Lacrosse Tournament" in Melbourne, Australia. This Tournament is slated to take place May 25th through June 6th, 2015.
Pogue started playing lacrosse in the ninth grade at Chopticon. She became captain of the varsity team in her junior year and maintained the leadership role throughout her senior year. After graduating from Chopticon, she headed south to Greensboro College in Greensboro, North Carolina. She recently graduated with a degree in Business Administration and a minor in Economics.
As a part of the USA South Conference, Pogue was recognized and named to the All Sportsmanship Team. For two years running, she also received the All Conference Academic Award. This year, the "Greensboro Pride" went 8-4, and achieved a 3 seed in the USA South Conference Semifinals Tournament in Rocky Mount, North Carolina—all with only 13 players (most of the 12 players on the field played the entire game without rest from a substitution player).
Team USA will visit 9 cities in Australia during a 13 day tour.
"This event is an excellent opportunity for athletes to foster goodwill and friendship among nations, while also promoting the game," said William A. Edington, executive director of US Athletes International. "With the exception of the US Olympic program, there are few opportunities for athletes to experience the competition, history and culture of other countries on an international level."