CSM Athletics Director Earns Under Armour Athletic Director of Year for Junior, Community Colleges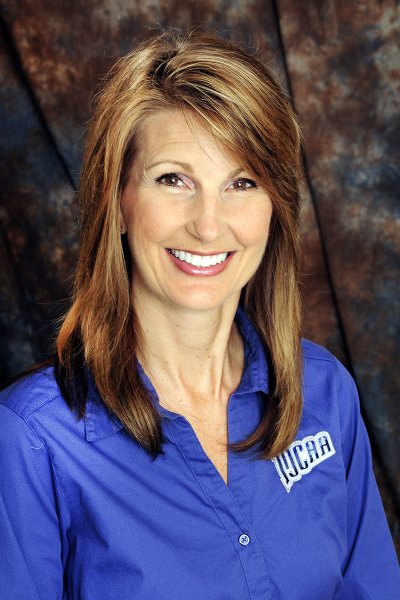 CSM Student Life and Athletics Lead Director Michelle Ruble.
College of Southern Maryland Student Life and Athletics Lead Director Michelle Ruble was named Under Armour Athletic Director of the Year for Junior and Community Colleges. She will receive the award during the National Association of Collegiate Directors of Athletics (NACDA) luncheon June 17 in Orlando, Florida.
Ruble was hired as CSM's head volleyball coach in 1991. She became the college's athletic director in 2001 and was named CSM's director of Student Life and Athletics in 2007.
As a volleyball player while at Elon University, in North Carolina, Ruble was a three-year captain and an Academic All-American. She earned a bachelor's degree in public and business administration from Elon and a master's degree from the College of Notre Dame of Maryland.
During Ruble's 20 years of service as CSM's head volleyball coach, the team had an impressive record with two Maryland Junior College Athletic Conference Championships. The team experienced success at the national level with Ruble at the helm ranking as high as 10th in the nation. Ruble finished out her tenure with a record of 386-220.
Ruble joined the NJCAA board of directors in 2002 when she was elected Region XX women's director. She currently serves as the co-chair for finance and budget, and is also a member of championship events and sports districting division 1 committees.
She is the current Maryland JUCO Volleyball Liaison. In 2011, Ruble was named to the executive committee of the National Alliance of Two-Year College Athletic Administrators (NATYCAA) and in 2014 she was elected to a two-year term as second vice president for women of the National Junior College Athletic Association (NJCAA).
Locally, she has served on the board of the Zonta Club of Charles County. She graduated with the 2014 class of Leadership Southern Maryland.
"From the time Michelle joined CSM as head volleyball coach in 1991 to her current role as director of Student Life and Athletics, her dedication and enthusiasm for excellence has inspired our student-athletes as well as our coaching staff," said CSM Vice President of Student and Instructional Support Dr. Bill Comey.
CSM's Academic Excellence Scholarship Aims High
Counties' Top High School Graduates Can Start Local, Transfer to More than 40 Universities
A program geared toward providing Charles and St. Mary's counties' top high school graduates with a rigorous academic experience is available through the College of Southern Maryland's Academic Excellence Scholarship Program.
Students who maintain a 3.0 cumulative CSM grade point average (GPA) while enrolled in 12 or more credit hours are awarded a $2,000 scholarship with $500 per semester for four consecutive semesters. During this first year, one recipient will be chosen from each Charles County and St. Mary's County high school.
"The Academic Excellence Scholarship provides CSM with a way to recognize and reward bright, energetic and caring students who are committed to their studies and who may face some financial challenges in attending college. While CSM is already one of the best values in higher education in the state, this scholarship makes college even more affordable," said CSM Student and Instructional Support Vice President Dr. Bill Comey.
To apply for the scholarship, students must have an unweighted high school GPA of 3.5, be graduating from a public high school in Charles or St. Mary's counties this year, and demonstrate financial need.
A similar opportunity is available for students in Calvert County through the Presidential Scholars Program.
"The program is designed to encourage high-achieving, academically prepared seniors to begin their collegiate journey in Southern Maryland, close to home at a college with small class size, affordable tuition, a variety of clubs and athletics, and excellent transfer opportunities," said CSM Financial Assistance Director Chris Zimmermann.
Scholarship recipients who qualify will have guaranteed transfer admission to more than 40 public and private universities, including George Mason University, The George Washington University, Howard University, St. Mary's College of Maryland, Towson University, University of Maryland College Park, Virginia Commonwealth University and Frostburg University.
The scholars program is supported by the CSM Foundation.
For information on the Academic Excellence Scholarship, visit
www.csmd.edu/Financial/scholarships/academicexcellence.html
.
For a list of universities with guaranteed transfer admission partnerships with CSM, visit
www.csmd.edu/academics/guaranteedtransfer.html
.
CSM Earns Silver LEED Certification for Newest Building
Community Education Building Lauded for Use of Earth-Friendly Construction, Design, Use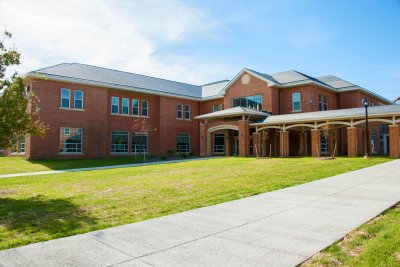 As the country celebrates Earth Day, the College of Southern Maryland celebrated its recognition of its newest building on the La Plata Campus earning Silver LEED (Leadership in Energy and Environmental Design) Certification from the U.S. Green Building Council. The Community Education (CE) Building has 48,000 square feet with 18 classrooms, as well as specialized rooms for certified nursing assistant and geriatric nursing assistant programs, veterinarian tech, criminal justice, geography and a Macintosh computer lab.
"This is a green classroom building, the first built on this La Plata Campus, with materials and systems designed and selected to reduce the building's impact on the environment," said CSM Trustee Chair Michael Middleton during the building's fall dedication ceremony. "[The building] incorporates a number of LEED features throughout. As a green building, it is designed with a compact footprint to reduce the impact on the natural environment, with expansive daylight in learning spaces and a high efficiency mechanical and lighting system."
Rain gardens and biofilters around the exterior of the building, filter and slow rainwater to clean and recharge the local groundwater aquifers. More than 22 percent energy efficiency and 40 percent water savings are expected.
"Large north and south facing windows bring in natural light and highlight the beautiful views of the campus; studies have shown that access to natural daylight and views improves productivity so this will be a great benefit for our students," said Middleton.
To view photos of the dedication, visit
www.csmd.edu/news/archive/2014/...html
.
Calvert Schools Sweep Champion Awards at CSM
49 Southern Maryland Teams Compete at College's LEGO Robotics Championship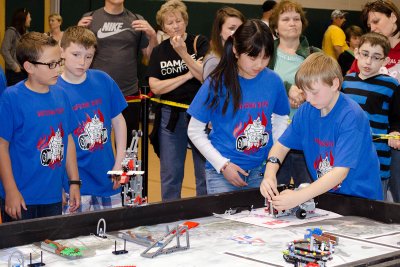 Calvert Elementary School's Inferno Bots Blue took away the Elementary School Champion Award at the College of Southern Maryland's 2015 LEGO Robotics Challenge April 11 at the La Plata Campus.
Elementary and middle school students from Calvert, Charles and St. Mary's counties gathered at the College of Southern Maryland April 11 to compete in the 2015 LEGO Robotics Challenge. Two schools from Calvert County took away the top awards: Plum Point Middle School's Gator Gears took the Middle School Champion Award and Calvert Elementary School's Inferno Bots Blue took away the Elementary School Champion Award.
Winners of overall awards were, Project Award:T.C. Martin Elementary's Fury Fighters TCMFF; Core Values Award: Piney Point Elementary's Cyclone Troopers; Robot Design: Milton Somers Middle's Seahawks; Robot Performance Elementary: Sunderland Elementary's Bad Brix; and Robot Performance Middle: Mattawoman Middle's Mattawoman Robotics.
Winners in core awards were, Inspiration: Mitchell Elementary's Damage Control; Teamwork: Davis Middle's 1C3BREAKERS; Gracious Professionalism: Dr. Mudd Elementary's Fast and Furious Dragons; Research: Matula Elementary's Techno-fins; Innovative Solution: Calvert Elementary's Inferno Bots Black; Presentation: Calvert Middle's It's a Girl Thing; Mechanical Design: Piccowaxen Middle's Piccowaxen Panthers; Programming: Huntington Elementary's Blockbuilders; and Strategy and Innovation: Huntingtown Elementary's Blockheads.
Additional awards included the Against All Odds Award to Barstow Elementary's Mindstorm Masters and the Rising Star Award to Piney Point Elementary's Awesome RoboQuakes.
Volunteer of the Year recognition was given to Jean Nelson, Ann Stine and Dan Stine of Grace Lutheran School.
To view competition results, visit
www.csmd.edu/stem/events_csmroboticsJuniorResults.html
. To view a gallery from the competition, visit
csmphoto.zenfolio.com/15aprlego
.
For information on STEM programming at CSM, visit
www.csmd.edu/STEM.