Splash for Scholarships April 25 Celebrates 5th Anniversary of Wellness, Aquatics Center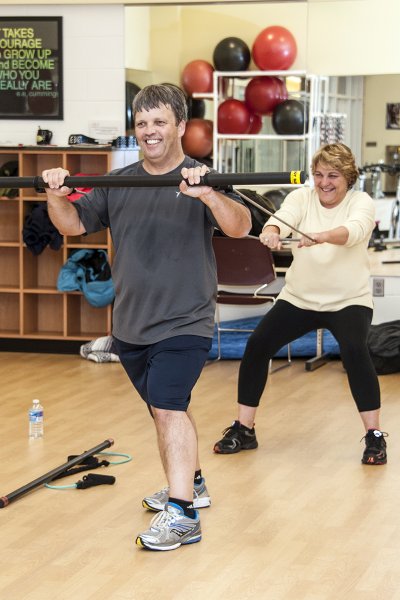 Tom Davis, left, and his wife Carol take fitness classes, such "The Amazing Ball" together at the College of Southern Maryland Leonardtown Wellness and Aquatics Center.
LEONARDTOWN, Md.—Seven days a week, Tom and Carol Davis of Clements can be found at the College of Southern Maryland Leonardtown Campus' Wellness and Aquatics Center. It's not a title they aspired to, but they've become what they would describe as 'Gym Rats.'
Monday, Wednesday and Fridays Carol meets a friend at 5:30 a.m. for an hour of water aerobics—30 minutes of running in place in the therapeutic pool and 30 minutes of treading water if the lap pool has a free lane. Meanwhile, Tom is spinning on a stationary bike along with others in a fitness class.
On Mondays and Wednesdays at 5:30 p.m., Carol is back at the fitness center for a yoga class. Tuesdays and Thursdays, both are in a ball fitness class, and they round out their fitness week together with a Saturday morning "Boot Camp" class and a Sunday High Intensity Interval Training (HIIT) Class.
Their fitness routine serves as bookends for days that include Carol's work as a self-employed photographer and Tom's work as an information security specialist working for a Patuxent River Naval Air Station contractor.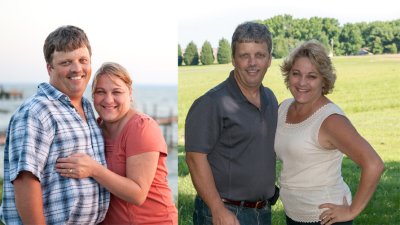 Before, left, and after photos of Tom and Carol Davis of Clements show that changes to their lifestyle—which include taking fitness classes at the College of Southern Maryland Leonardtown Wellness and Aquatics Center every day of the week—have made a difference in their lives.
A few years ago Tom and Carol Davis, both 49, considered themselves active adults even though they didn't maintain a fitness routine.
"We would work out off and on over the years but never stuck with anything. You could say that I've 'driven a desk' most of my working life. Then in 2012, I had been ill and I decided we needed to make some health changes," said Carol Davis.
The changes started small and have grown to encompass changes in both fitness and nutrition.
"We didn't try to do it all at once. One small change a day doesn't seem as hard as saying 'we are stopping all snack foods.' By adding one good thing, we are pushing out one bad thing," said Carol Davis. The couple has pushed out soda, carbs and unhealthy snacks.
"We don't say that we're on a 'diet,' because it is not a temporary thing. This is a lifestyle change," said Tom Davis, who both agreed would be their designated cook.
The couple has seen results not only in their appearance, but also in their strength, agility and energy level.
"As a photographer, I used to have a hard time physically. It was painful to crouch and try to get back up off the floor. Since working out, 90 percent of that pain is gone," said Carol Davis. The couple estimates that between them, they have lost 75 pounds.
They signed up for the family fitness and aquatics plan which gives them access to open hours in the fitness center and pool, a free equipment orientation, monthly wellness programs and all group Ex Passport classes, and allows their daughter to join them when her schedule permits.
Another aspect to the program is the camaraderie that comes with group exercise, said Carol Davis.
"When I was diagnosed with breast cancer last fall, the kindness I felt from my workout friends kept me coming back, even when I couldn't do as much," she said. Carol continued to exercise from September to December while she was undergoing radiation therapy.
"The center became a source of support and encouragement not only in good times, but also when I was struggling. We embraced this healthy, active lifestyle and now it is who we are," said Carol Davis.
When the couple are not at the CSM Leonardtown Wellness and Aquatics Center they can be found kayaking, biking or taking a "photo walk."
The CSM Foundation is hosting a poolside celebration April 25 to mark the fifth anniversary of the Leonardtown Campus Wellness and Aquatics Center and to raise funds for student scholarships. The "Splash for Scholarships" event will include music and dancing, seashore-inspired cuisine, poolside games, silent auction and a CSM Strongman Competition.
All proceeds will benefit CSM student scholarships through the CSM Foundation. Individual tickets are $50 per person. For information contact Erika Abell at eabell1@csmd.edu or 301-934-7647.
The CSM Foundation, established in 1970, is a nonprofit, tax-exempt organization that promotes academic excellence, growth, progress and the general welfare of the College of Southern Maryland by raising and managing funds, and providing support to strengthen and develop the college and its objectives.
For information on the event and sponsorships, visit
http://www.csmd.edu/Foundation/
. For information on wellness, fitness and aquatics programming, visit
http://www.csmd.edu/CommunityEducation/WFR/
.