By NSWC IHEODTD Public Affairs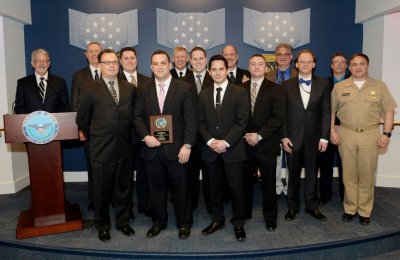 Naval Surface Warfare Center Indian Head Explosive Ordnance Disposal Technology Division's (NSWC IHEODTD) Advance EOD Robotic System (AEODRS) team. (Photo courtesy NSWC IHEODTD) [Click on image for larger rendition]
WASHINGTON - Naval Surface Warfare Center Indian Head Explosive Ordnance Disposal Technology Division's (NSWC IHEODTD) Advance EOD Robotic System (AEODRS) team received a 2014 Defense Standardization Program (DSP) Outstanding Achievement Award during a ceremony held at the Pentagon's Hall of Heroes, March 25.
This annual award recognizes individuals and teams that through standardization have made significant improvements in quality, reliability, readiness, cost reduction and interoperability.
The AEODRS team - the only Navy team out of six recipients - earned recognition for developing and defining a Modular Open Systems Architecture for the next generation family EOD unmanned ground vehicles.
"The five AEODRS team members recognized today composed 36 new interface documents and performance specifications for the 18 unique modules that form AEODRS Increment 2 and 3 systems," said NSWC IHEODTD's Michael Del Signore, EOD Robotics branch manager. "But we were certainly not alone in this effort. This work was supported by others from government, industry and academia. In total, the AEODRS team completed 59 documents defining AEODRS common architecture. The developed documentation package represents the baseline, fully supports the AEODRS open architecture acquisition strategy and provides critical technical data to support major program milestone decisions."
Successful completion of the documents required extensive systems engineering and analysis to allocate requirements and define interfaces for all modules within the AEODRS family of systems, all while ensuring system level requirements were maintained. Through the adoption of this modular, open architecture approach emergent technologies from potential sources will be able to be more readily integrated on fielded AEODRS systems, improving the overall capability of EOD warfighters.
"The AEODRS team did a wonderful job maintaining focus on functional warfighting capability and modern, sustainable architectures," said NSWC IHEODTD Technical Director, Mr. Ashley Johnson.
"The men and women of this Division understand how important our mission is, and, across the spectrum, are constant in their efforts to provide Warfighters the capabilities they need. We're extremely proud of this team," said NSWC Commanding Officer, Capt. Vincent Martinez.
NSWC IHEODTD is a field activity of the Naval Sea Systems Command and is part of the Department of the Navy's science and engineering enterprise. The Division is the leader in energetics, energetic materials, and Explosive Ordnance Disposal (EOD) knowledge, tools, equipment. Our Division focuses on the research, development, test, evaluation, in-service support, and disposal of energetics and energetic systems as well as works to provide Soldiers, Marines, Sailors, and Airmen worldwide with the information and technological solutions they need to detect/locate, access, identify, render safe, recover/exploit, and dispose of both conventional and unconventional explosive threats.
For more information on NSWC IHEODTD, visit
www.navsea.navy.mil/nswc/indianhead
.