Maryland House Passes O'Donnell's Bill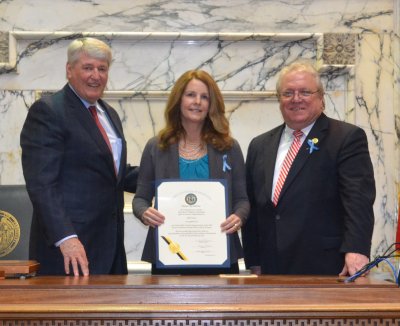 Speaker of the House, Michael Busch (30A Anne Arundel), Kym Kilbourne, Global Genes , Delegate Anthony O'Donnell (29C Calvert/St. Mary's)
On Friday, February 27, HB-5 Department of Health and Mental Hygiene – Newborn Program Screening Fund – Establishment, sponsored by Delegate Tony O'Donnell (R-Calvert/St. Mary's) was approved by the Maryland House of Delegates unanimously (134/0). The final hurtle having been cleared, the bill is currently on its way to the Senate for passage.
"This is not a new fee. It was already being collected and spent on other budget items", said Delegate O'Donnell. "This bill will insure that these funds are only spent for their intended purpose."
Presently, newborns are screened for 53 otherwise undetectable metabolic hereditary disorders. If approved, the new law would designate a separate revenue stream from the state's general funds—thereby preventing money from being spent on unrelated programs to that of newborn screening. Finances would then be available to spend on both known and unknown genetic diseases.
Last year, a bill of the same name (also sponsored by Delegate O'Donnell) made it through all of the requisite committee hearings and floor readings in both chambers. It failed to become law, however, due to its having been stalled in the Senate before the end of session.
On a related note, this past week (February 23-27) was recognized as 'Rare Disease Awareness Week' by the House of Delegates. The resolution was presented on Thursday, February 26, to Vice President of Patient Advocacy Kym Kilbourne, who accepted it on behalf of the Global Genes Foundation. A world-leading organization, the Global Genes Foundation strives to eliminate the 7000 known rare diseases through research and raising awareness. The foundation's symbol (a blue denim genes ribbon) was distributed amongst house members, who wore them in solidarity with those afflicted by these often debilitating diseases.
This day was very special to Delegate O'Donnell—as it marks another milestone toward enactment of a bill called "Lilly's Law". This bill would add to the current list of genetic disorders screening for the below lysosomal storage disorders: Krabbe Leukodystrophy, Pompe disease, Gaucher disease, Neimann-Pick disease, Fabry disease, and Hurler syndrome. The bill is named after Lilly Smith, daughter of Leonardtown Maryland residents Ben and Kathleen Smith. Afflicted by Krabbe leukodystrophy, the disorder went undetected until she began showing symptoms at 6 months of age.
Miss Maryland Agriculture Recognized in the House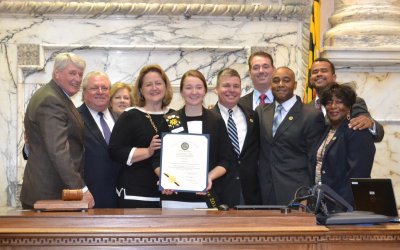 Speaker of the House, Michael Busch (30A Anne Arundel), Delegate Anthony O'Donnell (29C Calvert/St. Mary's), Delegate Sally Jameson (28 Charles), Delegate Deborah Rey (29B St. Mary's), Miss Agriculture, Jordan Mister, Delegate Mark Fisher (27C Calvert), Delegate Matt Morgan (29A St. Mary's), Delegate Michael Jackson (27B Calvert), and Delegate C.T. Wilson (28 Charles) and Delegate Edith Patterson (28 Charles County).
On Wednesday, February 18, Jordan Mister, Miss Maryland Agriculture, was recognized on the House floor of the Maryland General Assembly in Annapolis and received a resolution for her active work in school and the community. Being crowned Miss Agriculture comes with a great amount of responsibility. Some of her duties include, speaking to local schools about agriculture, attending events around the community to promote agriculture and to attend the Maryland Farm Bureau Convention. The two-day competition was held on August 22, 2014 and is sponsored by the Maryland Farm Bureau and Maryland State Fair. Mister represented the Calvert County Farm Bureau in the Miss Maryland Agriculture Competition. In addition to being Miss Agriculture, Mister also holds the title of Miss Tranquility of Calvert County, Maryland.
Mister is a junior at Huntington High School in Calvert County, Maryland, where she participates in field hockey, lacrosse, Student Government Association, 4-H, and All-county and All-state chorus. Among those achievements she works on her family farm and the Mulberry Hill Farm Produce Stand. With those experiences and her family history of agriculture that spans back five generations, she succeeded in the competition to be crowned Miss Agriculture.