Mother Catherine Students Prepare for Easter by Giving to Community
MECHANICSVILLE—Students at Mother Catherine Spalding School, the private Catholic school serving northern St. Mary's County, are preparing for the Easter season by collecting food and other items for several organizations. The effort has become a school tradition during Lent, the 40day period leading up to Easter Sunday.
Among the beneficiaries of the children's effort are the food pantry at Our Lady of the Wayside Church in Chaptico, the St. Mary's Nursing Home in Leonardtown, and Taylor Farm in Bushwood. Children across all grades, from prek to 8, collect items ranging from food to wall art to stuffed animals, and just about anything in between that can be of use to those groups.
Donations from the public are greatly appreciated and can be dropped off at the school between 7:30 am and 4 pm. Canned food, Kleenex, wipes, shampoo, soap, brushes, combs, toothbrushes, toothpaste, shaving gel, razors, socks, cologne, lotion, perfume and purses are particularly needed. The school is located on Chaptico Rd, about a mile off Route 5.
"Our food pantry can always benefit from donations, and the children's effort helps make food available to those in our community who need it most," said Fr. Charles Gallagher, pastor at Our Lady of the Wayside Church. The food pantry is open the second and fourth Thursdays of each month from 10 am to noon.
To further reflect during this solemn season, classes take turns leading the school in the Stations of the Cross each Friday. The school's Lenten tradition culminates on Holy Thursday, when the graduating class presents the Living Stations, one of the most moving events of the school year.
The school participates in other drives throughout the year, including the annual Archdiocesan coat drive, which helps provide warm clothes for people of all ages throughout the region. This year, the children collected more than 200 coats for that drive.
"We teach our children to be leaders in the community, following the example set by Mother Catherine Spalding herself," said principal Linda Miedzinski.
A new school, Mother Catherine Academy, will open next year in the building, with a goal of expanding on the good works the current school has incorporated into its identity. The academy will be operated by a board of trustees rather than the Archdiocese of Washington, but will have its religious accreditation through the archdiocese. Its academic accreditation will continue through AdvancED. The school welcomes children of all faiths and tuition assistance is available.
Two Volunteer Leaders Re-Appointed in Annapolis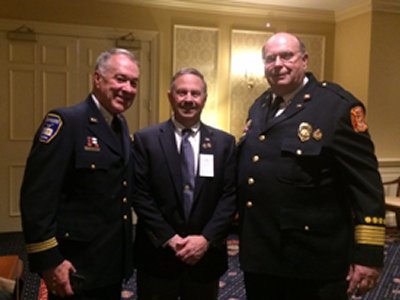 CHARLES COUNTY—Two longtime volunteer leaders from Charles County Volunteer Firemen's Association appeared in Annapolis February 23rd for the State of Maryland Confirmation Hearing for re-appointment to the Maryland Education Training Commission by Governor Larry Hogan. Also pictured is Assistant Fire Chief Mike Clemens (retired) from Montgomery County who serves as Chairman, along with Lynn Gilroy (center) as Vice Chairman and Chief Dan Stevens (right) as the Minimum Standards Committee Chair on the Commission. Congratulations, we look forward to a great year in Annapolis and your commitment to service
Local Organization Selected to Participate in Employment First State Leadership Mentoring Program
Spring Dell Center headed for transformation
LA PLATA—Spring Dell Center was one of six Maryland organizations selected to participate in the Employment First State Leadership Mentoring Program (EFSLMP), an initiative of the U.S. Department of Labor, Office of Disability Employment Policy (ODEP). Maryland is one of 15 core states selected in to participate in the ODEP mentoring program which will provide intensive onsite and virtual technical assistance to developmental disabilities providers interested in effective practices to increase integrated employment opportunities for Marylanders with developmental disabilities.
"Maryland is committed to improving employment options and outcomes for people with disabilities," said George P. Failla, Jr., Acting Secretary, Maryland Department of Disabilities. "This project demonstrates the importance of coordination and collaboration between State agencies, the U.S. Department of Labor, and community based providers all across our State to realize our goal that employing people with disabilities is good business."
The Maryland Department of Disabilities, along with its partner agencies - the Maryland State Department of Education Division of Rehabilitation Services, Developmental Disabilities Administration, Behavioral Health Administration, Medicaid, and the Department of Labor, Licensing and Regulation, identified the organization for the ODEP leadership mentoring initiative. As part of the program, the organization must commit to either transforming from predominately facility-based day and work programs to service delivery models focused on integrated employment and other community-based outcomes; or to strengthening their existing business models of integrated employment and community-based services by building the skills of staff and improving internal operations.
"Spring Dell Center is very excited to have been chosen and eager to get started," says Spring Dell Center Executive Director Donna Retzlaff.
Ever Younger Engineers Win at Robotics Tourney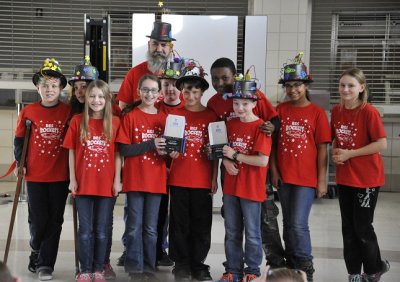 LEXINGTON PARK—Ridge Elementary School entered the VEX IQ Challenge Championship for the first time this year and carried away half the awards at the packed tournament hosted by the College of Southern Maryland and held at Great Mills High School.
Ridge Elementary team was started this year by a donation from The Patuxent Partnership, which bought all the robotics equipment needed for them to start a team. Northrop Grumman donated $750 in additional funding.
Ridge won three of the six awards: Programming Skills Champion (autonomous mode); Driver Skills Champion; and the Excellence Award for overall outstanding performance and participation, including Engineering, Robot performance, the team's STEM Research Project, and team spirit.
Spring Ridge Middle School, another recipient of The Patuxent Partnership STEM support, fielded four Robotics teams this year and two will be joining Ridge at the state tournament held the end of February, as well as teams from Esperanza Middle School and King's Christian Academy.
"The Patuxent Partnership is very proud to be a steady supporter of STEM and Robotics," said TPP Executive Director Bonnie Green. "Robotics programs are a great way to develop our future workforce. Our members and the Navy have made it clear that workforce development, emphasizing STEM careers, is a priority."
The Robotics teams have been particularly popular. Cain Sauer, Robotics Coach at Ridge Elementary, said the number of students interested in being on the team far exceeds the school's resources. The Ridge team was created this year following a donation of a robot kit and competition table from The Patuxent Partnership. "We didn't expect to have so many interested students. As a new team, we did not have the funds necessary to buy all the equipment needed. Thanks to Northrop Grumman's support, we will be able to buy two additional robot kits to accommodate all of our students. It really is an investment in our future, not only as a team, but as a community," said Mr. Sauer.
Winners of the state competition will go on to the World competition in Kentucky in April.
Heart to Perform at the Calvert Marine Museum Saturday, May 23
SOLOMONS—Rock & Roll Hall of Fame inductees Ann and Nancy Wilson of Heart will appear at the Calvert Marine Museum's PNC Waterside Pavilion on Saturday, May 23. Heart first showed the world that women can rock when their band stormed the charts in the '70's with hits like "Crazy on You," "Magic Man," "Barracuda," "Straight On," and so many more. The Wilson sisters not only lead the band, but wrote the songs and played the instruments too, making them the first women in rock to do so. Heart continued topping the charts through the '80's and '90's with huge hits like "These Dreams," "Alone," "What About Love," "If Looks Could Kill," "Never," and a string of other hits that showcased the sisters' enormous talents as musicians, singers and songwriters.
Don't miss this once in a lifetime opportunity to see Heart perform live in Solomons! Tickets are $49 for reserved seats and $59 for premium seats (additional fees apply) and go on sale to members of the Calvert Marine Museum on Tuesday, March 17 at 10:00 a.m. If you are not a member of the museum and would like an opportunity to buy the best seats in the house, visit
www.calvertmarinemuseum.com
or call 410-326-2042, ext. 16 to get signed up before tickets go on sale. Any remaining tickets will go on sale to the general public on Tuesday, March 24 at 10:00 a.m.
As individuals, the Wilson sisters have also achieved significant success. Ann sang on songs that were both chart successes and motion picture themes, like "Almost Paradise" from Footloose, "Best Man in the World" from The Golden Child, and "Surrender to Me" from Tequila Sunrise, while Nancy composed and performed the scores to a half dozen motion pictures including the award winning "Jerry Maguire" and "Almost Famous." Along the way, music by Ann and Nancy Wilson and their band Heart sold more than 35 million albums, sold out arenas worldwide, and found their way into the soundtrack of American life through radio, motion pictures, television, and associations with branded sponsors. Today, songs made famous by Heart are heard in every aspect of contemporary culture.
Proceeds from the Waterside Concert Series support the education and preservation efforts of the Calvert Marine Museum. This event would not be possible without the generous support of many local businesses. Heart sponsors include: Prince Frederick Ford/Jeep/Dodge, PNC Bank, Bozick Distributors, Inc., Tidewater Dental, Directmail.com, Holiday Inn Solomons, All American Harley-Davidson, Quality Built Homes, Roy Rogers, 98.3 Star FM, Bay Weekly, Quick Connections, Southern Maryland Newspapers, Isaac's Restaurant, Papa John's Pizza, The McNelis Group, LLC, United Rentals, Kelly Generator & Equipment, and Metrocast.
Chairs and coolers are not permitted. For additional information or to purchase tickets, please visit the website at
www.calvertmarinemuseum.com
. To reach a staff member, please call 410-326-2042, ext. 16, 17 or 18.