Arbor Day Foundation Honors St. Mary's College of Maryland with 2014 Tree Campus USA® Recognition
St. Mary's College of Maryland has been honored with 2014 Tree Campus USA® recognition by the Arbor Day Foundation for its commitment to effective forest management.
Tree Campus USA is a national program created in 2008 by the Arbor Day Foundation and sponsored by Toyota to honor colleges and universities for effective campus forest management and for engaging staff and students in conservation goals.
St. Mary's College of Maryland achieved the title by meeting Tree Campus USA's five standards, which include maintaining a tree advisory committee, a campus tree-care plan, dedicated annual expenditures for its campus tree program, an Arbor Day observance and student service-learning project. Learn more about the college's green initiatives at
www.smcm.edu/sustainability
.
The Arbor Day Foundation is a million member nonprofit conservation and education organization with the mission to inspire people to plant, nurture and celebrate trees. The Arbor Day Foundation and Toyota have helped campuses throughout the country plant thousands of trees, and Tree Campus USA colleges and universities invested more than $29 million in campus forest management last year. More information about the program is available at
www.arborday.org/TreeCampusUSA
.
County High School Students Compete in Neuroscience Competition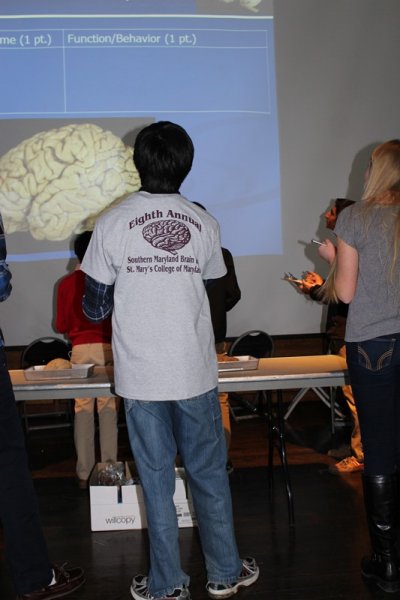 County high school students were put to the test on their knowledge of the human brain at the 8th Annual Southern Maryland Brain Bee, held this past Saturday at St. Mary's College of Maryland. An officially sanctioned event of The International Brain Bee, the Southern Maryland Brain Bee is a neuroscience Q&A competition for secondary school students that aims to motivate them to learn about the brain, capture their imaginations, and inspire them to pursue careers in biomedical research. Participating schools included Great Mills High School, St. Mary's Ryken High School, Leonardtown High School, and James A. Forrest Career & Technology Center. Gabi Voithofer, of Leonardtown High School, was the winner of this year's event. Gabi is eligible to compete in the National Brain Bee on March 20-21 in Baltimore, Md.
St. Mary's College of Maryland Featured in New Princeton Review Book "Colleges That Pay You Back"
Praised for Readying Students for Jobs and Graduate Studies
St. Mary's College of Maryland is one of the nation's best colleges for students seeking great academics, outstanding career preparation and generous financial aid, according to The Princeton Review. St. Mary's College is one of 200 schools that the education services company profiles in its inaugural book, "Colleges That Pay You Back: The 200 Best Value Colleges and What It Takes to Get In" - 2015 edition, released Feb. 3
The Princeton Review developed a unique "Return-on-Education" (ROE) rating to winnow its list of the 200 colleges. ROE measures 40 weighted data points in areas of academics, cost, financial aid, student debt, graduation rates, alumni salaries and job satisfaction. The Princeton Review based its ROE rating on data collected in 2013-14 from its surveys of administrators and students at 650 colleges, plus surveys conducted by PayScale.com through April 2014 of alumni of the same schools. The Princeton Review does not rank the colleges academically or from one to 200 in any category.
"We salute and highly recommend St. Mary's College of Maryland and all of our 'Colleges That Pay You Back' schools. They stand out for their excellent academics, impressive career preparation services, and affordability to students with need – via comparatively low sticker prices, generous financial aid, or both," said Robert Franek, Princeton Review's senior vice president/publisher and lead author of the book. "Plus their students graduate with great career prospects."
St. Mary's College was also recently recognized by Kiplinger magazine, which ranked the college among the top 50 for in-state and out-of-state value on its list of 100 best values in public colleges.
To view St. Mary's College's profile and for the complete list of Princeton Review's "Colleges That Pay You Back," visit
www.princetonreview.com/colleges-pay-you-back
.
St. Mary' s College of Maryland President Tapped as an Influential Marylander
St. Mary's College of Maryland President Tuajuanda C. Jordan has been selected as an "Influential Marylander" by the Daily Record and will be honored March 26 at an event in Cockeysville, Md.
Fifty-one honorees were selected by the editors of The Daily Record for their significant contributions to their respective fields and for their leadership in Maryland in the following areas: civic leadership, communications, education, finance, freestyle, general business, health care, law, philanthropy, real estate and technology.
"Accomplishment, leadership and vision describe the 2015 Influential Marylanders. They work hard to spark innovation and progress, meeting a variety of challenges in Maryland and beyond," said Suzanne Fischer-Huettner, publisher of The Daily Record. "They are always striving and constantly aware of our challenges while both willing and able to meet them. They are, quite simply, inspirational and influential."
Jordan was inaugurated as St. Mary's College's seventh president in October 2014. Prior to St. Mary's College, Jordan served as dean of the College of Arts and Sciences and professor of chemistry at Lewis & Clark College in Portland, Ore., beginning 2011. From 2005 to 2011, Jordan was the director of the Science Education Alliance (SEA) of the Howard Hughes Medical Institute in Chevy Chase, Md. As director, Jordan led a collaborative effort designed to have scientists and educators work together to enhance science literacy while preparing the next generation of scientists. She also headlined the National Genomics Research Initiative in 2008, a program that exposes first-year college students to hands-on genomics research.
Her honors include being named a Purdue University Distinguished Alumni from the School of Agriculture in 2008, and, in 2009, being named a "revolutionary mind" by Seed magazine. In 2014, Jordan was honored by the National Coalition of 100 Black Women, Baltimore Metropolitan Chapter, with its Torchbearer Award, recognizing her contributions in education with an emphasis on science, technology, engineering and mathematics.
For a complete list of the 2015 honorees, visit
www.thedailyrecord.com/influential-marylanders/winners/