By Anjali Shastry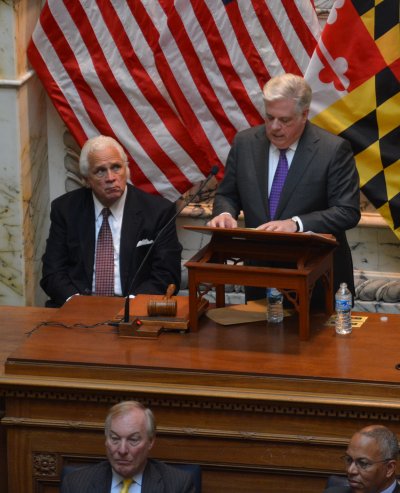 Governor Larry Hogan, standing, addresses the General Assembly on Wednesday, February 4, while Senate President Thomas V. "Mike" Miller Jr., left, looks on. (Photo: Anjali Shastry)
ANNAPOLIS (Feb. 4, 2014)—Maryland Gov. Larry Hogan emphasized the importance of cultivating a business-friendly environment and introduced various tax repeals and reliefs during his first State of the State address to the General Assembly on Wednesday.
Hogan, a Republican elected last year on a platform of tax reform and budget cuts, offered a grim view of the state's finances and economic standing in the United States, but vowed to make positive change: "If ever Maryland needed a dose of honesty, it's now."
"Maryland's anti-business attitude, combined with our onerous tax and regulatory policies have rendered our state unable to compete with any of the states in our region," Hogan told the majority-Democratic legislature. "It's the reason that businesses, jobs and taxpayers have been fleeing our state at an alarming rate."
But State Senate President Thomas V. "Mike" Miller Jr., D-Calvert, Charles and Prince George's, disagreed with Hogan's bleak outlook.
"Maryland is in great shape," Miller said. "We have the highest income of any state in the union, we have the lowest poverty of any state in the union. … I don't know what state he's talking about."
Many Democrats balked at what they viewed as a rebuke of the work they had done under former Gov. Martin O'Malley.
"It's almost like the Democrat messed up and now we are going to come back and fix it up for you," said Delegate Nathaniel T. Oaks, D-Baltimore.
Hogan's 11-point agenda was largely dedicated to business and tax-related issues, including repealing the "rain tax"—an unpopular stormwater management fee—which received a standing ovation from Republicans in the Democratic-majority General Assembly.
"If there was one message that Marylanders have made perfectly clear, it was that taxing struggling and already overtaxed Marylanders for the rain that falls on the roof of their homes was a mistake that needs to be corrected," Hogan said.
Hogan announced proposed tax relief on pensions for retired military, police, firefighters and first responders in order to keep them in the state after they retire.
Hogan also announced proposed legislation that would create a property tax exemption on the first $10,000 of personal property for small businesses. For more than 70,000 of them—or one half of all Maryland businesses—Hogan said, this tax would be eliminated under his plan.
Hogan also proposed to repeal automatic, annual gas tax increases.
However, Senate Minority Leader J.B. Jennings, R-Baltimore and Harford, praised Hogan for his candor.
"The governor was very honest on where we stand in this state," Jennings said. "He hit it right on, saying economically we are down, our economy is down. … He's very resolute on getting our spending under control."
Hogan announced he'd replenish the state's transportation trust fund, championed charter schools and vowed to help curb "Maryland's heroin epidemic".
Hogan criticized the state's wildly drawn electoral districts, among the most gerrymandered in the nation. He also announced he'd support a bill to reinstate a voluntary tax donation toward a gubernatorial election fund, which Hogan accepted and spent last year.
Hogan agreed that sediment and nutrient runoff is polluting in the Chesapeake Bay, but cautioned against targeting farmers with environmental measures; he put pending regulations on hold last month. He pointed to states upstream of the Conowingo Dam, where sediment and phosphorous, among other pollutants, collect and sometimes overflow into the Susquehanna River and eventually the Chesapeake Bay.
'It's not a surprise, I think, to anybody'
Hogan's speech was received as expected: Republicans loved it and Democrats were largely disappointed.
"I thought it was a pretty clear (11)-point plan. He hit the priorities of what I anticipated," said state Senator Adelaide C. Eckardt, R-Caroline, Dorchester, Talbot and Wicomico. She was particularly happy to hear him address the state's heroin problem, calling it "really critical."
"The governor was clear with what he presented," Eckardt said. "It's not a surprise, I don't think, to anybody."
Delegate Kathy Szeliga, R-Baltimore and Harford, said she was happy with the State of the State address.
"I'm very happy that Gov. Hogan has made a commitment to remove the automatic escalator on gas taxes, and that affects every single person in Maryland, whether you drive or not, because your goods and services are provided through gasoline," she said.
She anticipated that the hardest pill to swallow for Democrats from today's address would be increasing the number of charter schools, but that the rain tax repeal would go through the legislature fairly easily, describing it as "a mandate from the voters in November."
There was Democratic opposition to many of the governor's proposed policies.
"I think he's been watching too much Fox television," state Senator James Rosapepe, D-Prince George's and Anne Arundel, said. "The bipartisanship in the tone of the speech was bipartisanship between the Republican party and the Tea party. It was a very political speech, focused on his base."
Rosapepe said he agreed with Hogan on wanting to improve education, the Chesapeake Bay, and transportation, but disagreed on the policy direction.
"None of us likes to pay taxes. He wants to hold down taxes, we all want to do that," Rosapepe said. "But the question is, you got to put your money where your mouth is, and with this budget, he cuts education, he cuts program open space, and so the budget doesn't match the rhetoric."
Freshman Delegate Dr. Clarence Lam, D-Baltimore and Howard, said he was worried about public school funding, which Hogan set at record-high levels overall, but which Democrats and some school leaders said is still too thin.
Lam, whose district crosses two jurisdictions, said that he agreed with Hogan to some degree about redistricting reform, but was "disappointed" by what he said was a lack of bipartisanship.
Miller said that Hogan's speech was "campaign promises, knowing you can't keep them, but trying to make people feel good and that he's on their side. And it's wrong," Miller said.
But Jennings said he thinks Hogan is on the right track.
"This governor has made education a No. 1 priority," Jennings said, despite Hogan's cuts to some supplemental education funding. "The funding's there. We've got to get our house in order, so this year there's a bump in the road for education, but from there we'll move on."
Miller's disappointment was palpable.
"Maybe he'll grow into the job, I hope he will," he said. "I hope he'll understand what's doable and he'll tell the truth to people that this is what we can achieve together."
Capital News Service correspondent Brian Marron contributed to this report.