Recycle Electronics and More at Three January E-Cycling Events
Calvert County residents can dispose of their used electronic equipment at three free e-cycling events in January. X-rays and MRI films are also being accepted.
The events will occur rain or shine from 9 a.m. to 2 p.m. at the following locations:
-- Saturday, Jan. 10, 2015, at the County Services Plaza, 150 Main St., Prince Frederick, and Appeal Landfill, 401 Sweetwater Road, Lusby
-- Saturday, Jan. 17, 2015, at the Chesapeake Beach Town Hall, 8200 Bayside Road, Chesapeake Beach
-- Saturday, Jan. 24, 2015, at Northern High School, 2950 Chaneyville Road, Owings
Examples of electronic equipment are televisions, radios, computers, cell phones, VCRs, power supply cords, printers, monitors, keyboards and scanners. Material from residents and businesses are accepted and proof of residency is required. Household appliances will not be accepted.
For more information about recycling in Calvert County, please visit the county website at
www.co.cal.md.us/recycle
It's All About the Octopus
Come visit our octopus and name this animal for the chance to win a prize!
You've got to see it to believe it! Visit the Calvert Marine Museum in January and see our amazing octopus in the new River to Bay exhibit. Enter the "Name our Octopus" contest that begins on January 5 and runs through January 30. Drop your suggestion in the ballot box located in the Museum Store and be entered in a drawing to win an Octopus Prize Basket. The winner will be chosen by the octopus on Tuesday, February 10 at 11:00 a.m.
Children are invited to participate in the education programs featuring octopus fun and facts all month long. The Sea Squirts program for toddlers 18 months to 3 years old are invited to join our free program on Tuesday, January 6 and Thursday, January 8, and on Wednesday, January 14 from 10:30 a.m. – 11:00 a.m. Starting on Thursday, January 22, CMM members can enjoy free admission to the Little Minnows program for 3 – 5 year olds from 10:00 a.m. – 11:00 a.m.
Don't miss Octopus Day on Monday, January 19, a school holiday, and enjoy all things "octopus" from 10:00 a.m. – 4:00 p.m. Hear octopus fact talks throughout the day, see a feeding, watch her interact with toys, make an octopus craft, play games and hear octopus stories. Free with museum admission.
The octopus is considered the smartest invertebrate in the world using their intellect and incredible eyesight to perceive their world in great detail. These creatures can change both colors and textures of their own bodies to disappear into the background even when in plain view. Watch for the octopus to change colors in the blink of an eye, or develop dimpled ridges across its mantle to mimic the coral heads around it. Learn other amazing things about this 8-armed creature on your visit.
Commuters Should Expect Heavy Delays on Mt. Harmony Road Starting Dec. 29, 2014
Commuters should expect heavy delays on Mt. Harmony Road next week while highway maintenance crews repair a drainage pipe. The repairs begin Monday, Dec. 29, 2014, and continue through Thursday, Jan. 1, 2015, in the area of Catterton Court near Mt. Harmony Elementary School.
Mt. Harmony Road will remain open and signs will be posted in the area to divert traffic around the work area. Commuters may want to consider adjusting their travel times to accommodate for potential delays. The repairs will occur between 7 a.m. and 3:30 p.m.
For more information, contact Highway Maintenance Supervisor Ralph Hutchins with the Calvert County Department of Public Works at 410-535-0905, ext. 8863, or email hutchird [at] co.cal.md.us.
62nd Board of County Commissioners, Sheriff Take Oath of Office
Mike Hart, Tom Hejl, Pat Nutter, Evan K. Slaughenhoupt Jr. and Steven R. Weems were sworn in on Tuesday, Dec. 16 as the 62nd Board of County Commissioners (BOCC) and Mike Evans was sworn in as the Calvert County Sheriff.
Former State Sen. Bernie Fowler was master of ceremonies at the event held at the College of Southern Maryland Prince Frederick campus. In its first session, held immediately after the ceremony, the new BOCC elected Commissioner Weems as board president and Commissioner Slaughenhoupt as its vice president.
The BOCC thanks everyone who participated in the ceremony today, including: County Administrator Terry Shannon; Clerk of the Circuit Court Kathy Smith; musicians from Northern, Patuxent and Calvert high schools; Dan Simmons of Calvary Bible Church; the Huntingtown High School NJROTC Honor Guard; Eagle Scout Lane Canada; retired Calvert County employee Gertrude Brown for giving the benediction and Rachel Cole from Huntingtown High School who sang a beautiful rendition of the National Anthem.
Another Successful Shop with a Cop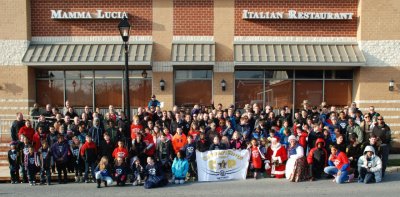 Click on photo for a larger rendition.
On December 13, law enforcement officers from the Calvert County Sheriff's Office, Maryland State Police, Maryland Natural Resources Police, and the Prince George's County Police Department volunteered their services and free time to assist 75 Calvert County children with the annual Shop with a Cop event. Children from all over the county ranging in ages from 6 to 12 were picked up and escorted to the Mama Lucia's Restaurant in Prince Frederick where they were treated to donuts, milk, juice and breakfast pizza. The children had a special surprise visit from Santa and Mrs. Claus who handed out candy canes to every child who came and visited with them. Each child that visited with Santa and Mrs. Claus was also photographed courtesy of Christi Wilson and provided with a copy of the picture to give to their family members.
After their scrumptious breakfast, they were given a full police escort with lights and sirens to the K-Mart in Prince Frederick where each child was given $150 to purchase a gift for themselves as well as their family members. Several of the children had to be reminded to get something for themselves as it is part of the program. Once they finished shopping they were escorted to the Prince Frederick VFD where the members generously opened their doors to the children and provided tables where they could wrap the purchased gifts. The children were treated to lunch provided by the Chic-Fil-A in California. Toys for Tots also set up several tables with one toy for every child in attendance.
Many people donated funds to the program all year long which has enabled us to be able to conduct a Christmas and Back to School campaign. Thank you to all involved.
Master Plan Approved for Ward Farm and Recreation Park
New Facility to Address Shortage of Playing Fields
At its Nov. 18 meeting, the Board of County Commissioners unanimously approved the master plan - including the name - for the Ward Farm Recreation and Nature Park in Dunkirk. The 209-acre park off Ward Road in Dunkirk will recognize the county's many volunteers through the naming of its trails and facilities.
Plans for the new park include:
-- Amphitheater
-- Nature/environmental center
-- Close to six miles of improved and natural surface trails.
-- Group program area, picnic shelters/picnic area
-- Boardwalks and overlooks at ponds and wetlands and access to Hall Creek, streams and Fox Den Pond
-- Fishing pier/boardwalks
-- Playing fields
-- Dog park
-- Playgrounds, skate spot, disc golf
The project will go before the Calvert County Planning Commission in January 2015 for approval. Completion of the park is several years away and dependent upon available funding. However, the divisions of Parks and Recreation and Natural Resources will soon be offering programs on the site so that citizens can to begin enjoying this unique property.
View the full master plan presentation at
md-calvertcounty.civicplus.com/DocumentCenter/View/7454
Proposed Transportation Planning Document Open for Public Comment
Metropolitan Planning Organization Agreement Frees Transportation Funds
Public comment is currently being sought on a Public Participation Plan that will define transportation planning processes in southern Calvert County and the Lexington Park/California area of St. Mary's County.
The areas of Lusby Town Center, the Solomons Town Center, Drum Point and the Lexington Park/California area of St. Mary's County are considered an urbanized area exceeding 50,000 people. The classification required the area to form a Metropolitan Planning Organization (MPO) in 2010. A MPO is an effort to coordinate how federal transportation funds are spent when they cross multiple jurisdictions. Subsequently, St. Mary's and Calvert counties formed the Calvert-St. Mary's MPO (C-SMMPO) to formalize their joint approach to the designation.
In November 2014, the Calvert County Board of County Commissioners signed a master agreement with the St. Mary's County Commissioners and the Maryland Department of Transportation to outline the transportation planning process. As a result of the agreement, federal and state funding nearing $190,000 became immediately available for the area, as will nearly $90,000 every year after.
View details and the program document online at
www.co.cal.md.us/DocumentCenter/View/7626
The C-SMMPO will seek public comment on the newly developed draft Public Participation Plan through Jan. 22, 2015. The Public Participation Plan defines the C-SMMPO's process for soliciting input on various plans, programs and transportation planning processes.