Project Healing Waters Founder to be Keynote Speaker at CSM's 16th Winter Commencement Jan. 15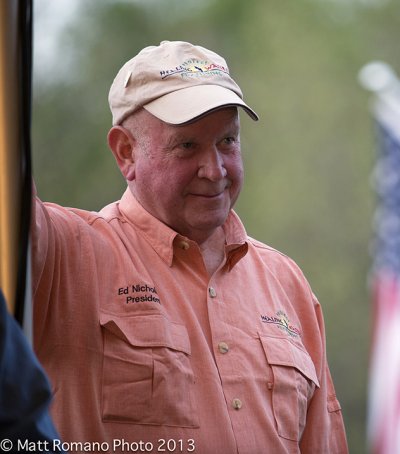 Retired U.S. Navy Capt. Ed Nicholson, founder and president of Project Healing Waters Fly Fishing, will give the keynote address at the College of Southern Maryland's winter graduation ceremony Jan. 15.
The College of Southern Maryland (CSM) will recognize candidates for degrees and certificates during its 16th Winter Commencement Jan. 15 at the La Plata Campus. A keynote address will be provided by retired Navy Capt. Ed Nicholson, founder and president of Project Healing Waters Fly Fishing (PHWFF), a nonprofit organization dedicated to the physical and emotional rehabilitation of disabled active military personnel and disabled veterans.
After graduating from the University of North Carolina in 1964, Nicholson received a commission as an ensign. He served on seven ships including a tour as commander of a destroyer and a tour as commander of a frigate. Nicholson attended the Naval Post Graduate School in Monterey, California, served a tour as a Riverine Advisor in Vietnam's Mekong Delta, attended the Naval War College in Newport, Rhode Island where he earned a master's degree in National Security and Strategic Studies, and commanded Naval Ordnance Station Indian Head.
Nicholson retired from the Navy with more than 30 years of service. Following retirement, he worked for Applied Ordinance Technologies in Waldorf.
The genesis for PHWFF came in 2005 during a stay at Walter Reed Army Medical Center, where Nicholson saw the returning wounded from the conflict in Iraq. A desire to offer a fun outing to recovering injured and wounded service members blossomed into a program that includes not only those seeking medical care at Walter Reed, but to other disabled veterans at military and veterans hospitals in all 50 states and Puerto Rico.
In recognition of PHWFF's work, Nicholson was selected by the cable network as a CNN Hero in 2009. He was honored as a recipient of the Purpose Prize in 2013 and was recognized by "Field and Stream Magazine" with a Hero of Conservation Award last March.
His keynote will be part of winter commencement activities, Jan. 15. CSM's Nursing Recognition Ceremony will be at 1 p.m. in the Physical Education (PE) Center on the La Plata Campus with a reception immediately following on the upper level of the PE Center. The Winter Commencement Ceremony will begin at 6:30 p.m. in the PE Center and tickets are required. Ticketholders are encouraged to arrive at least 30 minutes before the ceremony begins. Doors will close when the procession begins, and guests without tickets or arriving after the doors close may view the ceremony from the Fine Arts (FA) Center which will carry a live streaming broadcast. A reception immediately following commencement will be in the Center for Business and Industry (BI), Chaney Enterprises Conference Room BI-113.
In the event of inclement weather, a decision will be announced and posted at
www.csmd.edu
if commencement activities will be held the following day, Jan. 16. Graduates and guests may also call the inclement weather hotline at 301-369-1999 or 800-650-4023.
The safety of CSM students, guests and employees is of utmost importance. CSM will conduct bag checks at commencement, and all individuals may be subject to a bag check before entry. CSM Public Safety officials encourage guests to leave large secondary bags, diaper bags and backpacks in their vehicles or at home as these will be subject to the bag check process at the door.
For information on commencement, visit
www.csmd.edu/commencement
.
CSM Holds Auditions for Spring Production, Jan. 26-27
The College of Southern Maryland's Fine Arts Department is holding open auditions beginning at 6 p.m., Jan. 26-27 for its upcoming spring production "All Out."
"All Out" will be performed on all three campuses on March 5-6 and March 12-14. The comedy follows a group of game show contestants on their quest to win big money. It starts as a typical show, but as the game progresses, layers and layers of the contestants' exteriors are exposed. "All Out" poses the question: What extremes will people go to, to win a prize of $100,000? This production may not be suitable for younger audiences.
Auditions will be in the Fine Arts Center Theater, located on the La Plata Campus, 8730 Mitchell Road, La Plata. Those auditioning should prepare a one-minute monologue.
For information, visit
www.csmd.edu/Arts
or call the Box Office at 301-934-7828.
CSM Leonardtown Campus Hosts Robotics Challenge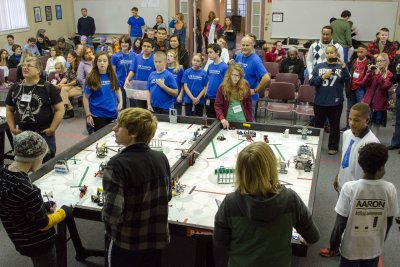 The College of Southern Maryland hosted the FIRST LEGO League Qualifier Tournament for elementary and middle school teams in Southern Maryland Dec. 6 at the Leonardtown Campus. The competition, FLL World Class Learning Unleashed, challenged students to redesign how people gather knowledge and skills in the 21st century. Approximately 100 students, representing 10 teams, participated in the challenge. "Events like this provide the kinds of activities and opportunities for children to explore different careers, develop their teamwork skills and uncover hidden talents," said CSM Professor Bernice Brezina, the event coordinator.
Calvert Chamber Supports CSM Scholarships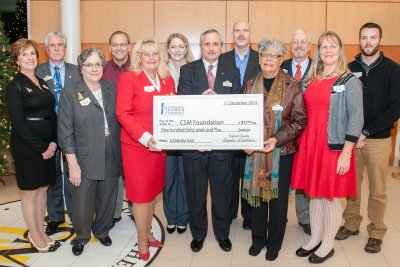 Members of the Chamber of Commerce of Calvert County presented the College of Southern Maryland with $937 in support of student scholarships during the Business After Hours reception hosted at the Prince Frederick Campus on Dec. 11. From left are CSM Vice President of Advancement Michelle Goodwin, CSM Vice President and Dean of Prince Frederick Campus Dr. Rich Fleming, Interim Chamber President Joan Hatfield, Idea Solutions President Frank Smith, Chamber Board Chair and Acting Director of Human Resources for Calvert County Public Schools Dr. Victoria Karol, Tri-County Council of Southern Maryland Business Service Representative Belinda Denton, CSM President Dr. Brad Gottfried, Asbury Solomons Executive Director Andrew Applegate, CSM Board of Trustee Vice Chair Dorothea Smith, CSM Foundation Director Greg Cockerham, Calvert Commercial Real Estate Broker Lillie Mattingly and Servpro of St. Mary's and Calvert County General Manager Chad Day.
College Raises $25,897 for Scholarships, Programs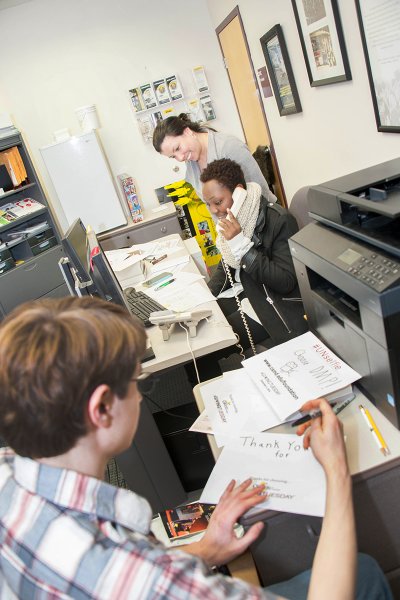 CSM Development Coordinator Erika Abell, standing, listens in on Sarah Adeyanju's call to a donor as Alexander Albrittain writes an #Unselfie message.
The season of giving kicked off with unselfishness as thousands of donors worldwide supported nonprofit efforts on the third annual #GivingTuesday. In Southern Maryland, many of the community givers doubled their impact by supporting the College of Southern Maryland student scholarships and programs, raising $25,897 during the 24-hour online event.
"We are truly humbled by the generosity and support of our faculty, staff, friends and community. There were literally thousands of charitable organizations for people to support on #GivingTuesday, and the fact that our community continues to choose CSM to make their impact is overwhelming. For that we are deeply grateful," said CSM President Dr. Brad Gottfried.
#GivingTuesday had 1,900 nonprofits participate on Razoo, CSM's choice of online giving platforms, raising $1,775,511 in total during the day. CSM was among the top participating nonprofit organizations with Razoo, ranking 21st, among nonprofits. Because the college had the most gifts during the last hour of the day, CSM was also recognized with the $1,000 prize by Razoo.
"We have amazing alumni, employees and a giving community who continue to choose CSM in giving and making an impact on access, affordability and achievement for our students," said Vice President of Advancement Michelle Goodwin.
"Our goal was $30,000, and with the phenomenal support of our supporters we raised $25,897. What an investment today to transform the futures of our students tomorrow," said CSM Foundation Chair Christine Rush.
The donations to CSM were given to support scholarships in Calvert, Charles and St. Mary's counties as well as programs in the arts, athletics, health sciences or STEM (Science, Technology, Engineering and Math). Supporting #GivingTuesday with matching scholarship funds were the Florence B. Trueman Scholarship Fund in Calvert County, the Greater Waldorf Jaycees Foundation Scholarship Fund in Charles County and the Chiaramonte Hope Scholarship Fund in St. Mary's County. Additionally, the CSM Foundation has matched donations given toward arts, athletics, health sciences, Career Starters Scholarships and STEM.
Sponsors for the event provided power hour prizes. These included a wellness and fitness package won by Holly Wathen of Hollywood provided by the CSM Wellness, Fitness and Aquatics, and a GoPro Camera won by Timothy Johnson of Leonardtown provided by CSM College Store. Val Nyce of Mt. Victoria won a sports package featuring a golf outing by Swan Point Yacht and County Club and University of Maryland men's lacrosse tickets by parents of a UMD Men's Lacrosse player. A holiday dinner for four from McKay's Food Stores was won by F. Ellsworth Geib Jr. of Newburg. A holiday package featuring Solomons Business Association members went to Sonja Greenawalt of La Plata winning dinner at Kingfishers Seafood Bar and Grill and a hotel stay at Holiday Inn Solomons, Jill Russo-Downey of Accokeek winning a family pack to Annmarie Garden and cruise from McNelis Realty, and Dorothy Hill of Dunkirk winning a river cruise on the Wm. B. Tennison and behind-the-scenes tour with Calvert Marine Museum.
For information on #GivingTuesday, visit
www.givingtuesday.org
.
Donations are still being accepted for #GivingTuesday, visit www.csmd.edu/Foundation. Photos from the day are available to view at
csmphoto.zenfolio.com/givetuesday
.
CSM Selected as a Top School for Veterans
Military Advanced Education's 2015 Guide Recognizes CSM
The College of Southern Maryland has been awarded the designation of a Top School in the Military Advanced Education (MAE) 2015 Guide to Colleges and Universities which measures best practices in military and veteran education.
"We are honored to be recognized again as an institution that goes out of its way to support the men and women who have served our country. By providing advising and support services to our veteran students, they are able to access the information they need to take full advantage of their benefits and to be successful in their academic pursuits," said CSM President Dr. Brad Gottfried.
CSM was recently designated as a 2015 Military Friendly® School by Victory Media for being among the top 15 percent of colleges, universities and trade schools in the country that are doing the most to embrace military students, and to dedicate resources to ensure their success in the classroom and after graduation.
"As one of the largest veteran-serving colleges or universities within Maryland, CSM is proud to serve more than 830 military students, veterans and their dependents each year," said Chris Zimmermann, director of the college's financial assistance department which oversees its veteran benefits office.
The Guide presents results of a questionnaire of the military-supportive policies enacted at more than 600 institutions including private, public, for-profit, not-for-profit, four-year and two-year colleges and was released in the December issue of MAE. It is available online at
www.mae-kmi.com
.
This year, institutes were evaluated on their military culture, financial aid, flexibility, on-campus support and online support services. Each school's performance rating by category is represented by an easy-to-recognize dashboard to enable prospective students to quickly target schools that follow best practices in military education, and then put these in context with other academic or career considerations.
For information on using veterans benefits and services at CSM, visit
www.csmd.edu/veterans/
.