By Ashley S. Westerman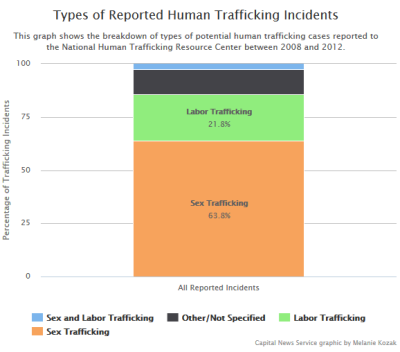 WASHINGTON - At 11, Tina Frundt tried to take her life.
Frundt had been sexually abused and trafficked for sex by the age of 9 while in the foster care system in Chicago.
Her suicide attempt, she said, should have caught someone's attention.
"To me, the red flag should have been, I was an 11-year-old and I tried to commit suicide, that should have been the red flag," said Frundt, who is executive director and founder of the D.C.-based anti-trafficking group Courtney's House. "Not that I was a horrible child that got into trouble all the time, because that's what was told."
Recognizing those red flags and knowing who to call or what sources to provide victims is the goal of a new pilot program for hospitals set to launch in January.
Amanda Rodriguez, manager of domestic violence and human trafficking policy for the Maryland Governor's Office of Crime Control and Prevention, said the new protocol goes beyond training on how to spot the red flags of human trafficking by making clear "what health providers should be doing every step of the way."
"Whether it's a juvenile, whether it's an adult, whether it's a labor trafficking case, like, 'Who do I call? And what should the response be?'" Rodriguez said. "So that there are no questions."
Rodriguez said that since most hospitals already have a domestic violence protocol in place, the human trafficking protocol was built to be similar.
The program will be piloted in January by Baltimore's Mercy Hospital and, for now, is a collaboration among the hospital, the Governor's Office of Crime Control and Prevention, the Maryland Human Trafficking Task Force, the Maryland Department of Health and Mental Hygiene and two anti-trafficking non-profit groups: Baltimore-based TurnAround Inc. and FAIR Girls in D.C.
As a former prosecutor, Rodriguez knows what can happen when a medical professional doesn't know what to do when they come across a trafficking victim. She said the majority of survivor cases that came across her desk were seen at a hospital at some point.
"But they weren't identified as a trafficking victim and they continued to be trafficked for weeks or months, or even in some cases years, after they were seen by medical personnel," Rodriguez said.
Medical Providers and Trafficking Victims: A History
For years, anti-trafficking groups have been working to help healthcare professionals identify potential trafficking victims. Rodriguez said the Maryland Human Trafficking Task Force has been involved in training for recognizing the red flags of trafficking and how to ask the right follow-up questions almost since its inception in 2007.
But a lack of data about how many medical facilities have trained personnel is a challenge, Rodriguez said. As is the lack of data on human trafficking in general.
Despite being a multibillion dollar industry, available numbers on trafficking are estimates at best. According to the International Labor Organization's most recent statistics, the number of people being trafficked worldwide is estimated to be 21 million.
At the state level, the numbers are also hard to come by.
The Maryland Human Trafficking Task Force assisted 217 victims in 2013, for example. But thanks to its many highways and major airports, the Maryland-Virginia-D.C. area is thought of as a hotbed for trafficking, according to anti-trafficking advocates.
There are conflicting numbers on just how many victims end up in the care of a doctor while being trafficked, with estimates ranging as high as 70 percent and as low as 28 percent. A 2003 study published in the Journal of Epidemiology that looked at women prostitutes, many of whom are trafficking victims, from 1966 to 1999 in Colorado Springs, Colorado, found that 4 out of 5 were seen by a medical professional during their time in captivity.
Teresa Tomassoni, director of programs at FAIR Girls, one of the groups involved in the pilot program, said many of the recovered youth they work with have seen a medical professional while being trafficked.
"Often times we find that youth have gone to Planned Parenthood or other community clinics to get (sexually transmitted disease) testing or get some prescriptions for whatever health care concerns they have," she said.
Tomassoni said when a trafficking victim does go to a medical facility, there's an opportunity to identify them and refer them to resources that can help. But medical professionals need to learn how to ask the right questions, she said.
The Red Flags
This is where the partnerships between the advocacy groups and the medical professionals come into play.
Amelia Rubenstein, team leader of the anti-trafficking program at TurnAround Inc., a Baltimore-based domestic violence group that is also involved with the pilot program, said there are several things to look for.
"They're looking for people not being able to have control of their own documents, or they may seem in distress, signs of violence," Rubenstein said. "Maybe they're with somebody who won't leave the room, so they're not allowed to kind of be on their own talking to a health care provider."
A patient's history can also be a red flag. For example, advocates say, multiple abortions, or having been treated for multiple sexually transmitted diseases in a short period of time, can also be signs that a patient is a trafficking victim.
Some medical professionals are already putting that training to good use.
Through her work as a Certified Adult Nurse Practitioner with Healthcare for the Homeless in Baltimore, Martha Alvaran has referred human trafficking survivors and victims to other doctors and resources to get help.
Because of the organization's little-to-no-cost health care, they sometimes take on clients who may be involved with, or have just been recovered, from a trafficking situation. Healthcare for the Homeless also sends its mobile clinic once-a-month to The Samaritan Women, a Baltimore-based, anti-trafficking organization.
Alvaran said medical service providers are on board with the movement.
"This is certainly a problem that is really out there," Alvaran said. "It's really hard for them to get help. I think we all need to be better educated on how to help these women."
However, Alvaran, who also works with the Baltimore-based anti-trafficking group Safe House of Hope, said it can be frustrating because many patients don't follow up.
"You know, I've seen them and then they've gone to other areas," she said. "You just have to take it in stride, and you're there for the ones that do come."
Looking Ahead
Back at Courtney's House, Frundt runs her organization from experience. This means providing other human trafficking victims with the things she never had, everything from the right services to asking the right questions.
After her suicide attempt, Frundt was adopted by a different family at age 12. However, she became involved with a pimp at 13 and was trafficked for sex until her mid-20s.
Frundt said survivors can bring experiences to training that can't be learned from a book. For example, when she was on her menstrual cycle, Frundt said she had to use cosmetic sponges or baby wipes instead of the typical pads and tampons because her pimp forced her to keep working.
"So my training, as a survivor, will be very different from someone else's training in a book," she said, "...mine may be more specific because I am a survivor."