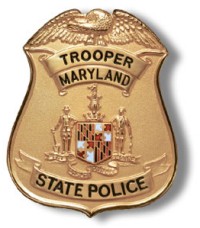 PRINCE FREDERICK, Md. (Dec. 22, 2014)—The Prince Frederick Barrack of the Maryland State Police (MSP) today released the following incident and arrest reports.
THEFT: On 12/16/2014 at 8:03 pm, Trooper First Class Costello responded to the Walmart in Prince Frederick for a reported theft. Numerous items were reported stolen from the store. A surveillance camera recorded the suspects' vehicle and it was stopped by a fellow trooper near Parran Rd. in St. Leonard. Items from this Walmart theft along with numerous other items related to other Walmart Store thefts were recovered. Michael E. Richards, 24, and Michael P. Williams, 24, both of Lothian, were arrested. They were incarcerated at the Calvert County Detention Center.
POSSESSION OF NARCOTICS DRUGS/MARIJUANA: On 12/17/2014 at 5:01 pm, Trooper Newcomer responded to the Peking Restaurant in Chesapeake Beach for a possible CDS complaint. Tpr. newcomer observed a possible exchange of CDS by two subjects. Erik R. Crouse, 35, of Chesapeake Beach, was found to be in possession of Subutex/Buprenophine and Marijuana. He was arrested and incarcerated at the Calvert County Detention Center. The other subject was not charged.
COUNTERFEIT MONEY: On 12/17/2014 at 6:50 pm, Trooper First Class Costello responded to the Food Lion Store in Prince Frederick for a fraud complaint. An unidentified suspect entered the store and attempted to exchange a counterfeit bill for a store gift card. When the cashier brought the bill to the store manager for conformation, the suspect fled.
POSSESSION OF MARIJUANA: On 12/21/2014 at 11:10 am, Trooper First Class Barlow stopped a vehicle at Rt. 4 and German Chapel Rd. in Prince Frederick for traffic violations. A strong odor of burnt marijuana was emitting from the inside of the suspect's vehicle. A probable cause search was conducted and marijuana as located in the vehicle. The three occupants stated the marijuana was shared. Galand E. Wallace, 34, of Suitland, Melody K. Waul, 25, of Port Republic, and Janee M. White, 30, of Ft. Washington, were all issued civil citations and released.
DUI Arrests
Elston H. Harvey, 48, of Sunderland, arrested on 12/19/2014 @ 01:24 am by TFC B. Wiesemann
Gerald L. Day, Jr., 57, of Lusby, arrested on 12/20/2014 @ 02:17 am by TFC B. Wiesemann
Christy L. Lampel, 31, of Medical Lake, Wa., arrested on 12/21/2014 @ 12:07 am by TFC K. Follin
Cathleen A. Tabb, 50, of Harrisburg, Pa., arrested on 12/22/2014 @ 01:43 am by TPR. J. Warrick
Disclaimer: In the U.S.A., all persons accused of a crime by the State are presumed to be innocent until proven guilty in a court of law. See: http://somd.me/presumed-innocence. Additionally, all of the information provided above is solely from the perspective of the respective law enforcement agency and does not provide any direct input from the accused or persons otherwise mentioned. You can find additional information about the case by searching the Maryland Judiciary Case Search Database using the accused's name and date of birth. The database is online at http://somd.me/mdcasesearch . Persons named who have been found innocent or not guilty of all charges in the respective case, and/or have had the case ordered expunged by the court can have their name, age, and city redacted by following the process defined at http://somd.me/expungeme .