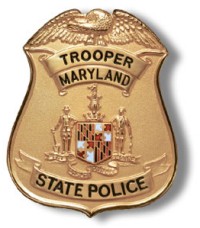 PRINCE FREDERICK, Md. (Dec. 15, 2014)—The Prince Frederick Barrack of the Maryland State Police (MSP) today released the following incident and arrest reports.
THEFT: On 12/8/2014 at 6:55 pm, Trooper First Class Saucerman responded to the 2200 block of Adelina Rd. in Prince Frederick for a reported theft. Numerous items including cash, jewelry, and tools, were reported stolen from the residence. A pawn search was implemented and a suspect has been developed. Investigation continues.
POSSESSION OF MARIJUANA: On 12/12/2014 at 11:55 am, Trooper First Class Oles responded to the Lusby Shell Station for a CDS complaint from Master Trooper Goldston. A strong odor of burnt marijuana was emitting from the inside of the suspect's vehicle. Joseph E. Miller 3rd, 22 of Lusby, was found to be in possession of marijuana and drug paraphernalia. He was issued appropriate Civil and Criminal Citations and released.
DUI Arrests
Andrew A. Williams, 36, of Hyattsville, arrested on 12/10/2014 @ 02:58 am by TPR. J. Palumbo
Lamont C. Bourne, 41, of Port Republic, arrested on 12/12/2014 @ 11:02 pm by S/TPR C. Dawson
Kristin J. Clarke, 26, of Prince Frederick, arrested on 12/13/2014 @ 02:05 am by TFC B. Wiesemann
Steven K. Smith, 26, of Port Republic, arrested on 12/13/2014 @ 03:03 am by TFC D. Saucerman
Ray A. Gray, 61, of Brandywine, arrested on 12/13/2014 @ 10:36 am by TFC J. Oles
Kimberly K. Finamore, 24, of Chesapeake Beach, arrested on 12/14/2014 @ 05:19 am by TFC D. Saucerman
Samantha J. Volland-Moore, 32, of Coupeville, Wash., arrested on 12/14/2014 @ 10:25 pm by TFC B. Wiesemann
Disclaimer: In the U.S.A., all persons accused of a crime by the State are presumed to be innocent until proven guilty in a court of law. See: http://somd.me/presumed-innocence. Additionally, all of the information provided above is solely from the perspective of the respective law enforcement agency and does not provide any direct input from the accused or persons otherwise mentioned. You can find additional information about the case by searching the Maryland Judiciary Case Search Database using the accused's name and date of birth. The database is online at http://somd.me/mdcasesearch . Persons named who have been found innocent or not guilty of all charges in the respective case, and/or have had the case ordered expunged by the court can have their name, age, and city redacted by following the process defined at http://somd.me/expungeme .