Two new national board certified teachers join group for CCPS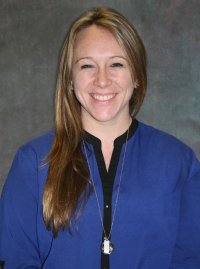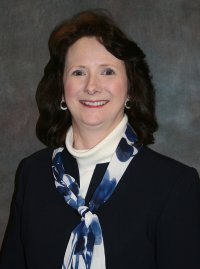 Laura Buzzell and Deborah Simmons.
Two Charles County Public Schools teachers, Laura Buzzell at Henry E. Lackey High School, and Deborah Simmons at Milton M. Somers Middle School, recently joined the ranks of accomplished teachers nationwide who achieved national certification from the National Board for Professional Teaching Standards (NBPTS).
Both teachers completed a yearlong performance-based assessment series to become National Board Certified Teachers. The assessment is designed to measure what accomplished teachers should know and be able to do. The process requires teachers to demonstrate how their activities strengthen student performance and student achievement.
Buzzell and Simmons join 31 other Charles County Public Schools teachers who hold current national certification status. Buzzell is a mathematics teacher at Lackey and earned her certification in the area of young adulthood. She began her career with the school system in 2007 at Lackey and currently teaches Algebra I, Advanced Placement (AP) calculus and the Advancement Via Individual Determination (AVID) course for juniors. Buzzell has a bachelor's degree in mathematics and Spanish from Susquehanna University, and a master's degree in curriculum and instruction from McDaniel College.
Simmons is a mathematics teacher at Somers and earned her certification in the area of mathematics/early adolescence. She began her career with Charles County Public Schools in 2002 at John Hanson Middle School, and has been teaching at Somers since 2005. Simmons teaches all of the seventh-grade accelerated math students. She has a bachelor's degree in elementary education and mathematics from West Liberty State College, and a master's degree in middle school curriculum and instruction from Virginia Polytechnic Institute.
National Board Certified Teachers must complete a rigorous review of their skills and work, which includes teacher portfolios, student work samples, videotapes, and thorough analysis of the candidates' classroom teaching and student learning. Teachers also complete a series of written exercises that probe the depth of their subject-matter knowledge and their understanding of how to teach that material to students.
These teachers join more than 4,000 teachers nationwide who were certified in 2014. Certification is valid for 10 years, after which a teacher may complete the renewal process. Maryland has 2,760 teachers who are nationally certified and is one of the top 10 states with the highest participation in the certification process.
By achieving National Board Certification, Charles County teachers are eligible for a stipend added to their annual salary as long as they maintain their National Board Certification status. Only teachers with a standard or advanced professional certificate who have a minimum of three years successful teaching experience are eligible to apply for National Board Certification. Information about the application process is available on the NBPTS website at www.nbpts.org.
Board honors exemplary employees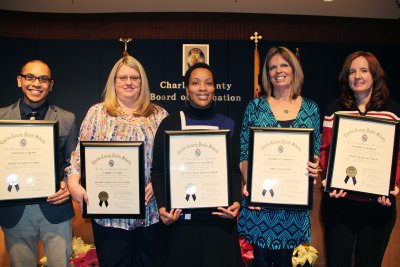 Pictured are Charles County Public Schools employees honored by the Board of Education Dec. 9. Pictured from left are: Timothy Remo, Carrie Lamb, Camille Calloway, Patricia Hodson and Bonnie Jenkins.
The Board of Education honored five Charles County Public Schools (CCPS) employees during the Dec. 9 Board meeting, including Camille Calloway, Patricia Hodson, Bonnie Jenkins, Carrie Lamb and Timothy Remo.
Calloway is a special education teacher at Henry E. Lackey High School where she has worked for the last eight school years. As a special educator and department chair, she provides help and support to the students and staff at Lackey. Calloway's extensive knowledge and dedication to her work set her apart from her peers. Her coworkers often seek her out when they need assistance, and Calloway is willing to assist anyone in need. In his letter of nomination, Lackey Principal James Short said Calloway exemplifies the best that Lackey has to offer. "No need is too small, no challenge too great for Ms. Calloway's attention. When considering what's great about Lackey, it begins with the kind and caring spirit of our staff," Short wrote in his nomination letter.
Hodson is a media specialist at John Hanson Middle School and helped transform the media center into the hub of the school. She continuously enhances the media center both in accessibility and appropriate resources for students. She has purged over 3,000 books and old resources and replaced them with updated materials. She recently took a Spanish class at the College of Southern Maryland in order to better communicate with the school's growing Spanish-speaking population. Hodson is described by her coworkers as extremely dependable, flexible, and willing to take on any duties. Hanson Principal Kathy Kiessling said Hodson is a valuable resource for students and staff. "Her friendly and supportive nature makes her approachable and it is evident that she enjoys what she does," Kiessling wrote in a nomination letter.
Jenkins is a third-grade teacher at T. C. Martin Elementary School. She is the team leader for the third grade, participates on several committees and takes an active part in the leadership of the school. Jenkins' consistent growth in the achievements of her students demonstrates that she has the qualities of a gifted teacher and is able to reach struggling students. She knows her students well and strives to support their well-being by working with their parents to ensure their children are successful. "Ms. Jenkins' work ethic is outstanding. She is always organized and her lessons involve a great deal of thought and structure," Martin Principal Greg Miller wrote in his nomination letter.
Lamb is an instructional resource teacher at Dr. Gustavus Brown Elementary School, where she has worked for the past four school years. She is dedicated to supporting and coaching teachers and assisting them in bringing out the best in their students. Lamb provides small group instruction and models lessons for teachers to use in the classroom. Her coworkers describe her as a valuable resource of information, and someone who is always willing to help where she is needed. In her letter of nomination, Brown Principal Christienne Warren describes Lamb as an integral part of the leadership team. "Ms. Lamb is always available to support teachers. She plans with them and answers questions. She never fails to do what it takes to help students succeed," Warren wrote.
Remo is a fifth-grade teacher at C. Paul Barnhart Elementary School. He was recognized for his exemplary classroom management skills as well as being a leader in technology and instructional best practices. He researches current practices, trends, technology and information in order to provide the highest level of instruction and support for his students. He also has provided modeled lessons for his colleagues and teachers across the county. Remo is leading the way in integrating science, technology, engineering and mathematics (STEM) education to students by coaching the first robotics team for Barnhart. Troy Barnes, principal at Barnhart, said Remo provides support to his coworkers daily. "He is a leader in technology and frequently assists anyone in need. Mentor teachers frequently ask to schedule new teachers to visit his classroom," Barnes wrote in his nomination letter.
The Board honors several exemplary employees each month.
Board recognizes outstanding students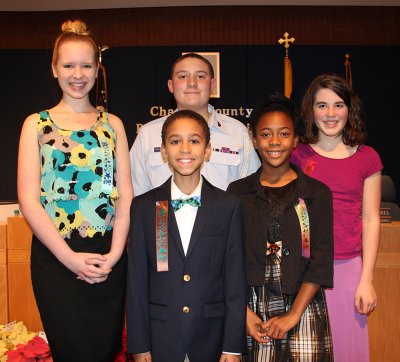 Pictured, back row from left, are Sarah Jones, Michael Petschk and Shana Cavanaugh. Pictured, front row from left, are Roman Lakner and Paris Jones.
The Board of Education honored five students on Tuesday, Dec. 9 for excellence in academic achievement, career readiness and personal responsibility. Honored were Shana Cavanaugh, fifth grade, Dr. Gustavus Brown Elementary School; Paris Jones, fifth grade, C. Paul Barnhart Elementary School; Roman Lakner, fifth grade, T.C. Martin Elementary School; Michael Petschk, eighth grade, John Hanson Middle School; and Sarah Jones, junior, Henry E. Lackey High School.
Cavanaugh was honored by the Board in the area of academic achievement and is a responsible and respectful student. She always gives 100 percent in all aspects of learning, whether she is in her accelerated math class or her gifted reading group. Cavanaugh maintains straight A's and is the recipient of numerous principal's honor roll and personal responsibility awards. She is truly an asset to her school and considered by her teachers as a role model for other students.
Jones was honored in the area of academic achievement for several accomplishments. She has received all A's and scored at the advanced level on the Maryland School Assessment (MSA) in both math and reading. Jones is an active student and also participates in both dance and the Girl Scouts. She plans on studying nursing after she graduates from school.
Lakner was recognized in the area of academic achievement and works hard to stay a full year above grade level in math. He is enrolled in gifted reading and writing classes and consistently earns principal's honor roll awards. Lakner is a member of the math team, knowledge bowl team and the Mathematics, Engineering and Science Achievement (MESA) team. His teachers describe him as an exemplary role model for his peers.
Petschk was recognized in the area of career readiness and is an honor roll student. He is currently taking all enrichment classes and is an active member of the Civil Air Patrol. Petschk holds certifications in emergency response training that allowed him to recently participate with an emergency services ground team to perform security detail during a crash investigation. He has also logged several flight hours as a pilot His goal is to fly solo in a glider next year and join the United States Air Force as a medic.
Jones was recognized in the area of personal responsibility and has earned straight A's every year during her high school career. She is currently enrolled in and excels in five Advanced Placement (AP) classes. Outside of her studies, Jones has been the lead in school plays, and is a member of the chamber choir. Jones would like to pursue a career in medicine after she graduates.
Each month the Board of Education honors students for their success in academic achievement, career readiness and personal responsibility.