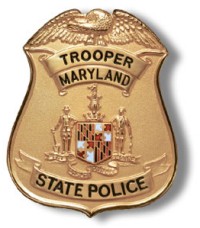 PRINCE FREDERICK, Md. (Dec. 9, 2014)—The Prince Frederick Barrack of the Maryland State Police (MSP) today released the following incident and arrest reports.
BURGLARY: On 11/30/2014 at 7:27 pm, Trooper First Class Barlow responded to the 2400 block of Solomons Island Rd. S. in Prince Frederick for a reported burglary and theft. Unknown suspects entered the residence and stole prescription medication and cash. Investigation continues.
ROBBERY, FIRST DEGREE ASSAULT: On 11/30/2014 at 8:48 pm, Trooper First Class Barlow received a complaint regarding a Robbery and First Degree Assault that had occurred near the Verizon building on Armory Rd. in Prince Frederick. The victim reported two males attacked and robbed him at this location. His wallet, credit cards, cash and cell phone were taken. After reporting the incident, the victim was transported to the hospital for treatment of numerous injuries. Suspects have been developed and interviews are pending.
POSSESSION OF MARIJUANA: On 12/2/2014 at 9:42 pm, Trooper Palumbo responded to Bob Evans Restaurant in Prince Frederick for possible CDS activity in the parking lot. Three occupants of a vehicle immediately exited the vehicle upon arrival. A probable cause search revealed marijuana. Joshua L. Borland, 25 of Lusby; [Name expunged as a courtesy. District Court granted an expungement on 5/22/2015.], and Zachary R. Smith, 22, both of Huntingtown, were issued Civil Citations and released.
POSSESSION OF MARIJUANA: On 12/2/2014 at 11:26 pm, Trooper First Class Barlow responded to the Super 8 Motel in Prince Frederick for a CDS complaint. Megan E. Barnaby, 18 of East Windsor, CT, was found to be in possession of marijuana and drug paraphernalia. She was issued a Civil Citation and was informed by management that she and her fellow room occupants would have to leave the premises.
THEFT, ASSAULT: On 12/04/2014 at 2:00 pm, Trooper Warrick received a complaint for a theft of a cell phone and assault. The victim reported that her ex-boyfriend had assaulted her and taken jewelry and her cell phone from the residence. An application for charges has been submitted for James N. Gunnell, 28 of Prince Frederick, for theft and assault.
THEFT FROM VEHICLE: On 12/5/2014 at 12:41 pm, Corporal Gibson received a report of a stolen registration plate (MD 21743M4) from the victim's vehicle. The item has been entered into METERS/NCIC. Investigation continues.
DUI Arrests
Penny K. Anselment, 49, of Lexington Park, arrested on 12/3/2014 @ 09:03 am by TFC B. Wiesemann
David A. Harris, 35, of Baltimore, arrested on 12/8/2014 @ 01:54 am by TFC S. Lewis
Disclaimer: In the U.S.A., all persons accused of a crime by the State are presumed to be innocent until proven guilty in a court of law. See: http://somd.me/presumed-innocence. Additionally, all of the information provided above is solely from the perspective of the respective law enforcement agency and does not provide any direct input from the accused or persons otherwise mentioned. You can find additional information about the case by searching the Maryland Judiciary Case Search Database using the accused's name and date of birth. The database is online at http://somd.me/mdcasesearch . Persons named who have been found innocent or not guilty of all charges in the respective case, and/or have had the case ordered expunged by the court can have their name, age, and city redacted by following the process defined at http://somd.me/expungeme .