By John Joyce, NSWC Dahlgren Division Corporate Communications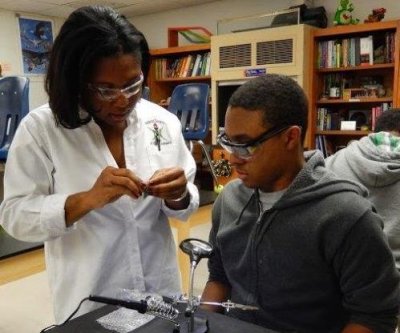 Naval Surface Warfare Center Dahlgren Division systems safety engineer Brandie Jackson mentors an elementary school student in a science, technology, engineering and mathematics (STEM) project. A month after she was honored by the Society of Women Engineers with its 2014 Member at Large Outreach Award in October, Jackson - reflecting on Thanksgiving and the outreach award - said, "I am thankful for the chance to mentor and encourage school age youth, their parents, and the community."
DAHLGREN, Va.—As Navy engineer Brandie Jackson reflects on Thanksgiving, she thinks of family and friends - and STEM.
Jackson pursued science, technology, engineering and mathematics (STEM), eventually becoming an industrial and systems engineer at the Naval Surface Warfare Center Dahlgren Division (NSWCDD).
Now, she motivates countless students to pursue STEM, college, and civilian careers in the Department of Defense.
"I am most grateful for God's blessings, my family, and my Navy employment which has provided me with many opportunities to excel," said Jackson, who won the 2014 Society of Women Engineers (SWE) Member at Large Outreach Award during their annual conference in Los Angeles last month.
The former Navy electronics technician discovered a myriad of ways in her Navy government civilian career to share her knowledge as a STEM mentor.
"As we celebrate Thanksgiving, I reflect on receiving the outreach award and the road to get here," said Jackson in an interview Nov. 23. "I am thankful for the chance to mentor and encourage school age youth, their parents, and the community."
The Outreach Award honors a SWE member at large (collegiate or professional) who has made outstanding contributions toward informing school age girls, their parents, educators, counselors, or the general public of opportunities available in engineering during the previous year. The award may be presented to one member at large annually.
"I was completely surprised that I was selected and very humbled to receive this award," said Jackson. "The support and flexibility of my command allowed me to participate in various outreach programs to motivate others in reaching higher to achieve goals, as my family encouraged me. I am blessed that I am able to share my knowledge and skills with others."
Jackson - who applies systems safety engineering principles and technologies to keep Sailors safe aboard warships - was honored for her active participation in several STEM programs throughout 2013, resulting in a positive impact on students and adults.
For example, she helped the National Society of Black Engineers Pre-College Initiative program achieve its mission to generate the interest of students (kindergarten to grade 12) in STEM; help students have a positive attitude toward academic excellence; encourage students to pursue degrees in engineering and other technical fields; increase the number of African Americans attending and graduating from college; encourage and support parental commitment to children's education; and to raise cultural awareness among students.
Jackson was also recognized for her impact on the Delta Sigma College Initiative - created by the Virginia Northern Neck Alumnae Chapter of Delta Sigma Theta Sorority to support the Delta Academy.
"Delta Academy provides an opportunity for local Delta chapters to enrich and enhance the education that our young teens receive in public schools across the nation," said Jackson, who served as the Delta STEM Initiative's lead event coordinator.
Moreover, Jackson participated with her NSWCDD colleagues at the USA Science and Engineering Festival in Washington D.C. to re-invigorate the interest of American youth in STEM.
"I could feel the energy and amazement of the students as they left with an eagerness and desire to learn more which was definitely the mission," said Jackson.
The USA Science and Engineering Festival aims to stimulate and sustain the interest of young people in STEM by producing and presenting the most compelling, exciting, and educational festival in the world, according to its website. It serves as an open forum to showcase all facets of STEM.
"I was excited about this challenging task," said Jackson, who guided students on projects involving math games, calculator-controlled robots, toothbrush robots, and straw rockets at the event. "We helped students through these exciting hands-on projects, and they learned STEM concepts while having fun."
She plans to continue volunteering at NSWCDD and through local organizations to encourage youth in the community to excel and strive for STEM careers.
Jackson works with a team of NSWCDD systems safety engineers who ensure that naval guns, ammunition, and gun barrels headed for the fleet are safe and effective. They oversee the safe development and testing of new weapons from the electromagnetic railgun to the laser weapons system in addition to testing of new types of ammunition, such as reactive materials.
As a systems engineer, she applies engineering and management principles, criteria, and technologies to achieve acceptable mishap and risk mitigations within the constraints of operational effectiveness, suitability, time, and cost throughout all phases of a system's life cycle.
Jackson earned a bachelor's degree in Industrial and Systems Engineering from Mississippi State University and a master's degree in Engineering Management from Old Dominion University.