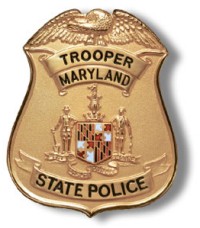 LEONARDTOWN, Md. (Nov. 27, 2014)—The Leonardtown Barrack of the Maryland State Police (MSP) today released the following incident and arrest reports.
DRUG ARREST: On Sunday, November 23, 2014 at 5:25 pm, Tpr. A. Oyler initiated a traffic stop on a green passenger vehicle for a minor traffic infraction. A probable cause search of the vehicle was conducted, resulting in the recovery of CDS. Mathew T. Mikesell, 35, of Lexington Park, was arrested and charged with Possession of CDS and Possession of Paraphernalia. He was transported to the St. Mary's County Detention Center and held pending a bond review with the District Court Commissioner (14-MSP-039115).
Warrant Services
Samuel Tony Bryant, 28, of Lexington Park, served on 11/20/2014 at 11:21 am for Assault Second Degree (2014-0000435707)
DUI Arrests
Mitch Anthony Wathen, 29, of Mechanicsville, arrested on 11/17/2014 by Tpr. M. T. Johnson
Ernest Jerome Stewart, 50, of Charlotte Hall, arrested on 11/20/2014 by TFC S. M. Ditoto
Jeffrey Allen Graham, 54, of Great Mills, arrested on 11/21/2014 by Tpr. C. M. Ruth
Bendley Joseph 25, of Lexington Park, arrested on 11/22/2014 by Tpr. W. A. Couter
Mathew Tokuji Mikesell, 35, of Lexington Park, arrested on 11/23/2014 by Tpr. A. R. Oyler
Jeana Elise Ferdig, 26, of Lexington Park, arrested on 11/25/2014 by TFC D. G. Buckalew
Disclaimer: In the U.S.A., all persons accused of a crime by the State are presumed to be innocent until proven guilty in a court of law. See: http://somd.me/presumed-innocence. Additionally, all of the information provided above is solely from the perspective of the respective law enforcement agency and does not provide any direct input from the accused or persons otherwise mentioned. You can find additional information about the case by searching the Maryland Judiciary Case Search Database using the accused's name and date of birth. The database is online at http://somd.me/mdcasesearch . Persons named who have been found innocent or not guilty of all charges in the respective case, and/or have had the case ordered expunged by the court can have their name, age, and city redacted by following the process defined at http://somd.me/expungeme .