Nominate an outstanding principal for Post leadership award
Charles County Public Schools (CCPS) is accepting nominations for its 2015 Principal of the Year and the Washington Post Distinguished Educational Leadership Award (DELA). The annual award honors exemplary principals and recognizes those who go beyond the day-to-day demands of their position to create an exceptional educational environment.
Teachers, students, former students, parents, administrators, or community members may submit nominations. Nominees must have a minimum of five year's experience as a principal and three of those years must have been with Charles County Public Schools. Principals may not nominate themselves.
Nomination materials must include a minimum of four statements of support, one of which must be submitted by a professional educator; a career summary; and a description of contributions in each of the nomination criteria categories. These materials must be included in a presentation binder and not exceed 100 single pages.
The nomination criteria are:
-- manage effectively;
-- demonstrate and encourage creativity and innovation;
-- foster cooperation between the school and the community;
-- maintain a continuing dialogue with students and parents as well as faculty and staff;
-- keep abreast of developments in the field of education;
-- encourage team spirit;
-- demonstrate leadership and exemplify commitment;
-- continue to play an active role in the classroom;
-- maintain their position as principal throughout the 2015-16 school year; and
-- participate in a mandatory five-day DELA training to be held in July 2015.
Charles County's 2015 Principal of the Year will be one of 21 recognized by the Post from the District of Columbia, Maryland and Virginia.
Nominations packets are due Friday, Jan. 30. Materials should be sent to Pam Mucciolo, Office of Human Resources, Charles County Public Schools, Jesse L. Starkey Administration Building, P.O. Box 2770, La Plata, Md., 20646.
The winner will be selected by a screening committee and kept confidential until the Washington Post runs the advertisement to announce each winner from all counties.
Additional information about the nomination process is available on the Charles County Public Schools website at
http://www.ccboe.com/jobs/emprec.php
.
North Point names A.K. Johnson, recent graduate to Hall of Fame
North Point High School hosted its first Hall of Fame Induction Ceremony on Friday, Oct. 31 and honored A.K. Johnson, director of student activities for Charles County Public Schools, and Robyn Parks, a 2010 North Point graduate and former Charles County student athlete. During the ceremony, both Johnson and Parks were honored with plaques of recognition that will hang in the athletics hallway at the school. They were also presented as Hall of Fame inductees during the North Point home football game that evening.
Johnson was recognized for his efforts in establishing the athletics program at North Point. He was named as North Point's athletic director when the school opened in 2005 and was key in the launch of an integrated athletics program for students. Johnson served as the athletic director at North Point for seven years before taking a leadership position in 2012 to oversee student activities countywide. During his tenure at North Point, Johnson mentored and trained a coaching staff to best serve students, and helped to establish a supportive culture among community, staff, students and school administration. In 2010, Johnson was named the Maryland State Athletic Directors Association (MSADA) Athletic Director of the Year for District 4, which covers Charles, Calvert and St. Mary's counties.
Prior to joining CCPS, Johnson served as the athletic director at T.C. Williams High School with Alexandria City Public Schools for 14 years. During his tenure in Virginia, Johnson earned the title of Track Coach of the Year by the Washington Post seven times and was inducted into the Virginia High School League Hall of Fame in 1999.
Parks is a former basketball player at North Point and was the first player to reach 1,000 points. She served as a team captain and most valuable player, and was named the Southern Maryland Athletic Conference (SMAC) Player of the Year twice. She was also named to the local All Metro Teams several times during her basketball career at North Point. Parks attended Virginia Commonwealth University, where she played basketball and earned a bachelor's degree in criminal justice. She was recently signed to play in the Spanish Women's League on the Club Baloncesto Islas Canarias team.
Also recognized during the ceremony were players on the North Point 2008 boys state champion track and field team. Included in the ceremony was a Hall of Fame dinner, with proceeds benefiting the North Point boosters scholarship fund.
School system celebrates American Freedom Week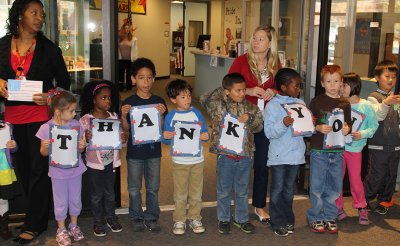 Kindergarten students at Dr. James Craik Elementary School spell out "Thank You" for veterans and members of the military who attended a special assembly and schoolwide parade on Nov. 11 to highlight American Freedom Week and Veterans Day.
Charles County Public Schools (CCPS) highlighted Veterans Day on Tuesday, Nov. 11 as part of American Freedom Week. The school system celebrates American Freedom Week during the week that Veterans Day falls and schools give special recognition to those who serve the country and those who gave their lives to preserve America's liberty. CCPS honored veterans and military members during the week of Nov. 10-14. Recognition events range from student breakfasts with veterans and members of the military from their school communities to assemblies in which students and staff honor veterans with certificates, letters of thanks and parades in the school hallways.
Dr. James Craik Elementary School hosted a special assembly Nov. 11 to honor more than 30 veterans and active military members. Students lined the school hallways after the assembly and guests participated in a special parade. Over at Benjamin Stoddert Middle School, veterans were invited to have breakfast with students and staff on Nov. 11 to share their stories on why they chose a career in the Armed Forces. La Plata High School hosted a special ceremony on Nov. 13 and featured Larry Abell of the Maryland's Veterans Museum as the guest speaker. Following the ceremony, JROTC cadets were paired up with veterans in attendance to learn about their experiences and then presented to their peers what they learned from their veteran pairing.
This year's November Board of Education meeting fell on Veterans Day, and all in attendance at the start of the meeting observed a moment of silence to honor those who serve the United States. Student cadets from each Charles County public high school rotate presenting the colors during Board meetings, and La Plata cadets participated in the Nov. 11 meeting. The Board presented a resolution to students and staff last month to recognize American Freedom Week, which is highlighted annually.