Energy Efficient Bulbs Designed to Help Customers Save Energy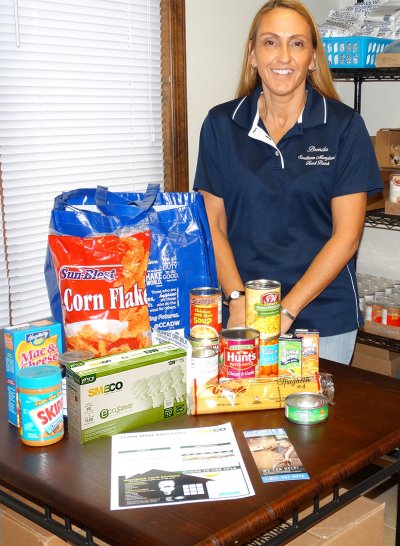 Brenda DiCarlo, Southern Maryland Food Bank Director, shows what an average family would receive for assistance from the food bank. Having operated for 31 years, the food bank distributes needed supplies to families in Calvert, Charles, and St. Mary's counties and is now serving approximately 11,500 families each month. (Submitted photo)
HUGHESVILLE, Md. (Nov. 13, 2014)—Approximately 7,500 families served by the
Southern Maryland Food Bank
will receive ENERGY STAR® certified compact fluorescent lights (CFL) as part of Southern Maryland Electric Cooperative's (SMECO) participation in EmPOWER Maryland programs to help the state reduce energy consumption by 15 percent by 2015.
On November 6, 2014, SMECO donated 30,000 CFLs to the food bank. The CFLs will help Southern Maryland families facing economic hardship to reduce their energy costs so they can free up limited resources for other necessities.
"We know that some of our customer-members face hardships in paying their bills each month," said Jeff Shaw, SMECO's Energy and Technology Director. "Providing CFLs to these customer-members will help them reduce their energy usage, which reduces energy costs. Customers can save about $50 in energy costs over the life of the bulb because CFLs use about 75 percent less energy than standard incandescent bulbs. Reducing lighting costs is the first step to saving energy and saving money. We want customers to learn more about how they can save energy because that's an expense they need to manage."
"Many customers look to our food bank to provide household items that they may otherwise not be able to afford," said Brenda DiCarlo, Southern Maryland Food Bank Director. "The ability to provide necessities, such as energy efficient light bulbs, can really help customers manage their monthly budgets and free up financial resources for other needs."
Find additional information and updates about SMECO's energy efficiency programs by visiting
www.smeco.coop/save
or by calling 1-888-440-3311.
Source: SMECO