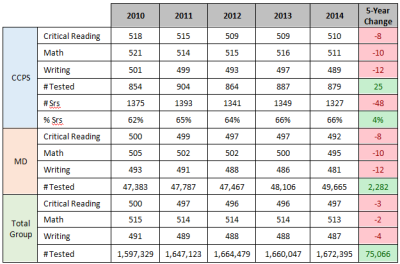 Table of SAT scores for Calvert Co. vs. Maryland-wide for a 5-year period. Click on image for larger rendition. (Source: Calvert County Public Schools)
PRINCE FREDERICK, Md.—Paralleling the trend in Maryland, the average composite SAT score for the class of 2014 in Calvert County Public Schools dropped from 1522 in 2013 to 1510 in 2014. The score for the critical reading component of the SAT increased one point to 510. The average math and writing scores dropped to 511 and 489, respectively.
The composite score of Calvert County Public Schools is 42 points above the Maryland composite of 1468. Over the past five years, the composite score for both Maryland and Calvert County Public Schools has dropped 30 points. During the same time period, the composite for all students taking the SAT dropped nine points to 1497. The composite score is the sum of the scores from the critical reading, mathematics, and writing sections of the SAT. The highest possible composite score is 2400.
Sixty-six percent of the graduating class of 2014 took the SAT at some point during high school, marking a 4% increase over the past five years.
Dr. Daniel Curry, Superintendent, said, "We're pleased to maintain an average score higher than the state. With more students taking the SAT than five years ago, we can't help being pleased with the results. Each year we would like to see higher SAT scores; however, when you couple that with a goal of increasing the overall number taking the test, reaching that goal becomes more difficult."
The College Board considers a composite score of 1550 as the benchmark score for college and career readiness. 45% of Calvert County Public Schools students who took the SAT met that benchmark. Nationwide, 42.6% of SAT takers in the class of 2014 met the SAT College and Career Readiness Benchmark.
In 2013, the College Board announced plans to redesign the SAT. According to a press release from the organization, the redesigned exam will continue to have reading, math and essay sections and will be modeled on the work that students do in challenging high school courses. The redesigned exam will first be administered in March 2016.
Source: Calvert County Public Schools