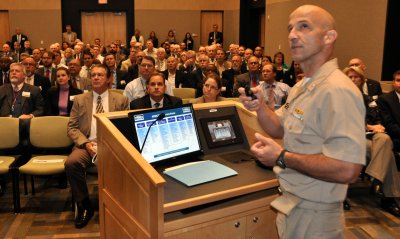 Capt. Brian Durant presents a command brief to attendees. (U.S. Navy photo by John Joyce/Released)
DAHLGREN , Va. (Oct. 22, 2014)—The Naval Surface Warfare Center Dahlgren Division (NSWCDD) hosted a Small Business Outreach and Industry Brief at the University of Mary Washington Dahlgren Campus, Oct. 21. The event attracted over 140 businesses interested in learning more about NSWCDD and its future initiatives.
The event's keynote speaker, Jerome Punderson, Naval Sea Systems Command director of contracts, provided attendees with awareness into the current acquisition environment. Capt. Brian Durant, NSWCDD commander, presented a command brief.
"In addition to networking, the event provided unprecedented insight into each of our technical departments, acquainting attendees with specific roles, responsibilities, and upcoming procurement opportunities," said Kris Parker, NSWCDD associate deputy director for small business. "The bulk of the audience members consisted of small business representatives, but large businesses were well represented, offering a great opportunity for networking and partnering. We had registrants from as far as Port Hueneme (California), and I spoke with attendees who had come from Ohio and Tennessee to learn more about what we do at Dahlgren. NSWCDD has always been known for its technical excellence, and we're proud to showcase our abilities because the folks who work here are the best in the world at what they do."