LA PLATA, Md. (Oct. 17, 2014)—The Charles County Sheriff's Office released the following incident and arrest reports.
HUSBAND CHARGED IN WIFE'S MURDER: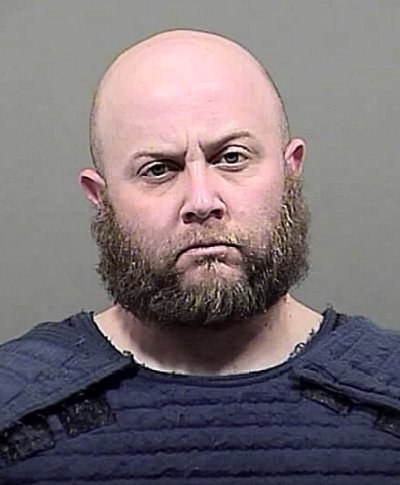 On Oct. 15, Brian Patrick Weyhenmeyer, 32, of Waldorf, pictured above, was arrested in connection with the death of his wife, Jennifer Lynn Weyhenmeyer, who was run over by a car her husband was driving on Oct. 12 behind a shopping center in the 3200 block of Crain Highway. After the assault, Weyhenmeyer fled to his house on Pierce Road where officers located him. After conversations with hostage negotiators, Weyhenmeyer was taken into custody by members of the Charles County Sheriff's Office Emergency Services Team. Weyhenmeyer was transported to a hospital after telling officers he had medical conditions. He was released from the hospital at 7:40 p.m. last night and immediately transported to the Charles County Detention Center where he was charged with first-degree murder, second-degree murder, first-degree assault, and second-degree assault. Detective C. Shankster of the Criminal Investigations Division is investigating. Anyone with additional information is asked to call Detective Shankster at (301) 609-6513.
Detectives Seek Theft Suspects' Identities
Charles County Sheriff's detectives assigned to the Criminal Investigations Division are seeking the public's help in identifying the suspects responsible for at least two thefts of bank deposit bags. One case occurred in early September and the other case happened on Oct. 3 and both incidents occurred near the Bank of America at 3255 Crain Highway in Waldorf. The victims seemed to be targeted based on the manner in which they carried the deposit bag – the bags were in their hand, visible and easy to grab. In each case a lone male suspect approached the victim, grabbed the bag and fled to silver Hyundai Sonata being driven by a black female with short hair. The suspect is described as a black male, possibly in his 20's to early 30's, between 5'8" – 5'10" with a thin build. A surveillance camera captured images of the male suspect and the car the female suspect was driving. Charles County Crime Solvers is offering a cash reward for information leading to their arrests.
These types of thefts occur everywhere and the CCSO is offering the following suggestions:
-- Do not carry a bank deposit bag in an open manner. Try to hide it
-- If possible, make bank deposits with more than one person
-- Alternate your banking routine; consider alternating the times you make deposits so your routine is not obvious
-- Stay alert and look for anyone loitering around the bank
-- If you see something suspicious, call police
Crime Solvers Case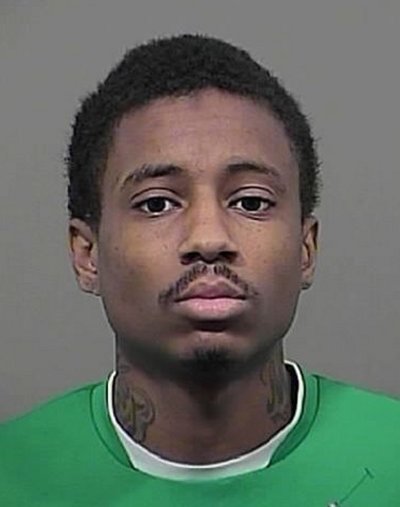 Charles County Crime Solvers is offering a cash reward for information leading to the whereabouts of Delante J. Miller, 25, of Waldorf, pictured above. Miller currently has an outstanding warrant charging him with child support violations. Miller is 5'6", 135 lbs., and has black hair and brown eyes.
Warrant officers have been looking for Miller since March. Anyone with information about Delante J. Miller's whereabouts is asked not to approach him, but rather call the CCSO Warrant Unit at (301) 932-2222. Charles County Crime Solvers is offering a cash reward of up to $1,000 for information leading to his arrest. Tipsters wishing to remain anonymous may contact Crime Solvers at 1-866-411-TIPS or Text CHARLES + your tip to CRIMES or visit
www.ccso.us
to submit a web tip. For additional information about Crime Solvers see
www.charlescountycrimesolvers.com
.
Charles County Sheriff's Officers Complete DARE Training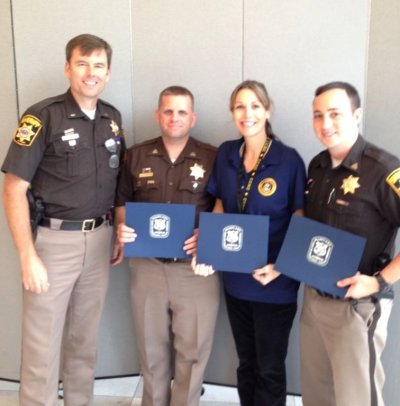 Pictured left to right: Lieutenant Stephen Salvas, PFC John Foster, PFC Tiffany Smith, and PFC Kurt Burger.
The Charles County Sheriff's Office is pleased to announce the graduation of three school resource officers from the Drug Abuse Resistance Education (DARE) training held Sept. 21 – Oct. 3 at the Public Safety Education and Training Center in Sykesville. PFC John Foster, PFC Tiffany Smith and PFC Kurt Burger were among 20 officers from across the region to complete the two-week, 80 hour certification course to become some of the nation's newest DARE instructors.
DARE is a community based, nation-wide program which links law enforcement, schools and parents in a partnership to educate children about the dangers of drugs. The class is taught by police officers who present information to children in a classroom environment, providing skills on how to resist drugs and how to build resiliency to staying away from drugs. In addition, some of the other lessons discussed under the DARE program include bullying, gangs, internet safety, cyber-bullying, and prescription drug abuse. DARE instructors are certified to deliver programs at the K-4, elementary and middle school level.
In Charles County, a school resource officer is assigned to every high school and middle school on a full-time basis. These officers are also responsible for interacting with students at elementary schools. School resource officers strive to establish positive connections with students. They provide safety, teach classes, coordinate after- school activities and serve as mentors.
With the graduation of these officers, the Charles County Sheriff's Office has a total of 18 officers qualified to teach the DARE curriculum. For more information about the CCSO school resource officers, visit
www.ccso.us/school-resource-section/
.
Disclaimer: In the U.S.A., all persons accused of a crime by the State are presumed to be innocent until proven guilty in a court of law. See: somd.me/presumed-innocence. Additionally, all of the information provided above is solely from the perspective of the respective law enforcement agency and does not provide any direct input from the accused or persons otherwise mentioned. You can find additional information about the case by searching the Maryland Judiciary Case Search Database using the accused's name and date of birth. The database is online at somd.me/mdcasesearch . Persons named who have been found innocent or not guilty of all charges in the respective case, and/or have had the case ordered expunged by the court can have their name, age, and city redacted by following the process defined at somd.me/expungeme .