By Max Bennett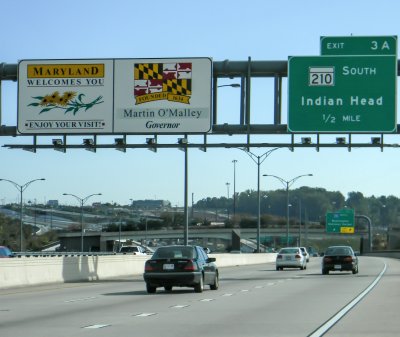 A sign on I-95 north welcome drivers coming from Virginia to Maryland and advertises the name of the governor. (Photo: Max Bennett)
ANNAPOLIS — A new Maryland governor is on his way into office and the signs they are a-changing.
Well, not quite yet.
From highway signs to website photos and even artworks, administration change affects more than just policy.
Transitioning from one governor to the next involves nearly every state agency and department. They plan, coordinate and take care of the multitude of small details that can often go unnoticed.
Between Election Day on Nov. 4, and the gubernatorial inauguration scheduled for Jan. 21, state employees have 79 days to get everything in place.
Former Gov. Parris Glendening recalled his transition into office in late 1994 and early 1995.
"It's a fascinating process," Glendening said. "As best I can tell, it was almost on autopilot and the reason being is we have very good professional staff all over the departments [in the state]."
Signs
How about those welcome signs on the highway?
"Maryland welcomes you, enjoy your visit," they read, on various roads that enter the state.
Underneath the Free State's message is a placard with the governor's name on it. Someone needs to change that sign – just one example of the superficial aspects of the transition.
Those highway signs are created and placed by the State Highway Administration (
http://www.roads.maryland.gov/
), which has its own sign shop near Baltimore Washington International-Thurgood Marshall Airport.
The state has about 21 welcome signs featuring the governor's name said State Highway Administration Assistant Chief of Traffic Operations Paul Stout.
"To my knowledge we've never had a set date [for the signs to go up]," Stout said.
Stout said the State Highway Administration has never been late with installing all of the signs.
"It takes us very little time," Stout said of fabricating and installing the signs. "With two guys working, we could [fabricate all of them] in one day."
The shop makes signs two ways: a silkscreen process similar to printing T-shirts, and a hand-fabrication method for "one-off" signs, according to Stout.
For the governor's name, "we use the hand-fabrication method due to the different sizes of the signs," Stout said.
Some signs with the governor's name are roadside while others are overhead and hang over highways. These are larger, yet simpler to install, because they are comprised of two panels, each smaller than an entire roadside sign.
"It could take longer [to install overhead signs], but we make each panel so one person can handle it," said Stout.
Due to the small size and light weight of the signs, Stout said, installing each one takes about 30 minutes or less.
Sign shop Operations Manager Eugene "Sonny" Bailey said sign sizes can be anywhere from 12 feet by 15 feet to 8 feet by 8 feet.
Stout said it costs about $2,500 to fabricate all the governor's name signs, and the installation cost is about $200 apiece. Based on those figures, each sign costs roughly $320 to fabricate and install. In total, replacing all the signs costs about $6,700.
The old signs are recycled by a scrap metal dealer who picks up the aluminum panels and writes a check to the state based on the weight of the load.
Government House
Transitions include more than just hardware and manufacturers — it's decoration and art curators, as well.
"In very practical terms: There's a family moving out and a family moving in over a very short period of time," Maryland State Archives Director of Artistic Property, Exhibits and Outreach Elaine Rice Bachmann said.
Bachmann, who has worked for every governor since Gov. William Donald Schaefer on the décor of Government House, said they have to balance the fact that Government House is a historical building with its role as a family home.
For example, Bachmann said, when Gov. Bob Ehrlich came into office it was the first time since the 1940s that a young child was living in Government House.
"There were some handrails that needed to be raised so that they were safe for children and up to code because they'd never been that way."
Property in the Government House is state owned, she said, and has to be accounted for.
Bachmann said a three-person staff goes to the Government House to take inventory of art in the house before a family leaves. Then, right after the family moves out, the team takes another inventory to ensure all the art is still there.
"You wait for the next family to move in and see what they want to keep and what they don't want to keep," she said. "There's always a level of service that you're providing to meet the needs of that family. Each particular governor has particular interests so we try to accommodate those with things from the state-owned art collection or borrowing from different collections."
She said Ehrlich "covered the walls" with the
Maryland state art collection
because he was very proud of all the pieces.
Gov. Martin O'Malley is deeply interested in the War of 1812, so much of the art now on the walls focuses on that period of Maryland history, she said.
"You sort of wait and see what the interests are going to be and how can you meet them," she said.
Bachmann said the state art collection features 300 years of commissions and gifts, from portraits of governors to portraits of historical figures and "everybody in between."
O'Malley recently requested a portrait of Maryland native and abolitionist Frederick Douglass, unveiled Sept. 15 and featured in Government House's Entrance Hall.
Bachmann said the new portrait is a great example of how each governor has different interests and desires for decoration in Government House.
As for who decides on the decoration, Bachmann said, the first ladies generally take the most interest in ideas for changing room colors, likely due to the busy schedule of new governors.
Glendening said most of the time the new governor and lieutenant governor is spent on key policy issues.
"That's where 95 percent of my time was directed," he said. "My guess is the last 10 governors didn't put five minutes time into thinking about that."
Secretary of the
Maryland State Archives
Tim Baker said transitioning after elections is more difficult than transitioning after an expired term limit and that it's easier to plan a transition when everyone knows a new administration is on its way in.
"It's a slightly different scenario than when a governor gets turned out because they didn't win reelection," said Tim Baker. "That's sort of a more tumultuous event."
Photos
Before the inauguration of a new governor, official photos are taken for all of the websites and state buildings.
Chief photographer for O'Malley, Jay Baker — no relation to Tim Baker — said once photos are taken, a large number of photos are printed and framed.
After the photos are printed, Jay Baker said, he defers to Director of Executive Services Jeremy Rosendale.
Rosendale said after photos are obtained, he works with Department of General Services Director Sam Cook to frame them.
The
Department of General Services
handles replacing the new administration's photos in government buildings and moves swiftly to display the photos.
Tim Baker said the Department of General Services is pivotal in the transition process.
"When Gov. Ehrlich came in, one of the first calls we got was to dispatch [staff photographer] Rick Lippenholz to take the official photo," said Tim Baker. "We ran off, I want to say, 150 copies and sent them to be put up in all the government buildings."
"It's usually less than a week after we get the photos they go up," said Cook.
Cook said the Department of General Services tells the governor-elect's own photographer how many buildings need photos as well as the sizes needed.
The Department of General Services also handles switching names in state buildings, as changing the photos and name plates is "all part of the same process," Cook said.
"Typically, if there's lettering inside the building with the governor's name, we change that at the same time as the photos," said Cook.
Cook said the transition team's purpose is to make the process more transparent and less disruptive to the government.
"We like transparency," said Cook. "If it's transparent, then I'm doing my job."
Website Upkeep
Tim Baker also said the archives migrate digital photos to an online database.
Glendening said an increasingly important aspect of the transitions is website upkeep.
"When I came in [websites] were just starting to be widely used," he said.
But transitions for state websites require much less manpower, and hard copies of photos are useless on the Internet.
Teri Greene, who serves as assistant director of web systems with the state's Department of Information Technology, said online standards dictate what state sites must feature – such as links, photos and language.
Greene said Creative Director Frank Perrelli formats the photos to the proper resolution for the sites and adds the proper language.
"We have a central web server where the photos are stored," Greene said.
The new portraits, provided by the governor's office, will be added to the web server from which the websites pull content, seamlessly replacing the old images.
Some websites have a larger version of the governor and lieutenant governor photo and others have a smaller version, though both link to the governor's webpage. Greene said this is due to pages needing to be responsive: a feature that allows websites to fit any size screen whether a desktop or a smartphone.
The Archives maintain a digital collection of governor photos as well.
"Right around inauguration day, we will take all the photographs from the O'Malley administration, and we will keep them in the same basic structure, but we'll move them into a different collection of historic governor photographs," Tim Baker said about handling an outgoing administration's digital photos.
They then add the new governor's pictures to the online collection of current administration photos.
The governor's webpage needs to be updated, too.
Greene said the state's IT department works with the governor's office to provide support when updating the governor's webpage.
"We work with (the new administration's transition team) to coordinate for the governor's website," Greene said. The new governor's staff creates that content.
Letterhead/Stationery
When a new administration comes into office, the staff needs new letterhead and stationery. So they go to prison.
New paper materials are produced through
Maryland Correctional Enterprises
, which is a part of the Department of Corrections and offers various services provided by inmates in the state.
Rosendale said using Maryland Correctional Enterprises' printing services, rather than a private printing business, saves the state money.
"Once we know the outcome of the election, we let them know to have enough (stationery) to at least get started," Rosendale said.
Rosendale said administration staffers work with MCE to have all the necessary paper products ready for the first day in office.
"Ideally the goal is to have everything done on day one," said O'Malley Press Secretary Nina Smith.
As for old paper products with outgoing administration information, most of it gets recycled but, Rosendale said, sometimes the staffers will put the paper to use as scrap and note paper.
Some Things Are Better Left Alone
Other changes, however, aren't necessary.
The
Department of Labor, Licensing and Regulation
, for example, issues certificates of inspection for machinery such as elevators, amusement park rides, boilers and pressure valves.
Each certificate of inspection features the names of the governor, lieutenant governor and department secretary.
When administrations change, the state doesn't need to change its certificates.
"Certificates that we issue will be changed when they expire," department communications director Maureen O'Connor wrote in an email.