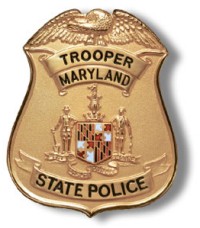 PRINCE FREDERICK, Md. (Oct. 14, 2014)—The Prince Frederick Barrack of the Maryland State Police (MSP) today released the following incident and arrest reports.
THEFT FROM VEHICLE: On 10/7/2014 at 1:34 pm, Trooper Rowe received a complaint for a stolen rear registration plate. The victim reported seeing the tag on the vehicle the night before, however, it was missing the following morning. Investigation continues.
DWI, POSSESSION OF CDS & DRUG PARAPHERNALIA: On 10/9/2014 at 7:36 pm, Sergeant Chirichella stopped a vehicle on Rt. 4 south of Rt. 231 in Prince Frederick for traffic violations. Trooper First Class Esnes arrived to assist with the traffic stop. Edward A. Hynes Jr., 26 of Dundalk, was arrested for Driving While Intoxicated. Trooper First Class Esnes searched Hynes and found Xanax and Alprazolam in his possession for which he did not have a prescription. Hynes was additionally charged with possession of CDS and drug paraphernalia. He was incarcerated at the Calvert County Detention Center.
DUI Arrests
Keith A. Racer, 54, of Huntingtown, arrested on 10/06/2014 @ 11:54 pm by TPR. J. Warrick
Kelly J. Cates, 29, of Lusby, arrested on 10/07/2014 @ 02:11 am by TFC B. Wiesemann
James T. Dewaters, 46, of Huntingtown, arrested on 10/08/2014 @ 06:09 pm by TFC J. Oles
Edward A. Hynes, Jr., 26, of Dundalk, arrested on 10/09/2014 @ 07:55 pm by TFC C. Esnes
Megan M. Sarikaya, 20, of Lusby, arrested on 10/10/2014 @ 03:46 pm by TFC C. Esnes
Lisa M. Lambert, 51, of Lusby, arrested on 10/10/2014 @ 07:46 pm by TFC K. Follin
Jonathan L. McLemore, 33, of Landover, arrested on 10/11/2014 @ 09:52 pm by TFC S. Barlow
John B. Ritzel, 23, of St. Leonard, arrested on 10/11/2014 @ 10:06 pm by TPR. J. Palumbo
Disclaimer: In the U.S.A., all persons accused of a crime by the State are presumed to be innocent until proven guilty in a court of law. See: http://somd.me/presumed-innocence. Additionally, all of the information provided above is solely from the perspective of the respective law enforcement agency and does not provide any direct input from the accused or persons otherwise mentioned. You can find additional information about the case by searching the Maryland Judiciary Case Search Database using the accused's name and date of birth. The database is online at http://somd.me/mdcasesearch . Persons named who have been found innocent or not guilty of all charges in the respective case, and/or have had the case ordered expunged by the court can have their name, age, and city redacted by following the process defined at http://somd.me/expungeme .