By Max Bennett
LOVEVILLE, Md. — Chainsaws, feller-bunchers, skidders, loaders and trucks all work in harmony, creating a buzz in the woods.
Sounds from the saws and heavy machinery echo through the air at a southern Maryland farm where a team of loggers are clear-cutting trees.
Robert Beale and a four-man team are working to clear about 80 acres of white and red oak, poplar, maple, gum and beech trees in order to replant loblolly pine that will be ready for harvesting in about 15 to 20 years.
Beale owns Loveville Timberworks LLC, a logging and firewood company in southern Maryland.
"Logging in Maryland is the same as logging anywhere," said Beale.
But challenges exist.
Beale said Maryland requires permits and bonds to be filed and paid for prior to starting a logging job. Each county controls its own permitting process.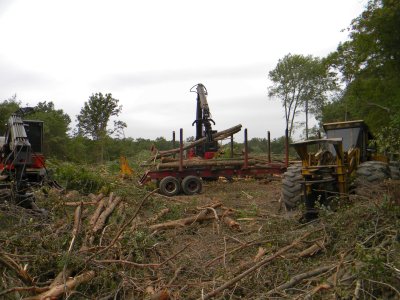 A knuckle boom loader moves trimmed logs to a truck that will hold about 80,000 pounds of wood. (Photo: Max Bennett)
"In another state like Virginia, you get a job, you move onto the job, you call the state foresters and they actually physically come out to the job," said Beale. "You don't get a permit." Foresters in Virginia come to sites regularly and discuss the property and how to mitigate damage to the environment.
"There's a lot of red tape over here" in Maryland, he said. But, he said, it's just red tape. "There's no inspection process after you're done [with a job]," Beale said.
That can be frustrating for loggers who try to do everything right on job sites because the loggers who don't play by the rules can go unnoticed without site inspections like those in Virginia, said Beale.
"We're paying that additional cost to do it right and we're not getting the benefit for it," said Beale.
Clear-cutting isn't a typical job for Beale and his crew, however.
"About 90 percent of what I do is a select cut," said Beale.
A select cut entails going into a mature forest, cutting the mature and damaged trees, which in turn improves the forest by allowing other trees to compete and make new timber for harvesting in 15 to 20 years.
Beale said most of the wood he harvests goes to Amish saw mills in Mechanicsville and Charlotte Hall, while pulpwood goes to Glatfelter in Pennsylvania or pulpwood mills in western Maryland. Some of the pine harvested by Loveville Timberworks goes to Potomac Supplies in Virginia, Beale said.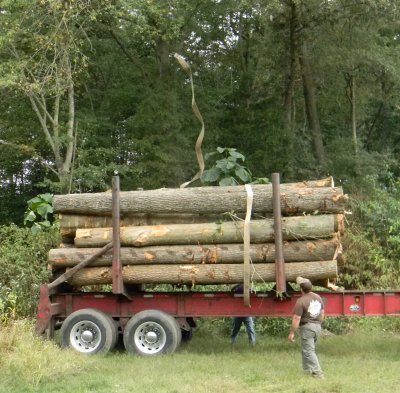 Robert Beale and a trucker strap down a full load of wood to transport to a nearby Amish mill. (Photo: Max Bennett)
The wood being harvested on a recent Thursday behind Bowles Farms in Loveville is going to the Amish mills, said Beale.
Beale said when working for a mill, a load of about 80,000 pounds of wood will net about $500 or $550. However, Beale said prices always depend on the type of wood and the board-footage, the standard unit for lumber volume, of the load.
"It's about 12 to 15 cents per board-foot," said Beale. "Most loads carry between 3,500 and 4,000 board-feet."
Logging is subject to supply and demand like any other industry and right now a lot of wood is going to foreign markets.
"A lot of poplar and white oak gets shipped directly to China," Beale said.
MD/DE Master Logger Program Coordinator Lyle Almond said China, Korea and Japan have always been major importers of American wood.
"The Chinese are lucrative customers for unprocessed timber due to build up of their economy," said Almond. "It's sort of like we are with oil from the Middle East."
Ships get loaded with sea-going containers that are jammed full of raw logs and sent to Chinese plants where the whole log is processed.
"We're in a good time for selling timber," Beale said.
Beale is a state certified Master Logger (
http://extension.umd.edu/masterlogger
).
The Maryland/Delaware Master Logger Program is an educational program offered through the University of Maryland Extension in which loggers are taught safe practices, proper logging techniques, forest ecology, and the best ways to harvest forests while minimizing damage.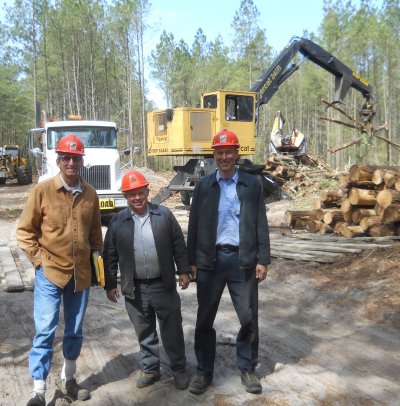 Eddie Moore, middle, was Logger of the Year in 2013. Pictured with Moore are Mike Fercucci, senior Forest Stewardship Council-Sustainable Forestry Initiative auditor and logger Auther Egolf who serves on the Chesapeake Forest Advisory Board and was Logger of the Year in 1995. (Photo: Max Bennett)
Almond says there are about 116 certified active Master Loggers operating in Maryland, Delaware, Virginia and Pennsylvania and about five people are taking at least one of the four four-hour digital courses in the program.
Active Master Loggers must earn eight continuing education credits every two years to maintain their status through courses or other activities, such as serving on the group's steering committee, hosting a program promoting forestry and logging, or participation in other events.
Almond said that since loggers spend their days in forests, they tend to have stronger sensitivity and connection to the environment.
"The primary reason for environmental concerns is it's their livelihood," said Almond. "They have to make sure the forests stay healthy to produce lumber."
"We're seeing more of a push for environmental things," said Eddie Moore, a Master Logger who owns Forest Friendly Logging Inc. in Willards, Maryland.
For example, loggers are now more aware of endangered species and, Moore said, the Delmarva fox squirrel being removed from the endangered list is reflective of loggers' growing environmental concerns.
The Maryland Department of Natural Resources website says the "species' success rests heavily on ... the commitment of loggers … to maintaining a mature forest."
Moore said environmental concerns and safe practices in logging have increased in the past 15 to 20 years.
Moore was named Logger of the Year in 2013 and was the first to receive the award twice. His first win was in 1990.
Logger of the Year is awarded by the MD/DE Master Logger Program and the Maryland Forests Association (
www.mdforests.org
) for exemplifying the best management practices in the logging industry.
However, the Logger of the Year will not be named for the first time since 1987 due to a lack of nominations. While Logger of the Year nominations have never flooded the program, no nominations came in for a 2014 Logger of the Year.
"The award is designed to highlight the good work of the guys who are at least doing a good job and anything innovative," said former MD/DE Master Logger Program Coordinator Nevin Dawson, coordinator of Sustainable Agriculture for the University of Maryland Extension's College of Agriculture and Natural Resources.
"It's an oddity on that award this year," said Bill Cheesman, chairman of the Master Logger Program's steering committee and forester with Vision Forestry LLC.
The website for the award states self-nomination is encouraged. However, Almond said, most loggers are not likely to self-nominate.
"My understanding is it's just the nature of logging professionals," he said. "They're pretty humble about what they're doing."
Cheesman said a typical year featured three nominations. Dawson said some years fewer than that.
Almond said the award is "not a horse race" and that loggers don't want to be come off as "someone who's trying to be seen as better than the next guy."
Dawson said nominations often come after steering committee members encourage nominee submissions.
"One of the problems is the best people who make these nominations are foresters," he said. "They know the logging community like the back of their hand."
But foresters, who act as forest managers in either private or public positions, can be hesitant to submit a nominee, said Dawson. Foresters work within the communities where loggers work and do not want to "play favorites" with the logging companies, said Dawson.
"Another reason is it's a very small community," said Dawson. "A lot of guys who've gotten the award in the past are no longer in the industry." Winners also must not have won the award in the past five years in order to be eligible to win again.
Beale said the active loggers in Maryland are getting older and not many young loggers are cropping up.
"The younger people aren't taking it up," said Beale, 41. "Most of the guys are getting into their 60s and 70s and they're still working but they're not going to go forever."
Equipment cost is a barrier for potential new loggers.
Beale said his large pieces of equipment cost about $250,000 and he had five on the job in Loveville.
"It's not something you can just jump into," said Beale. "If [a logging business] is not given to you by your parents, it's hard to get into."
Beale also said he thinks it's a changing demographic that isn't interested in hard, manual labor.
Choosing a Logger of the Year
To select a Logger of the Year, steering committee members and the nominators go out and review job sites, said Cheesman.
"It's how they do their job, how their equipment is kept, the kind of training they go through, and how they follow the best management for logging practices," Cheesman said.
"There's sediment and erosion control guidelines for forest harvesting," said Cheesman.
This ensures loggers do not allow sediment and dirt from the sites to make their way to nearby water sources as, Cheesman said, even navigating the forests has an impact on the cleanliness of water sources.
"If they cross a stream or a ditch, how do they do it? Did they not cross at all? Did they go around a ditch rather than go through a ditch," said Cheesman. "It's to keep the rivers and water clean."
Due to potential oil leaks, equipment upkeep is integral as well.
"If a guy's got a continual leak, then his (evaluation's) not very good," said Cheesman. "Equipment can be old but well maintained and you can still have a good logger."
"There used to be a lot more (logging businesses) involved" with the Maryland Forests Association, said President Todd Berman. "Due to bankruptcy and business issues many are not involved directly anymore."
The association is bouncing back from what Dawson called a "hiatus."
The group recently hired a part-time executive director and accountant, Berman said.
Maryland Forests Association Inc. has about 100 members including loggers, landowners, saw millers, foresters and hunt clubs.
"We have a fairly active membership and we have an active board that meets monthly," he said.
Berman said the association hopes to have the annual meeting this fall in the central Maryland area despite the lack of a Logger of the Year.
The Maryland Forests Association Inc. is a non-profit that promotes conservation and the enhancement of Maryland's forests, as well as helps fund the MD/DE Master Logger Program.
Logger of the Year winners receive a small chainsaw and are named to the MD/DE Master Logger Program steering committee for a year.
Criteria for winning the award include:
-- Equipment maintenance
-- Sediment erosion protection measures
-- Maintenance of job sites on completion of job
-- Types of insurance offered to employees and themselves
-- Community participation and involvement