Two other occupants escape uninjured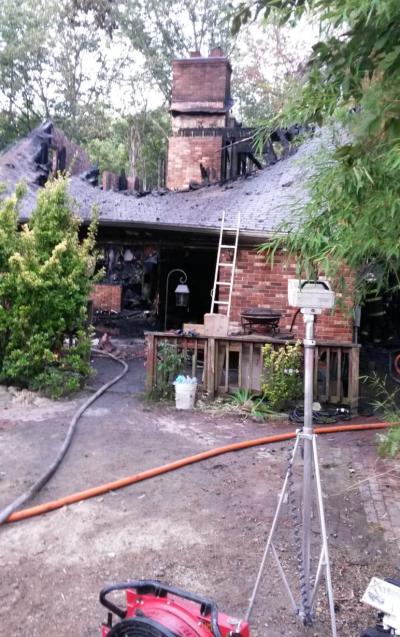 What remains of the structure after the fire was extinguished. (Photo: State Fire Marshal)
CALVERT COUNTY, Md. (October 10, 2014)—The Office of the State Fire Marshal along with the Calvert County Sheriff's Office are investigating the cause of a fire that claimed the life of an adult victim at 1117 Muskogee Lane in Lusby, Calvert County.
The fire was originally observed and called into 911 at 4:40 a.m. this morning. Nearly 50 firefighters responded from Solomons, St. Leonard, Prince Frederick, Huntingtown, Hollywood, and Bay District Volunteer Fire Departments to bring the fire under control within 25 minutes. The blaze consumed most of the second floor portion of the 1-1/2 story single-family dwelling causing the 2nd floor to collapse as fire burned through the roof of the occupied home. Two occupants, Nick Brown, age 20, and the property owner, Joseph Wentzel, age 53, escaped the blaze uninjured.
During extinguishment, firefighters located the body of an adult victim in the kitchen area as result of the collapse of the upper floor. The Office of the Chief Medical Examiner will confirm the identity and cause of death for the victim.
Although smoke alarms were present, investigators determined they were not operating during the incident. The origin and cause of the fire remains under investigation at this time.
Source: Office of State Fire Marshal