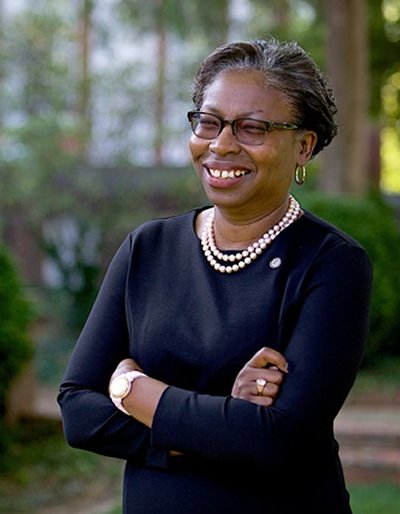 Jordan is St. Mary's College of Maryland's first African American president. She is a Maryland native and science-focused liberal arts champion. Jordan's inauguration ceremony will take place on Saturday, Oct. 18, on the college campus. (Submitted photo)
ST. MARY'S CITY, Md. (October 1, 2014)—The National Coalition of 100 Black Women, Baltimore Metropolitan Chapter, has presented Tuajuanda C. Jordan, president of St. Mary's College of Maryland, with its Torchbearer Award. Jordan was honored during the coalition's 25th annual Torchbearer Awards Breakfast held Sept. 27 at Morgan State University in Baltimore, Md.
Each year the coalition honors women who have distinguished themselves in the areas of health, education, economic development, cultural arts, or social and political action. This year's honorees, recommended by the coalition's membership, are women in education with an emphasis on science, technology, engineering and mathematics (S.T.E.M.).
"We want to recognize your efforts and the seriousness with which you pursued your vision," said Mary Demory, awards chair, in a letter announcing Jordan as an honoree. "You are indeed a 'Torchbearer' and a distinguished advocate."
This year's Torchbearer Award honorees also included Shirley Malcolm, head of the education and human resources programs at the American Association for Advancement of Science; Stephanie Cole-Hill, executive at Lockheed Martin; and Dr. Charlene Dukes, firs female president of Prince George's Community College.
"I was humbled to be named an honoree, especially in light of the very distinguished women who were also honored," said Jordan. "Shirley Malcom and I have been colleagues for many years, and I have always considered her a role model. Stephanie Hill should be recognized as a national, if not international, hero for the work she did in 2009 to neutralize a satellite hurling towards earth. And, the work Charlene Dukes has done at Prince George's Community College, and will do as chair-elect of the American Association of Community Colleges, has far-reaching educational impact as we prepare the next generation of scientists who will represent the changing demographics of this country."
Jordan took office as St. Mary's College's seventh president on July 1, 2014. Prior to St. Mary's College, Jordan served as dean of the College of Arts and Sciences and professor of chemistry at Lewis & Clark College in Portland, Ore., beginning 2011. From 2005 to 2011, Jordan was the director of the Science Education Alliance (SEA) of the Howard Hughes Medical Institute in Chevy Chase, Md. As director, Jordan led a collaborative effort designed to have scientists and educators work together to enhance science literacy while preparing the next generation of scientists. She also headlined the National Genomics Research Initiative in 2008, a program that exposes first-year college students to hands-on genomics research.
Jordan's honors include being named a Purdue University Distinguished Alumni from the School of Agriculture in 2008, and, in 2009, being named a "revolutionary mind" by Seed magazine.
The National Coalition of 100 Black Women is an advocacy organization founded in 1981 with a focus on furthering equity and empowerment for women of color. The organization has approximately 5,700 members in chapters in 24 states.