School system reinstates athletic trainer program
Charles County Public Schools (CCPS) has reinstated its athletic trainer program.
Superintendent of Schools Kimberly Hill signed a contract with the Rehabilitation Center of Southern Maryland (RCSM) on Sept. 18 that restarted the program Sept. 22 and will gradually restore full services over the next month. The Board of Education in June eliminated athletic trainers as part of a $5.5 million budget reduction to cover funding shortfalls.
"Athletic trainers were the highest priority on our list of things to restore if we were able to reallocate funds. Through cost-saving efforts, we have been able to redistribute enough funds to reinstate trainers. Savings included minor adjustments to other programs, such as summer school, without major effect," Hill said.
The contract with RCSM will provide the services of athletic trainers to the seven CCPS high schools once all trainers are hired. Initially, one trainer will rotate among the seven high schools providing services on a weekly basis. Once fully implemented, the athletic trainer program provides for evaluations of injuries, return-to-play decisions and implementation of concussion protocol, field assessments of concussions, treatment of injuries using first aid, administration of ImPact concussion testing and other services for student athletes.
Athletic trainers serve more than 2,500 athletes annually, and in the 2013-14 school year trainers treated 1,200 major injuries such as broken bones, knee and shoulder injuries and concussions, said A.K. Johnson, coordinator of student activities for CCPS. Last school year, trainers monitored 81 students for concussions. Additionally, the trainers treated more than 1,000 minor injuries, from bee stings to broken nails.
Communications staff earns top school public relations awards
The Charles County Public Schools communications department recently received five top awards in the 2014 National School Public Relations Association (NSPRA) National School Communications Awards program.
Department staff received two Golden Achievement Awards, which recognize exemplary work in all aspects of school public relations, communication, marketing and engagement. The awards highlight communications plans used for teacher retention efforts and developing an international language center.
Recognized with awards were the communications plans used to implement the New Teacher Bus Tour held in conjunction with new teacher orientation activities, and outreach tools used with the launch of the Secondary Academy for International Languages (SAIL) at Maurice J. McDonough High School. The two awards are among more than 90 Golden Achievement Awards distributed to school systems nationwide.
Three videos produced by communications staff also received awards in the Publications and Electronic Media portion of the awards program. This area of the contest recognizes outstanding work in all types and forms of education communication, including print, electronic, video, audio, websites and social media.
A video titled "The Portfolio of James Richmond" received an Award of Merit, which is the second highest electronic media award given by NSPRA. The video features the longtime educational career of former CCPS Superintendent, James Richmond.
Two videos - "The Evolution of Telepresence in CCPS," which highlights the use of Telepresence technology used in CCPS, and the "Port Tobacco One Room Schoolhouse," which highlights how the school system uses the schoolhouse to teach students about history, each received Honorable Mention awards.
Communications department staff includes Katie O'Malley-Simpson, director of communications; Kyle Graves, video production specialist; Kara Gross, communications multimedia assistant; Shelley Mackey, communications specialist; and Gary Nagel, web developer.
This is the second consecutive year that the department has received awards through the NSPRA Communications Contest. Each year, NSPRA sponsors a national communications contest to recognize school districts for their efforts in school public relations. NSPRA was chartered in 1935 and provides school communication training and services to school system leaders throughout the United States, Canada, and the U.S. Dept. of Defense Dependents Schools worldwide. For more information on NSPRA, visit www.nspra.org.
Teachers recognized for support of physical education programs
The Maryland Association of Health, Physical Education, Recreation and Dance (MAHPERD) recently named four Charles County Public Schools (CCPS) physical education teachers as 2014 Simon McNeely Award recipients. They are Jillian Genua of J.P. Ryon Elementary School; Patrick Hoiler of Malcolm Elementary School; Pomie Radcliff of Mary H. Matula Elementary School; and Melissa Williams of Milton M. Somers Middle School.
The annual awards program recognizes teachers who demonstrate outstanding innovation in teaching physical education, along with active involvement in school and community affairs. The award is named for Simon McNeely, who was a special education teacher and longtime member of the President's Council for Physical Fitness and the United States and International Olympic committees.
Genua began her teaching career with Charles County Public Schools in 2006 at John Hanson Middle School. She moved to Ryon the following school year and is in her ninth year of teaching physical education. She said she was honored to be nominated for an award that highlights goals for her students. "I teach physical education to give my students the movement foundation they need and the knowledge of the health benefits that come to those who participate in physical activity in hopes that they become lifelong participants of physical activity," she said.
Hoiler is in his first year of teaching students at the elementary school level, and previously taught physical education at La Plata High School. He said his nomination for the McNeely award is a bonus for his career. "I truly enjoy getting up and coming to school each day and then to be nominated for something that you love doing anyway is an added bonus," he said.
After graduating from Salisbury University with a degree in physical education, Radcliff started her career with CCPS at the elementary-school level in 1984. She first taught physical education at Dr. Samuel A. Mudd Elementary School and joined the staff at Matula in 1992. Her career with the school system spans more than 30 years. Radcliff said she is honored to be chosen as an award recipient. "On behalf of all the wonderful students at Matula who make teaching such a joyous experience, it is my pleasure and privilege to accept this award," Radcliff said.
Williams is in her first year of teaching at Somers and previously taught physical education for five years at Matthew Henson Middle School. She said her passion in the field of physical education is strongly supported by her peers, as well as system administrators. "I am very honored to be named an award recipient with three other colleagues. Ivy Hodges, CCPS content specialist for health and physical education, has set high standards for all of her teachers and we are all rising to the occasion. Her passion in the field drives us all to follow in her footsteps," Williams said.
All award recipients will be honored at the annual MAHPERD convention Oct. 17. Hodges nominated the teachers for the recognition, and the last time a CCPS teacher received the McNeely award was in 2008.
MAHPERD promotes personal wellness and healthier lifestyles through educational and community programs, and supports the enhancements of health and wellness of Maryland residents. MAHPERD also provides advocacy and professional development opportunities designed to advance and unify the professions of health education, physical education, recreation and dance education. For more information, visit
http://www.mahperd.org/AboutUs.aspx
.
North Point seniors semifinalists in National Achievement Program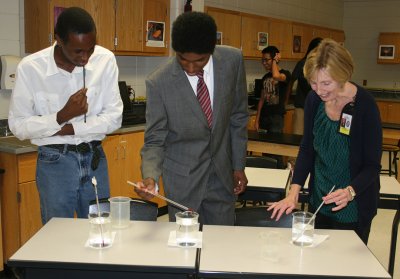 North Point High School seniors Njuguna Thande, left, and Christain Barnes, center, were recently named semifinalists in the National Achievement Scholarship Program. Also pictured is Cheryl Swartzwelder, right, an engineering teacher at North Point. Both Thande and Barnes were students of Swartzwelder's and credit her as a source of support for their interest in pursuing a career in engineering.
The National Merit Scholarship Corporation (NMSC) recently named North Point High School seniors Christain Barnes and Njuguna Thande as semifinalists in the 2015 National Achievement Program.
Barnes and Thande are two of 1,600 high school students nationwide eligible for 800 achievement scholarship awards, worth more than $2.5 million, that will be announced in the spring. Students are considered for the program when they take the Preliminary SAT/National Merit Scholarship Qualifying Test (PSAT) as high school juniors.
Semifinalists are designated within geographic regions and are the highest-scoring program entrants in the states that make up specific regions. A total of 1,300 semifinalists will advance to the finalist level. Finalists are selected for high academic performance and SAT scores, principal recommendation, and student and community leadership activities.
Barnes is enrolled in the engineering program at North Point and plans to study the field after graduation. He is researching engineering programs at well-known colleges such as Harvard University, Yale University, Massachusetts Institute of Technology (MIT) and Stanford University. Barnes is president of the North Point National Honor Society, a member of the Key Club and enjoys participating in school-related community service projects, coding video games and writing musical lyrics.
Thande is also enrolled in the engineering program at North Point. He is interested in attending either Carnegie Mellon University or Princeton and plans to study mechanical engineering. Thande has participated in robotics programs at North Point and is a member of Mathematics, Engineering and Science Achievement (MESA). He also enjoys creative writing and likes to write short stories.
During their summer break from school, both Barnes and Thande attended Carnegie Mellon's Summer Academy of Math and Science, known as the SAMS program. The program is a six-week experience designed to increase the number of students from diverse backgrounds who pursue education in science, technology, engineering and math (STEM) at the college level. The program is designed for high school juniors and seniors, and focuses on coursework, standardized test preparation, hands-on science and engineering projects, and opportunities for personal and social development. Interested students must apply for admission.
More than 160,000 students nationwide entered the 2015 National Achievement Program. In order to advance to the finalist level, semifinalists are required to submit a detailed scholarship application that includes academic record information, examples of participation in school and community activities, demonstrated leadership abilities, honors and awards received. Finalists will be announced later this school year.
Finalists are eligible for two types of scholarships: a one-time National Achievement $2,500 scholarship; or a corporate- or business-sponsored scholarship for students who meet criteria set by the grantor.
The NMSC is a non-profit organization that was established in 1955 to conduct the annual National Merit Program. Scholarships awarded through the program are underwritten by NMSC's funds and more than 500 business organizations and other educational institutions with the goal of honoring the nation's scholastic students and the pursuit of academic excellence. Visit www.nationalmerit.org.
CCPS named to Maryland School Breakfast Hall of Fame
Charles County Public Schools has been named to the Maryland School Breakfast Hall of Fame for achieving more than 70 percent breakfast participation systemwide during the 2013-14 school year. A total of 17 schools and centers were also recognized for high breakfast participation rates last school year. According to the Maryland State Department of Education (MSDE), Charles County Public Schools had the third highest breakfast participation rate of 71 percent across Maryland counties.
Mt. Hope/Nanjemoy Elementary School topped the list in Charles County with a participation rate of 104 percent. Gale-Bailey Elementary School had the second highest participation rate, with 103 percent, followed by J.P. Ryon Elementary School with nearly 101 percent. Participation rates include reported meal totals for November 2013 and April 2014.
Additionally, the following schools and centers were named to the Maryland School Breakfast Hall of Fame:
-- Dr. Gustavus Brown Elementary School, 100 percent;
-- Mary B. Neal Elementary School, 99 percent;
-- F.B. Gwynn Educational Center, 98 percent;
-- Robert D. Stethem Educational Center, 97 percent;
-- J.C. Parks Elementary School, 94 percent;
-- Indian Head Elementary School, 94 percent;
-- Dr. Samuel A. Mudd Elementary School, 89 percent;
-- C. Paul Barnhart Elementary School, 86 percent;
-- Henry E. Lackey High School, 85 percent;
-- Eva Turner Elementary School, 84 percent;
-- Benjamin Stoddert Middle School, 83 percent;
-- Arthur Middleton Elementary School, 76 percent;
-- Piccowaxen Middle School, 74 percent; and
-- General Smallwood Middle School, 72 percent.
As an overall school system Hall of Fame inductee, Charles County Public Schools will receive a Governor's citation and each school and center will receive a recognition certificate for their participation in the school breakfast program. A recognition ceremony will be held later this fall to honor schools and school systems for their Hall of Fame selection. Staff from Neal and Lackey was asked to represent CCPS at the ceremony.
The recognition program is part of the 2014 Maryland School Breakfast Initiative, which focuses on providing children with a healthy school breakfast. The initiative is a statewide effort launched through Share Our Strength's No Kid Hungry campaign, with support from Maryland Gov. Martin O'Malley, MSDE, the Maryland Partnership to End Childhood Hunger.
The initiative also includes the Maryland Breakfast Challenge, which seeks to expand the state's school breakfast program to 10,000 additional students through challenge prizes and incentives and by emphasizing the importance of starting the day with a healthy breakfast, which can raise academic performance and reduce absenteeism. Principals can enroll their schools in the challenge – and interested parties can find more information about the program – at www.MarylandBreakfastChallenge.org.
The 2014 Maryland School Breakfast Challenge partners include the No Kid Hungry campaign, the Maryland State Department of Education, Action for Healthy Kids, Family League of Baltimore, Maryland Hunger Solutions, Maryland State Education Association and the Mid Atlantic Dairy Association.