By Idrees Ali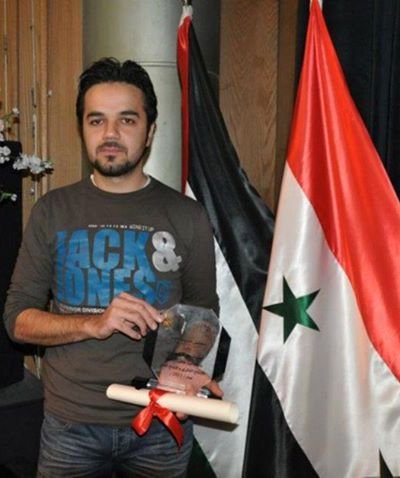 Ahmad Beetar displays an award for an initiative he started known as Eye on Aleppo, which focuses on cultural events, local volunteerism and development issues in the Syrian city. (Photo courtesy of Ahmad Beetar)
WASHINGTON (Sept. 30, 2014)—When news broke that a gunman was on the loose in the Navy Yard area last year, fear swept though the D.C. area.
But when Ahmad Beetar, a Syrian immigrant, was asked to stay home, he refused.
"If there was just one sniper in my neighborhood we used to go partying," said Beetar, who lived in war-torn Aleppo until last year. "In my neighborhood there were like three or four snipers and I used to run crossing the street."
Beetar, a tall, well-built man, is one of millions of Syrians displaced by the conflict. In his case, he ended up resettling as an immigrant in Maryland after a fellowship brought him to the United States.
Many other Syrians are not so lucky, having been displaced as refugees into overcrowded rooms and refugee camps internally and in neighboring countries.
Humanitarian agencies are frustrated with the limited number of Syrian refugees accepted into the United States, but understand that the security situation in Syria makes it difficult to resettle refugees.
Syrian Refugee Crisis
The U.S. had resettled 104 refugees from Syria through September 22, according to the State Department. Two Syrian refugees have resettled in Maryland between Oct. 1, 2012, and Aug. 31, 2014, according to the Maryland Office for Refugees and Asylees.
The Syrian crisis, which is entering its fourth year, has created more than 3 million refugees, according to the United Nations High Commissioner for Refugees, making it one of the worst humanitarian crisis since World War II.
The majority have fled to neighboring countries, many of which are already embroiled in internal conflicts, experts said.
Lebanon, which is about a third the size of Maryland, has accepted more than 1 million refugees from Syria, adding more than 25 percent to its population, said Brian Hansford, senior communication officer at the United Nations High Commission for Refugees.
Limited Number of Refugees
According to analysts, limited refugee numbers from Syria can be explained by the situation in the region and the long process to enter the U.S.
"The security situation within the country, if that's not stabilized, it becomes very difficult for UNHCR and any of the countries that want to resettle," said David Godsted, executive director at the International Rescue Committee's Silver Spring office.
The deteriorating security situation has made families choose sides in Syria, sometimes with the government of President Bashar al-Assad, and other times with rebels, including militant organizations. Beetar said checking for links with banned groups or the Assad government slows the background checks of refugees.
Beetar can testify to the worsening security situation.
He is from Aleppo, the most populace city in Syria - at least before the conflict began - located towards the northwest of the country.
Before the war, Aleppo was associated with bustling markets and it's old city was designated a UNESCO World Heritage Site. Now, after years of government bombing, blocks of houses are little more than rubble. The crisis forced his brother to flee to Cairo, while his mother and two younger sisters moved to a rented house in Aleppo after rebels captured his own house.
In addition to the security situation, the lengthy process of entering the U.S. as a refugee has reduced numbers to a trickle.
The process starts with the United Nations High Commission for Refugees, goes through the State Department, and ends with local nongovernmental organizations placing the refugee in a city. It also includes security and healthcare checks, and cultural orientations.
The process is so lengthy that a wall in Godsted's office is covered with printouts detailing the different stages a refugee must go through to enter the U.S.
While Godsted said the number of refugees from Syria has been limited, he believes Maryland can be an ideal state for refugees.
Despite having a high cost of living, he said it provides a stable employment environment because of the presence of the federal government.
"The point is to become self-sufficient," Godsted said, adding that an aim of the International Rescue Committee in Silver Spring is to get refugees back on their feet.
For Beetar, who now works as a freelance translator and closely follows the situation in Syria, living in Maryland provides easy access to Washington. It takes him less than an hour to reach Massachusetts Avenue, where some of the world's most prestigious think tanks are located and he can raise his voice for his country.
Leaving Syria
Prior to the war, Beetar worked as a journalist, one reason he had to leave Syria.
"For the last four years the equation was like this: If you saw a fighter and a journalist, shoot the journalist first then deal with the fighter," Beetar said. "The fighter can kill one, two or maybe 10 at the most… while the journalist can influence not one or two, but thousands."
A few months before arriving in the U.S., the Assad government offered him a lucrative reporting position in Aleppo, which not only would bring much needed income, but security as well, since Beetar was offered bodyguards.
Beetar also received an offer to work as a "press release writer" for Jabhat al-Nusra, the al-Qaeda affiliate in Syria. The militant group's offer wasn't as lucrative as the government's. Instead they sent him lines from the Quran saying it was his duty to help them.
He refused both offers.
"I suffered…but I'm proud that I never joined any party, even morally, I remained neutral," Beetar said.
In August 2014, he arrived in Washington through a fellowship organized by the State Department. He believes that remaining neutral helped him get a U.S. visa and enter the country.
Adjusting to Maryland Life
Having spent most of his life in Syria, adjusting to life in relatively quiet Glenmont has not been easy.
Beetar said he remains afraid of the police.
"I know the U.S. police are very nice, but I still have this shaking (feeling)," he said, explaining that living in Syria made him fearful of any armed person.
While Beetar suffered from depression after he arrived in the U.S, he said it was nothing compared to the pain of living in Syria.
"Whenever I feel sad, whenever I feel sorry… go online and check what's happening in your country," he tells himself.
No Going Back
The U.S., along with several allies from the region, have launched strikes in Syria to deal with the Islamic State group, something analysts believe will only worsen the refugee situation.
The Syrian crisis is unlikely to end any time soon, said Andrew Tabler, senior fellow at the Washington Institute for Near East Policy.
"I don't think Syria will be the same," he said, speaking at the Washington-based Brookings Institute.
The unfortunate reality is that for the foreseeable future Beetar will not go back to Aleppo, a city "which is in my blood," he said.
The most basic reason, he explained, is that Maryland has changed him.
Living in Syria, he said the instinct to survive, to run from an unseen sniper, or dodge an incoming mortar, was the key to survival.
"I think I've lost this instinct, I've become afraid," Beetar said.