By John Joyce, NSWC Dahlgren Division Corporate Communications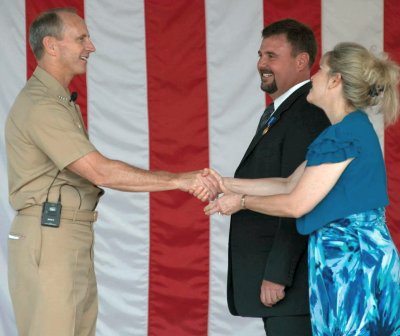 DAHLGREN, Va. (Sept. 4, 2014) - Chief of Naval Operations (CNO) Adm. Jonathan Greenert congratulates Naval Surface Warfare Center Dahlgren Division (NSWCDD) Chief Engineer Dr. James Moreland on his Distinguished Civilian Service Award and thanks his wife, Angela Moreland, for her support during an all-hands call with Sailors, civilians and family members to discuss the current and future status of the Navy. The CNO recognized Moreland's efforts to transform the Navy with a new mission engineering process that resolves critical integration and interoperability issues. (U.S. Navy photo by Chief Mass Communication Specialist Peter D. Lawlor/Released)
WASHINGTON—A civilian engineer recognized for revolutionizing the Navy with a new mission engineering process to resolve critical integration and interoperability issues began his new role as Naval Warfare deputy director, the Navy announced Sept. 22.
Chief of Naval Operations (CNO) Adm. Jonathan Greenert presented Dr. James D. Moreland, Jr. with the Distinguished Civilian Service Award for extraordinary contributions to Navy warfighting technology and policy developments earlier this month.
A week later, Moreland - who served as the Naval Surface Warfare Center Dahlgren Division (NSWCDD) chief engineer and the Naval Sea Systems Command (NAVSEA) Integration and Interoperability (I&I) Surface Warfare chief engineer - arrived at the Pentagon as a brand new senior executive.
"It was a great honor to receive my Distinguished Civilian Service Award from Admiral Greenert and at the same time be selected into the SES (senior executive service) ranks," said Moreland, who is now supporting the Office of the Under Secretary of Defense for Acquisition, Technology, and Logistics. "It is very rewarding to have the opportunity to bring my knowledge and experience to bear in the development of integrated warfighting capabilities across the naval enterprise."
Navy officials believe the integration of all warfighting technologies and capabilities - from acquisition to deployment - will dramatically transform the Naval community's air, surface, undersea, land, and network systems today and in the future.
"Naval Aviation leadership has embraced a forward-thinking innovative concept to realign 'stove piped' programs to a 'system of systems' perspective," explained Vice Adm. David Dunaway, commander, Naval Air Systems Command. "Often referred to as I&I, this perspective requires us to explicitly link our technical expertise and solutions with operational tactics from the very start of acquisition. Simply put, Jim's robust and expert leadership has helped Naval Aviation move our I&I initiative forward by delivering measureable results."
The I&I initiative - an assessment of naval technologies, systems and capabilities - requires a systems-of-systems approach to analyze the impact of making naval investments across diverse warfighting domains of surface, undersea, air, land, and networks as well as maritime coalition force integration.
In response to the Vice CNO I&I charter, Moreland worked with leaders throughout the Navy system commands and the larger naval enterprise on a regular basis, including Dunaway, to combine structured system-of-systems engineering with operational planning - tightening the link between tactical operations and technical development.
"Dr. Moreland's technical capabilities, leadership qualities, and dedication have benefitted the NAVSEA organization by providing system and platform owners with an understanding of opportunities for integration and interoperability with other systems," said Mary Wohlgemuth, technical director, Naval Undersea Warfare Center Newport and NAVSEA Director of Integration and Interoperability.
In addition, Moreland implemented a highly effective, structured mission engineering approach for the Vice CNO Integration and Interoperability Activity to emphasize capability-based requirements.
The Vice CNO I&I Activity aims to continually provide responsive, credible analyses and engineering to inform decision makers of the results, insights and alternatives of organic naval warfare capabilities for the integration of myriad capabilities within joint warfighting campaigns, enabling more effective civilian and military leadership decisions.
"To have the support and backing of senior Navy leadership in this endeavor is tremendous," said Moreland. "My personal achievements could not have been reached without the dedication and expertise of the larger naval enterprise team in the areas of acquisition, engineering, fleet operations, and operational test."
The naval enterprise team's I&I goal is to maintain technical and operational cohesiveness across mission areas in a fiscally constrained environment while increasing the overall capability for the warfighter.
"As the surface warfare I&I chief engineer, Dr. Moreland has provided a disciplined assessment of I&I gaps from a mission area effects/kill chain perspective and developed recommendations to inform investment decisions and to ensure efficient system integration and effective force interoperability," said Wohlgemuth. "He has also been instrumental in forging significant collaborative relationships across the naval enterprise."
Throughout the fleet, I&I is providing a common understanding of mission requirements and a structured, executable process to identify and align system and platform capabilities to support - and improve - core Navy missions.
The Naval Integrated Fire Control Counter Air (NIFC-CA) project is an example of executing the I&I system-of-systems engineering effort which extended the Naval Theater Air and Missile Defense battlespace to the maximum range of Navy weapons.
The (NIFC-CA) capability focuses on targets beyond the detection range of the shooter, including 'engage on remote' and 'over the horizon' targets. Detailed examinations using effects/kill chains and operational test data were used to determine operational needs for fleet leadership.
"We use 'kill chains' to help decide how we should invest our time, money, and other resources to build our capabilities and gain an advantage over our adversaries," explained Greenert in his CNO blog on the "Kill Chain Approach" published April 23, 2013. "I feel this kill chain approach - from end to end - will ensure our Sailors operating forward have the best capabilities they need to remain the preeminent maritime force."
Moreland emphasized the importance of "effects/kill chains" in his article on "Mission Engineering Integration and Interoperability" to be published in the next edition of the NSWCDD Leading Edge magazine. In addition, he is developing a curriculum and teaching Mission Engineering courses at Old Dominion University to aid in the institutionalization of this innovative approach into the DNA of the workforce.
The I&I assessment of naval technologies, systems and capabilities "is accomplished through the development of effects/kill chains to illuminate capability advantages and disadvantages of the alternatives; consider joint operational plans; examine sufficient feasible alternatives; characterize key assumptions, variables and sensitivities to change; as well as assess technology risk and maturity," he wrote.
"Adding a structured mission focus to the acquisition process will serve the I&I needs of integrated warfighting well," said Moreland. "We don't acquire commodities the way we fight, but we must engineer for the way we fight."