Serious Car/Motorcycle Crash in Lusby
PRINCE FREDERICK—On September 14 at approximately 8:45 p.m., members of the Calvert County Sheriff's Office Patrol Bureau and Crash Reconstruction Team responded to Maryland Route 2/4 and Rousby Hall Road in Lusby for a report of a motor vehicle collision involving a motorcycle. Upon arrival on the scene, units located a blue 2012 Ford Focus on the northbound shoulder of MD Route 2/4 just north of the intersection. The Ford Focus was heavily damaged. A 2005 Harley Davidson motorcycle was destroyed and located on its side against the northbound guardrail. The vehicles were involved in an apparent head-on collision. Motorcycle operator and passenger were both ejected from the motorcycle during the collision.
Preliminary investigation revealed the following:
2005 Harley Davidson motorcycle, operated by Rudolph Mason Johnson, of Lusby, was traveling southbound on MD Route 2/4 and attempted to turn eastbound (left) on Rousby Hall Road on a flashing red arrow. The motorcycle was also occupied by Mona Rene Johnson, of Lusby. As the motorcycle entered the intersection of MD Route 2/4 and Rousby Hall Road, a 2012 Ford Fusion, operated by Lauren Rebecca Belskie of Saint Leonard, was traveling northbound on MD Route 2/4 and collided with the motorcycle. Per numerous witness accounts the operator of the Ford had a green light at the time of the collision.
Lauren Rebecca Belskie sustained minor injuries during the collision and was transported to the Calvert Memorial Hospital. Belskie is listed in stable condition. Rudolph Johnson was transported to Prince George's County Hospital (Shock Trauma) to be treated for the injuries sustained in a collision. Mona Johnson was transported to Washington Hospital Center MedStar to be treated for the injuries she sustained in the collision. Both Rudolph and Mona Johnson are listed in critical condition at the time of this press release.
Motorcycle operator error and failure to yield the right of way to a through traveling vehicle are the contributing factors to this collision. The final cause of the collision is pending full investigation.
DFC G. Gott, of the Calvert County Sheriff's Office, is investigating the collision with assistance from the Crash Reconstruction Team. Any information related to this investigation is to be forwarded to DFC G. Gott at gottgc [at] co.cal.md.us or 410-535-2800.
Commercial Burglary Arrests
LEXINGTON PARK—During the month of July 2014, patrol troopers from the Leonardtown Barrack responded to a commercial establishment, located in Lexington Park, St Mary's County, for a reported burglary. During the troopers' preliminary investigation, they learned that several electronic devices were stolen during the course of the burglary.
Investigators from the Maryland State Police-Criminal Enforcement Division, Central South Region were contacted and assumed the investigation. During the course of the investigation two suspects were identified.
The first suspect, Mark Andrew Alvey, Jr., 21, of no fixed address, was identified and charged on August 21, 2014 with Second Degree Burglary, Fourth Degree-Storehouse Burglary, 2 counts of Theft: Less $1,000 in value and Malicious Destruction of Property on a Criminal Summons.
The second suspect, Dale Thomas Norfolk, 26, of Leonardtown, was also identified. He was located on September 15, 2014 by patrol troopers from the Leonardtown Barrack. Norfolk was arrested without incident on an open arrest warrant, charging him with Second Degree Burglary, Fourth Degree-Storehouse Burglary, 2 counts of Theft: Less $1,000 in value and Malicious Destruction of Property. Norfolk was incarcerated at the St. Mary's County Detention Center pending a bond hearing with the District Court Commissioner.
The investigation was conducted in collaboration with the St. Mary's County States Attorney's Office.
Charles County Crime Solvers Fugitive Friday Case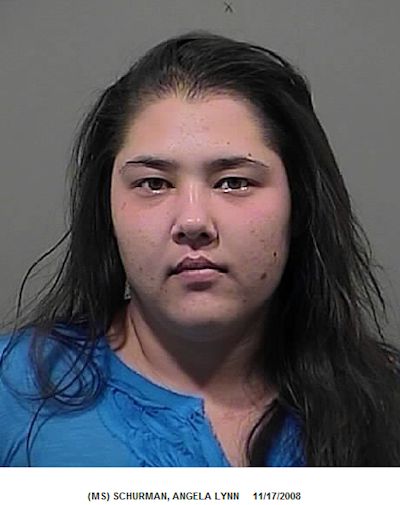 LA PLATA—Charles County Crime Solvers is offering a cash reward for information leading to the whereabouts of Angela Lynn Schurman, 26, of Waldorf. Schurman currently has four open warrants charging her with failing to appear in court on a multiple theft charges ranging from theft under $1,000 to theft under $10,0000; conspiracy to commit theft; and failure to appear in court for violating her probation relating to a burglary charge. Schurman is 5'3", 190lbs., and has brown hair and brown eyes.
Members of the Warrant Unit have been looking for Schurman since July. Anyone with information about Angela Lynn Schurman's whereabouts is asked not to approach her but rather call the CCSO Warrant Unit at (301) 932-2222. Charles County Crime Solvers is offering a cash reward of up to $1,000 for information leading to his arrest. Tipsters wishing to remain anonymous may contact Crime Solvers at 1-866-411-TIPS or Text CHARLES + your tip to CRIMES or visit
http://www.ccso.us
to submit a web tip. For additional information about Crime Solvers see
http://www.charlescountycrimesolvers.com
.
Prince Frederick Barrack is drop-off location for old prescription drugs and donations for the Maryland Food Bank
PRINCE FREDERICK—It's that time of year for fall clean-up of your medicine cabinet. The Maryland State Police Prince Frederick Barrack is participating in the National Drug Take Back Initiative. To date the Prince Frederick Barrack has destroyed over 700 pounds of prescription drugs dropped off by Calvert County Residents. Most abused drugs come from family and friends. You could be a drug dealer and not even know it. Let's end the abuse!
The drop box is located outside the barrack and can be accessed for drop-off 24/7.
The Prince Frederick Barrack is also a depot for The Maryland Food Bank. Food items can be dropped off at the barrack 24/7. The items most needed are canned goods to include: soup, canned meats, vegetables and dry goods like rice, and pasta. Please help us feed those less fortunate in Maryland.
The barrack is located at 210 Main Street, Prince Frederick, MD 20678.
National Capital Region Exercise Tests Urban Search and Rescue Response
WASHINGTON—More than 40 federal and non-federal agencies will participate in Joint Force Headquarters-National Capital Region's emergency preparedness exercise, Capital Shield, September 22 - 26. Training sites include the former Lorton Youth Detention Center, Lorton, Va. and RFK Stadium, NW Washington, D.C.
Exercise Capital Shield 15 is designed to test and evaluate joint operations, techniques, procedures, and command and control relationships, and enhance interoperability among the Department of Defense and inter-agency partners. The goal of the exercise is to ensure that government agencies at every level are prepared to take coordinated action to protect the public in the event of an actual emergency caused by either natural or man-made disasters inside the National Capital Region.
The exercise scenarios will include mass casualty rescues in collapsed structures at the Lorton, Va., site and a toxic substance release at RFK stadium. Participants outside DOD include Arlington County Fire Department, Alexandria Fire Department, DC Fire and Emergency Medical Services, Fairfax County, Loudon County, Princes Georges County Fire Department, Prince William County, and police departments throughout the National Capital Region.
Tuesday morning at both locations there will be Army helicopters flying in the area as a part of the exercise.
Joint Force Headquarters-National Capital Region, a regional subordinate of U.S. Northern Command, is charged with defense support of civil authorities in the National Capital Region. When called upon they must be ready to operate as a joint task force for whatever period may be necessary.
To learn more about the Joint Force Headquarters-National Capital Region, visit
http://www.jfhqncr.northcom.mil
or
http://www.mdw.army.mil.