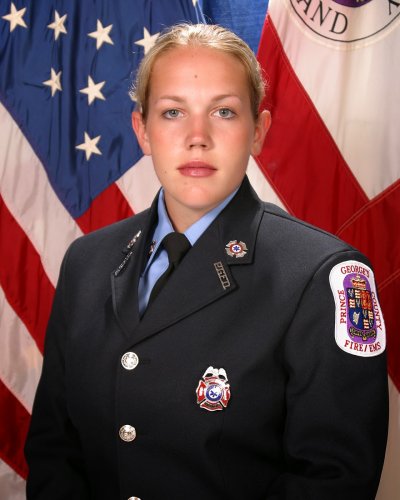 Sara Shaffer. (Photo: P.G. County Fire Department)
CHARLOTTE (Aug. 28, 2014)—Sara Shaffer, of Chesapeake Beach, Calvert County, a firefighter and provider of emergency medical services for Prince George's County, Md., received The American Legion's National Firefighter of the Year Award on Aug. 27 at its 96th annual national convention in Charlotte, N.C.
The Legion's Department of Maryland nominated Shaffer for heroic actions taken during the course of her work, including those that saved the life of a fellow firefighter on Jan. 30, 2013.
Shaffer has worked for the county's Fire/Emergency Medical Service (EMS) Department for eight years. She has worked as a hazardous materials technician, a special hazards inspector and is currently assigned to Fire/EMS Station 806, where she serves as a member of the Technical Rescue Team.
Bill Milligan, commander for the Department of Maryland, wrote in his nomination letter that Shaffer "has proven to be a dedicated teacher, serving as either an adjunct or lead instructor for every Career Recruit School (CRS) since her own graduation with the class of CRS #35."
Shaffer is an active participant with "Joshua's Helping Heart," a volunteer organization that raises funds for childhood diseases. She also works with the USO and Wounded Warrior Project to provide care packages and holiday meals for our troops, as well as home essentials for family members who are on extended stays at military hospitals.
A member of Calvert Advanced Life Support (ALS), Company 10 in Calvert County, Md., Shaffer volunteers to help provide 24-hour ALS coverage for emergency incidents to county residents and those in surrounding jurisdictions.
Shaffer belongs to a Gold Star family. Her cousin, Army Specialist Jason Shaffer, was killed in action on April 5, 2007, in Baqubah, Iraq; he was 28 years old and lived in Derry, Pa. Spc. Shaffer died from wounds sustained when an IED exploded near his Bradley Fighting Vehicle. He was attached to the 1st Cavalry Division at Fort Hood, Texas.
Source: The American Legion