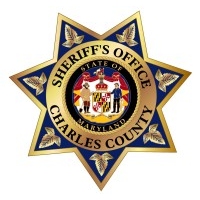 LA PLATA, Md. (Aug. 22, 2014)—The Charles County Sheriff's Office today released the following incident and arrest reports.
THEFT REPORTED: On August 17 at 1:55 p.m., officers responded to the area of Western Parkway and Berry Road in Waldorf for the report of a theft that just occurred. Investigation showed a 17-year-old female was stopped at a red light at the intersection of Western Parkway and Berry Road when a male exited the passenger side of a dark blue Chevy Impala which was also stopped in traffic. The suspect approached the woman's car and grabbed her purse through an open passenger window and ran back to the Impala. The suspect immediately threw the purse back out of the window, possibly because the light had not changed to green. The suspects fled east on Berry Road prior to police arrival. The victim's purse was recovered in the roadway. The victim described the suspect as being possibly Hispanic or African American, about 5'5" to 5'8", slim build and short hair. He was wearing a gray shirt and khakis. The driver of the Impala was described as a white female with brown hair worn in a ponytail and wearing a green top. Investigators are working on leads. Anyone with information should contact (301) 932-2222. Callers wishing to remain anonymous may contact Crime Solvers at 1-866-411-TIPS.
SCAM ALERT: On August 8, officers responded to a residence in La Plata for the report of a scam. The victim stated she received a voicemail on her phone from a man claiming to be an IRS agent. He gave a fictitious name and told the victim she owed over $21,000 in back taxes. He also said if she did not pay she would be arrested. The woman called the phone number left on the message and spoke with a man who identified himself as an employee with the IRS. He told the woman they could settle the debt outside of court if she could pay $5,000. He advised her to purchase a prepaid money card and provide him with the card number. The man also told the woman she could not tell anyone of the transaction because "It would violate IRS regulations." The woman complied and purchased prepaid cards totaling $5,000. She called the man back and gave the man the card information. The suspect then told the victim she needed to pay the remaining balance of $16,000 or she might risk arrest. The victim complied and purchased a total of 32 prepaid "Reloadit" cards containing the remaining balance of her alleged back taxes. She provided the information to the caller. The woman later checked the balance of the cards and learned there was zero balance and the money had been used. She realized she had been scammed and contacted police.
The IRS will never ask for credit card, debit card or prepaid card information over the telephone. Rather, the IRS will always send taxpayers a written notification of any tax due via the U.S. mail. The IRS has provided safety tips regarding this particular scam on their website. Click on this link for more information.
http://www.irs.gov/uac/Newsroom/IRS-Reiterates-Warning-of-Pervasive-Telephone-Scam
. When in doubt, call them directly.
Scams come and go in the Washington area and they happen in a variety of ways: Either someone says you owe them money, someone says they have been arrested and they need you to bail them out or someone says they found money and want to give you some for a price. In any situation, if it doesn't seem right, hang up or walk away and contact police.
Sheriff's Office to Help Ensure a Safe Return to School Students and Staff
This year, Aug 25, marks the opening day of school for students in Charles County and Charles County Sheriff's officers, school resource officers and crossing guards will be on hand to help ensure a safe return for all students. Officers will be patrolling in and around schools and watching for speeders and violators of the red flashing lights on school buses. Crossing guards will assist those students who cross busy roadways and school resource officers will be at their assigned schools ready to welcome students.
In addition, on Friday, August 29, as part of the We Care safe driving program for teens, school resource officers and county school staff will greet all high school drivers as they enter their school's student parking lots and pass out fliers containing important information regarding teen driving and the rules of the road.
Seven years ago, an average of three to five teenagers died each year as a result of fatal car crashes in Charles County. "At one point, it seemed our county was being defined but these tragedies," said Sheriff Rex W. Coffey. So, in the 2007/2008 school year - months after four young men lost their lives in a single car crash on Oliver Shop Road - Sheriff Coffey directed the Agency to come up with a plan aimed at reducing the number of crashes involving teens. Members of the sheriff's office joined staff and students from the Charles County Public Schools and came up with a plan. In August 2008- on the first day of school - the We Care teen safe driving campaign was introduced to teen drivers and their community. Since its inception, the Charles County Sheriff's Office has seen a drastic decline in fatal car crashes involving teen drivers.
We Care promotes safe driving through a series of check points in school parking lots and school assemblies and other activities. Students create posters, develop public service announcements and help coordinate special events.
Crime Solvers Fugitive Friday Case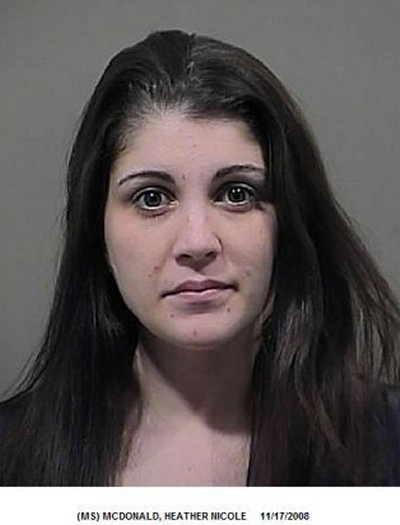 Charles County Crime Solvers is offering a cash reward for information leading to the whereabouts of Heather Nicole McDonald, 23, of Mechanicsville. McDonald currently has open warrants for failing to appear in court on a burglary charge and a non-support violation. In addition, she has warrants for theft, destruction of property and fraud. McDonald is 4'11", 115 lbs., and has brown hair and hazel eyes.
Anyone with information about Heather McDonald's whereabouts is asked not to approach her but rather call the CCSO Warrant Unit at (301) 932-2222. Charles County Crime Solvers is offering a cash reward of up to $1,000 for information leading to his arrest. Tipsters wishing to remain anonymous may contact Crime Solvers at 1-866-411-TIPS or Text CHARLES + your tip to CRIMES or visit www.ccso.us to submit a web tip. For additional information about Crime Solvers see www.charlescountycrimesovlers.com.
Disclaimer: In the U.S.A., all persons accused of a crime by the State are presumed to be innocent until proven guilty in a court of law. See: http://somd.me/presumed-innocence. Additionally, all of the information provided above is solely from the perspective of the respective law enforcement agency and does not provide any direct input from the accused or persons otherwise mentioned. You can find additional information about the case by searching the Maryland Judiciary Case Search Database using the accused's name and date of birth. The database is online at http://somd.me/mdcasesearch . Persons named who have been found innocent or not guilty of all charges in the respective case, and/or have had the case ordered expunged by the court can have their name, age, and city redacted by following the process defined at http://somd.me/expungeme .