2014 Green Expo and Tech Showcase Draws Large Crowd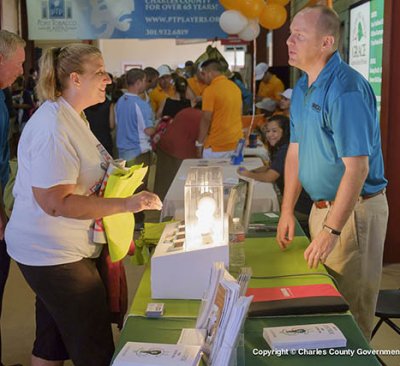 A representative from Southern Maryland Electric Cooperative, a participating sponsor, talked with a citizen about how to make your home more energy efficient and cut electricity costs.
LA PLATA—Despite rainy weather, the 2014 Green Expo and Tech Showcase event on Saturday, Aug. 9 at Regency Furniture Stadium had a large turnout. The Tech Showcase featured electric vehicles (EV) and Eco-Shred provided free, secure document shredding. Residents brought an estimated 15,000 pounds of paper for shredding. The Green Expo featured educational products and innovative ways to save money by adopting sustainable practices. We thank our sponsors, MOM's Organic Market, Passport BMW, Southern Maryland Electric Cooperative, Standard Energy Solutions, Maryland Volt, Toyota of Waldorf, and Solar City.
Back to School Boat Rental Special at Gilbert Run Park
Boat rentals half price Aug. 20-22
LA PLATA—The Charles County Department of Public Works' Parks Division announces a "back to school" boat rental special at Gilbert Run Park, (13140 Charles Street, Charlotte Hall). All boats rentals are half price from Wednesday, Aug.20 through Friday, Aug. 22.
Gilbert Run Park has four types of boats for individuals and families to enjoy: pedal boats, rowboats, kayaks, and canoes. The park is open daily from 8 a.m. until 7:30 p.m., with boat rentals and concessions available Wednesday through Friday from 11 a.m. to 5:30 p.m., and Saturdays and Sundays from 8 a.m. to 6 p.m.
For more information, call the Gilbert Run Park office at 301-932-1083. Citizens with special needs may contact the Maryland Relay Service at 711, or Relay Service TDD: 800-735-2258.
Calvert County Crime Solvers
PRINCE FREDERICK—Calvert County Crime Solvers and the Calvert County Sheriff's Office are seeking the public's assistance in identifying the person or persons responsible for stealing a yellow 2011 CAT rubber tire loader worth $130,000 from a work site at the Dunkirk Park and Ride between August 14 and 15. The loader was later found undamaged in the 8200 block of E Street in Chesapeake Beach. The windshield and both the driver's side and passenger side windows on a water tanker truck were broken while it was parked at the same work site as the CAT tire loader during the same timeframe. The tanker was discovered to have been moved to the back of the lot. The damage is estimated at $750.
Citizens with information on these crimes or any criminal activity in Calvert County who wish to report it anonymously can now access the Calvert County Crime Solvers link through the Sheriff's Office website.
Go to
www.co.cal.md.us/residents/safety/law/sheriff/
and click on the Crime Solvers link to leave an anonymous tip on-line. Information leading to the arrest and conviction of a suspect could result in a $1,000 reward. You can also contact the Sheriff's Office at 410-535-2800 to leave information.
Area Libraries Focus on One Maryland One Book
LEXINGTON PARK—Maryland's only state-wide reading project, called One Maryland One Book, is underway throughout Southern Maryland now through October. The initiative is designed to encourage everyone in the state to read and then discuss one common book. This year's selection is "The Distance Between Us: A Memoir" by Reyna Grande.
A program of the Maryland Center for the Book, the goal of One Maryland One Book is to bring together diverse people in communities across the state through the shared experience of reading the same book and participating in book-centered discussions and other related programs.
This year's book is a poignant memoir of life before and after the author entered the United States from Mexico as an undocumented immigrant. It is the story of a childhood torn between two parents and two countries. As her parents make the dangerous trek across the Mexican border to "El Otro Lado" (The Other Side) in pursuit of the American dream, Reyna and her siblings are forced into the already overburdened household of their stern grandmother. When their mother at last returns, Reyna prepares for her own journey to "El Otro Lado" to live with the man who has haunted her imagination for years, her long-absent father.
Multiple copies of "The Distance Between Us" are available at any public library in Southern Maryland in both English and Spanish. The book can also be downloaded free as an audio or e-book from the online catalog, COSMOS (
cosmos.somd.lib.md.us
). An additional 45 "wandering books" have been placed in public locations throughout Southern Maryland for citizens to pick up, read and then pass along. Finders can qualify for a drawing for a Barnes & Noble gift card.
The author, Reyna Grande, will speak and sign copies of her book at an event on Wednesday, October 1, at the Waldorf West branch of the Charles County Public Library. The free program begins at 7:30.
The three Southern Maryland public library systems have developed a variety of programs around the book's themes, including book discussions and a story writing contest for both youth and adults.
Area partners for One Maryland One Book include: Calvert County Public Schools; Charles County Arts Alliance; Citizens for Charles County Public Library, Inc.; Diversity Institute at the College of Southern Maryland; Friends of Calvert Library; Friends of St. Mary's County Library; Life Journeys Writers Club; Lifelong Learning Center; St. Mary's County Public Schools; and the Southern Maryland Regional Library.
All One Maryland One Book events are free. For more information about program opportunities, visit your local library or its website: Calvert Library (
www.calvert.lib.md.us
); Charles County Public Library (
www.ccplonline.org
); and St. Mary's County Library (
www.stmalib.org
). For a list of One Maryland One Book events throughout the entire state, go to
www.onemarylandonebook.org
.
Mikulski, Cardin Announce Federal Funding to Purchase Life-Saving Firefighting Equipment in Calvert County
WASHINGTON—U.S. Senators Barbara A. Mikulski and Ben Cardin (both D-Md.) today announced the Dunkirk Volunteer Fire Department has been awarded $198,959 in federal funding through the U.S. Department of Homeland Security's Assistance to Firefighters Grant (AFG) program to purchase life-saving firefighting equipment. As the Chairwoman of the Appropriations Committee, Senator Mikulski fights each year to increase federal funding for the fire grants program. Senator Cardin is a member of the Finance Committee.
The Dunkirk Volunteer Fire Department will use the competitive award to purchase 28 sets of new Self-Contained Breathing Apparatus (SCBA). These will replace units that are no longer compliant with National Fire Protection Association standards and are out of date with current technology. SCBA enable firefighters to breath in smoke-filled rooms to keep them safe in the line of duty. For more information, please contact Shawn Allen at 301-399-0918.
AFGP grants fund firefighting equipment, personal protection equipment, training, firefighting vehicles, firefighter/first responder safety projects, and staffing recruitment and retention, as well as public fire safety education.
Since 2001, Maryland fire departments and Emergency Medical Services (EMS) units have received more than $142.5 million in fire grant funding, just over $1 million of which has gone to fire departments and EMS units in Calvert County.