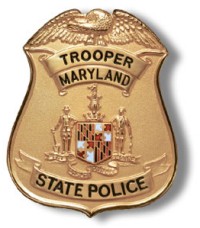 PRINCE FREDERICK, Md. (Aug. 19, 2014)—The Prince Frederick Barrack of the Maryland State Police (MSP) today released the following incident and arrest reports.
SOBRIETY CHECK POINT SCHEDULED FOR FRIDAY AUGUST 22: The Maryland State Police Prince Frederick Barrack will be conducting a Sobriety Check on Friday August 22. The check point is an intense enforcement initiative targeting drivers who are operating a motor vehicle while under the influence of alcohol and/or drugs in Calvert County.
This sobriety check point is a combined effort between the Maryland State Police, the Calvert Sheriff's Office and the State Highway Administration. The location of the check point will be withheld from the public until after the operation is over. The check point will be within the county boundaries of Calvert. A post operation press release will be placed out on Monday August 25, 2014 with the total numbers of vehicles stopped at the check point along with the statistical numbers as it relates to offenses charged both traffic and criminal. During the check point there will be proper signs and notifications in place according to the law. We ask that if you are operating a vehicle just obey all traffic laws and signs as you would normally do.
Drinking and Driving is still identified as one of the major causes in traffic fatalities on our highways. The Check Points purpose is to arrest intoxicated drivers, but more importantly we use the check point to educate drivers about the risks of drinking and driving. The Maryland State Police will use this check point to ensure cars, motorcycles, trucks, buses, commercial vehicles and their drivers operate their vehicles while not impaired making all of Calvert County citizens safer and to promote highway safety in Maryland.
POSSESSION OF K2 SPICE: On 8/11/2014 at 5:09 pm, Trooper Newcomer stopped a vehicle on Rt. 4 south of Cherry Hill Rd. in Huntingtown for traffic violations. A strong odor of burnt marijuana was emitting from inside the vehicle. A probable cause search revealed a passenger, Mark A. Fenwick Jr., 21 of Park Hall, was in possession of synthetic marijuana. Fenwick was arrested and incarcerated at the Calvert County Detention Center.
POSSESSION OF MARIJUANA: On 8/13/2014 at 08:40 am, while assisting with the execution of a search warrant at a home in the 900 block of Crystal Rock Rd. in Lusby, marijuana was located in the bedroom of the suspect. Charges are pending for Anthony C. Wink, 31 of Lusby.
THEFT: On 8/13/2014 at 11:57 pm, Trooper Riddle received a report of theft of video games from a residence in the 200 block of Frontier Trail in Lusby. The homeowners noticed numerous video games were missing from the home. They confronted a family member and found the games had been sold to Play and Trade. Dylan J. Allen, 18 of Lusby, was arrested and incarcerated at the Calvert County Detention Center.
THEFT: On 8/15/2014 at 7:55 pm, Trooper First Class Costello responded to the CVS in Solomons for a reported theft. Surveillance video recorded a juvenile removing an iPhone 5 cell phone from the store. Investigation revealed the juvenile's identity and the juvenile was located and arrested. He was released to his parent from the MSP Barrack in Prince Frederick.
DUI, CONCEALED WEAPON: On 8/17/2014 at 3:05 am, Trooper First Class Wiesemann stopped a vehicle on HG Trueman Rd. near Town Square Dr. in Lusby for traffic violations.
[redacted by somd.com],
was speaking with slurred speech and the odor of alcohol was emitting from inside the vehicle and on his breath. He was arrested for DUI. A search incident to the arrest revealed a loaded handgun in the glove compartment. He was additionally charged with possession of a handgun. He was incarcerated at the Calvert County Detention Center.
The above item was retracted by the MSP on Friday, Aug. 22, 2014.
DISORDERLY CONDUCT: On 8/17/2014 at 9:44 pm, Trooper First Class Oles responded to the area of The Tavern in St. Leonard for a reported intoxicated subject lying on the sidewalk. Robert A. Rice, 48 of St. Leonard, was located and encouraged to walk to a nearby apartment of a relative to sleep for the night. A short time later, TFC Oles responded back to the area for a reported disorderly subject. TFC Oles again made contact with Rice and arrested him for disorderly conduct. He was incarcerated at the Calvert County Detention Center.
DUI Arrests
Heather M. Stephenson, 36, of Chesapeake Beach, arrested on 08/13/2014 @ 08:58 pm by TPR. N. Rucker
Valerie D. Stoneman, 32, of St. Leonard, arrested on 08/14/2014 @ 01:55 am by TFC S. Matthews
Shawn M. Clifton, 24, of Prince Frederick, arrested on 08/14/2014 @ 10:48 pm by TFC W. Costello
Briceton D. Jones, 26, of St. Leonard, arrested on 08/15/2014 @ 12:20 am by TFC B. Wiesemann
Christine A. Skelton, 47, of St. Leonard, arrested on 08/16/2014 @ 12:59 am by TFC W. Costello
David H. Hamilton, 47, of Pt. Republic, arrested on 08/16/2014 @ 02:31 am by TFC B. Wiesemann
Charles W. Mister, 25, of Lusby, arrested on 08/17/2014 @ 03:05 am by TFC B. Wiesemann
Disclaimer: In the U.S.A., all persons accused of a crime by the State are presumed to be innocent until proven guilty in a court of law. See: http://somd.me/presumed-innocence. Additionally, all of the information provided above is solely from the perspective of the respective law enforcement agency and does not provide any direct input from the accused or persons otherwise mentioned. You can find additional information about the case by searching the Maryland Judiciary Case Search Database using the accused's name and date of birth. The database is online at http://somd.me/mdcasesearch . Persons named who have been found innocent or not guilty of all charges in the respective case, and/or have had the case ordered expunged by the court can have their name, age, and city redacted by following the process defined at http://somd.me/expungeme .